Are you feeling a little 'mojo-less'? Are you finding yourself sleeping in on a Saturday morning instead of hitting the trails, now that there are no Swara runs? Well, we've got something to get you jumping into your running gear again! The Swara PB Challenge! We're challenging all Urban Swaras to record a PB (personal best) in a variety of distances, or record your longest distance run. You're only competing against yourself! Think of Eliud Kipchoge setting his PBs with only his pacers and a camera crew. Except without the pacers and the camera crew 🙂
Wherever you are, whatever you're wearing, just run! You can set yourself a specific goal, or just go with the flow, and once you record a PB or longest distance, share the screenshot of your watch/running app on the Whatsapp group, or by email (clairesimonebaker@gmail.com) or Whatsapp (+33615209676) to the MC before Sunday 25th April 11.59pm and, once the very serious, very fair, and very handsome judging committee verifies that it is eligible, you will enter a prize draw to win a 2,000ksh voucher to spend at the Duka La Swara! All entries will be shared and celebrated in next week's Starting Line.
So get your PB jam on, and see what you're capable of! See poster above, and find full details, and photo highlights from last week in the Starting Line: https://sway.office.com/iQHxkCFmOvS1MpJf?ref=Link
Please note there will be no Saturday run or speedwork for the foreseeable future.
Link to the Starting Line: https://sway.office.com/iQHxkCFmOvS1MpJf?ref=Link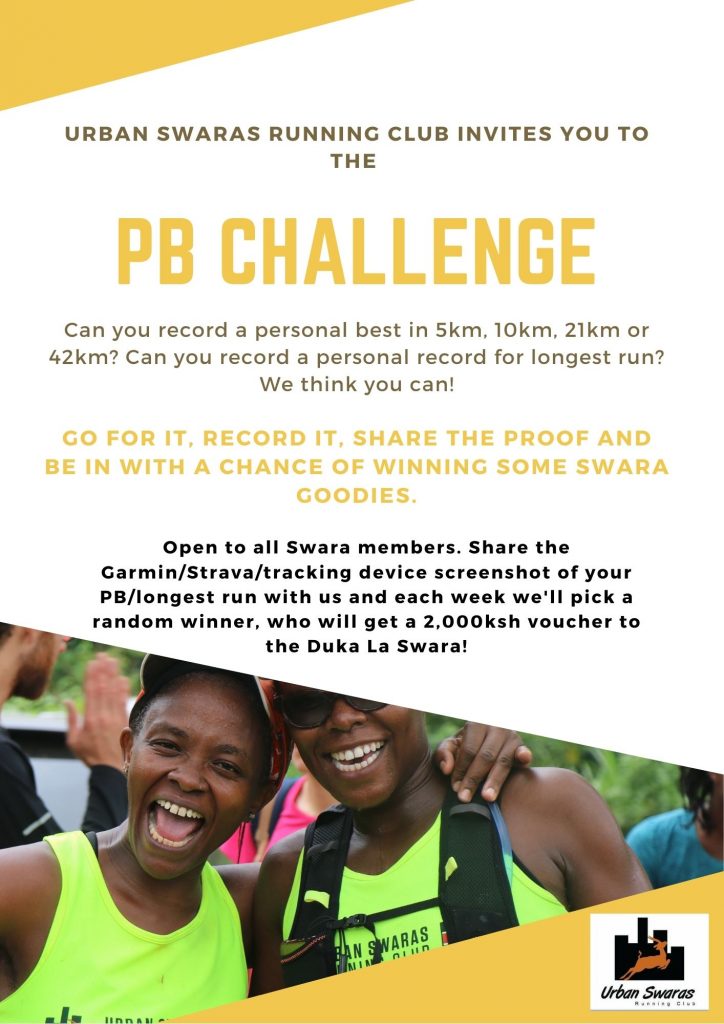 SwaraPBChallenge