Sometimes members of the running community do extraordinary things, and sometimes they do superhuman things, and we don't even know how to begin to celebrate! This Madaraka Day saw David Thuo, of Fitness with David and Runfit, do a sub 3 marathon on the infamous Kahara route, battling hilly terrain, altitude, and rocks and dust. Many Swaras joined him to help pace, motivate, and support him, and we're so proud to be a part of the same running fraternity as folks like this. Well done to David, who completed it in 2hours56minutes. Phenomenal.
As part of this week's 'Va Va Voim' challenge we saw many of you go out of your way to do ultras, beautiful trails, and share all of your exploits on Whatsapp. Thank you to all of you for sharing, it's truly wonderful and inspiring stuff! Sometimes I wonder how you all dream up these ideas. We had ultras in the backwaters of Kikuyu, half marathons in Ngong, backyard ultras in the U.S, and mountain spotting in Embu to name just a few! Keep them coming, on Whatsapp, facebook or email until the end of today (Monday 1st), winners will be chosen later this week.
We also had another great workout with Elvis Abonyo on Wednesday. When you notice that for two weeks in a row, Strava and Garmin are surprisingly quiet on Thursday morning, look no further than Elvis' intense full-body workouts! Thanks once again Elvis.
Now to tell you what's happening this week!
We're reopening Duka La Swara, so check out the Starting Line to see what new goodies we have on offer, and place your orders! We have some new treats for you so don't miss out, you have only one week to order!
An audience with…
We promised to keep you on your toes, so this week we have something new for you! Introducing 'an audience with…' a series of online sessions with experts in various fields. This week we invite you to an Audience With Fabian Collis, Nairobi's most renowned podiatrist who has worked with athletes and runners, to ensure that their feet protect them from injury and take them over the finish line.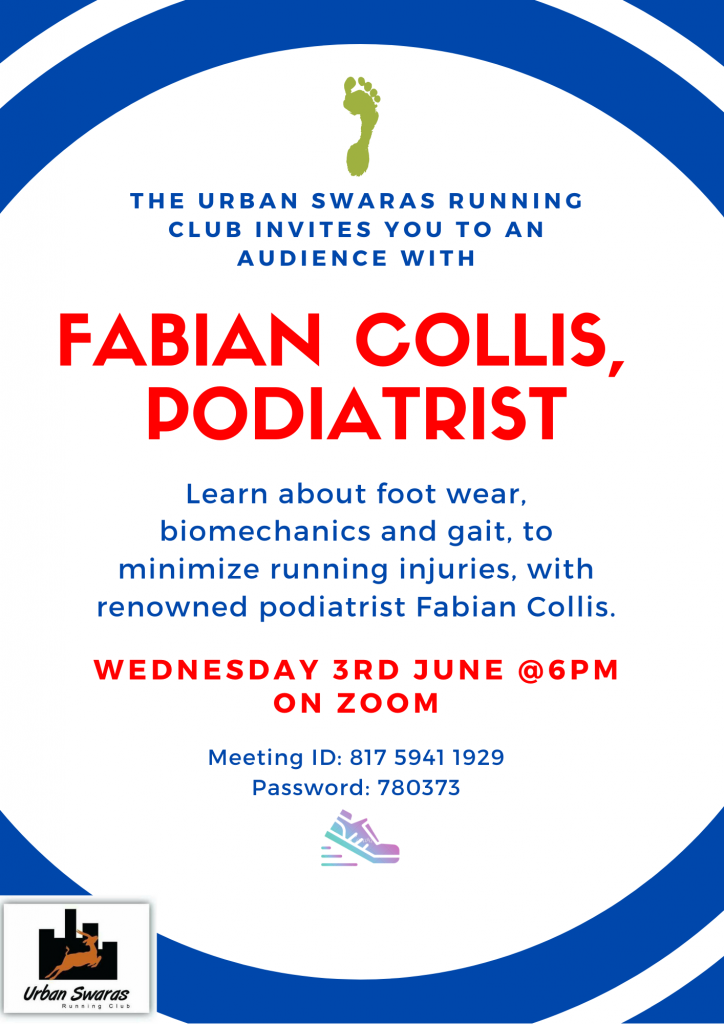 Link to join:
https://us02web.zoom.us/j/81759411929?pwd=M3Y1blp5UkRQM3BpYjdGbXhDQkEwZz09
Password: 780373
(Alternatively open zoom and use meeting ID Meeting ID: 817 5941 1929 Password: 780373)
You can join from your phone or laptop, just ensure you have a stable internet connection. If you have any issues joining, please contact me on Whatsapp +33615209676
Also feel free to invite your running friends and aspiring runners!