Dear Swaras,
What a week this has been! From strength training with Elvis, bringing us all together through the power of technology to get sweaty, achey and proud together, to scouting for new trails with the Whatsapp-based Trail Fox Apprentice Challenge. You only have to log in to Strava or Garmin to see what Swaras have been up to, and also see the incredible encouragement that everybody is getting. Makes me so proud to be a Swara 🙂
This week we have plenty of juicy photos and stories, so be sure to scroll all the way to the bottom of the Starting Line to take everything in! We even have a written Show & Tell from Felicita, who beat many an elite to finish the 2018 Boston Marathon despite hellish conditions. Link to Starting Line: https://sway.office.com/6umMmTL2D2E5tTGM?ref=Link
Strength training Part 2 with Elvis Abonyo.
Back by popular demand, we bring you part 2 of Elvis' home strength training. This week we're going to be using items you can easily find around your house to help us with our strength training. Fill 2 large water bottles, shampoo bottles, or even cans of pineapple rings, whatever you have that you can comfortably hold and lift, of around 1-2kg. If you have weights, then you can use those of course. Also find a broomstick or other stick or rod you have around the house, and you're ready to go!
Link to join:
https://us02web.zoom.us/j/89461268249?pwd=QkZ4eHlVNjVqblFMWHZFOGNIcHk3Zz09
Password: 863305
(Alternatively open zoom and use meeting ID Meeting ID: 894 6126 8249 Password: 863305
You can join from your phone or laptop, just ensure you have a stable internet connection. If you have any issues joining, please contact me on Whatsapp +33615209676
Also feel free to invite your running friends and aspiring runners!
Link to Starting Line: https://sway.office.com/6umMmTL2D2E5tTGM?ref=Link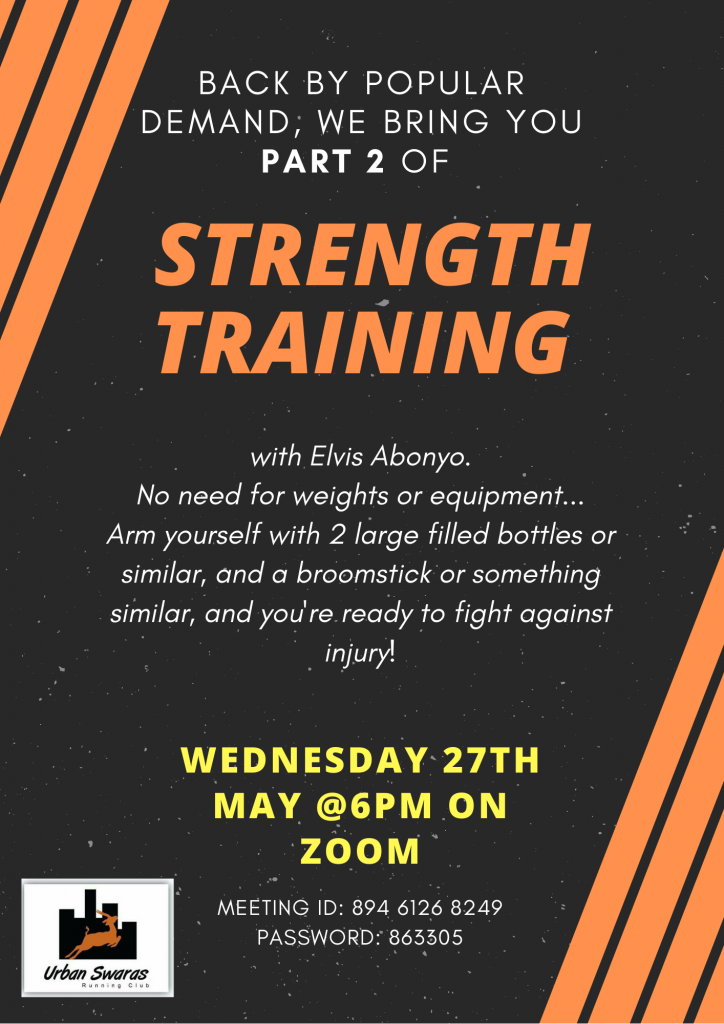 #FeelTheBurn