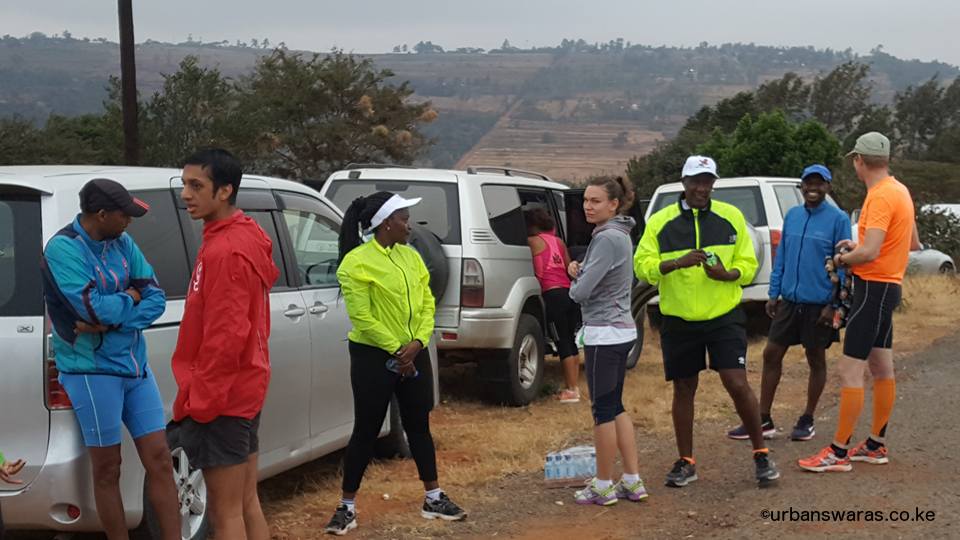 Saturday 26th August 2017 brought the Swaras into uncharted territory, that of the Mua Hills. Chairman had classified the difficulty level in his introduction as "fairly tough by Swara standards," and had encouraged participants to go heavy on the breakfast intake. I was in two minds as to whether to follow his advice and fuel up for a lengthy run or go moderate and eat light therefore. My mind had settled on the latter, as the one and only time I ate "heavy," I had to squat away from prying eyes, mid-run.
It took approximately an hour to get to the venue, and as soon as I took the turn off from Mombasa Road, the road became a climb, and I readied myself mentally for later. Getting to the venue, and as Chairman had stated in his email, a yellow swara shirt was indeed hanging from a post. Perhaps we could make this a regular feature at our runs. A sizeable number of cars were already parked and a smattering of Swaras could be seen mingling.
Amongst them were the host himself Henry, who sometimes travels insane distances just to make the 7 a.m. starts, being a resident of Kitengela. Then there was Diana Nduku, a lady familiar with the place, who pointed out to us exactly where her rural home was, pointing at a shining light where it stands, and which seemed to sit on top of a murram climb (a dream finish for any runner I would have thought). There was also the speedy trio of Dennis Lopua, Benjamin Chikani, and Albert Naibei whose voluntary services to the Swaras are priceless. Leif Newman pulled up shortly after for what may well be his final Swara Run. His presence as far as I'm concerned has been immense and shall definitely be missed, though hopefully he can still contribute to the Swaras digitally once back in Sweden.
The briefing began with Chairman blowing a whistle whose noise whilst audible, sounded strange for a whistle I must admit. Someone also went as far as wondering why the Club couldn't get a better whistle, but Chairman stood up in defense of the mouthpiece, probably meaning its days aren't numbered at the Club.
I personally had chosen to do the 15 Kilometers, and the run began as it would end, with a downhill section. We were soon turning left with the course beginning to take up an undulating nature with the weather being absolutely ideal, consisting of completely overcast conditions and the mildest sprinkling of rain. Getting to the first split, I had chosen to go longer than 10 k's and what awaited straight away was a lengthy climb. The thought "WHAT HAVE I DONE?" briefly entered my mind but there were people looking and I had to save face by not turning back around. The story might have been different otherwise.
Perhaps the most challenging climb was a fairly straight one made up of stone paths on either side, and grass and mud in between. By this time by my recollection, Benjamin Chikani had already raced past me and a couple of other runners chanting "STRONG, STRONG!", perhaps being code speak for don't give up! The long climb gave way to relief in the form of a much gentler section, though the loose soil underfoot was still challenging on the old body. Each passerby though was nothing but encouraging, and a little curious on most occasions as to what exactly was happening.
A final climb remained, whose intensity and awkward nature had finally resulted in me walking for a section of it, but which I abandoned and took up a jogging stride once more upon the ground flattening out.
The final section was once again downhill, on the right of which was Sonko's family farm with a sizeable lion statue erected outside the gate. Peter Park, one of the Swaras had later spoken of his regret that he didn't take a selfie with the Lion.
Back at the farm, preparations were in full swing for breakfast, complete with a very hospitable serving team, whose varieties were more than my plate could hold.
Francesca later shared that a couple of girls had been running alongside her in the most basic of clothing, whom she had invited to come join us for tea. I wasn't there long enough to find out if they did but I sure hope they did.
All in all, as Chairman had said in his email to recap the run, I would like to think there will be clamor for the run to be held on an annual basis at least, and next time maybe I will try a longer distance.
My thanks go to those who took time off their schedules to come scout the run, Henry for hosting us, and Otora for marking such an awesome route.
Did I mention the topography? It was amazing.