One thing is for sure: since the geographic lockdown was lifted, Swaras have not limited themselves to Nairobi County: this weekend I saw runs in Nakuru, Nyandarua, Laikipia, Bungoma, Nyeri, and our neighbouring counties Kiambu and Kajiado, and I'm sure many more were host to Swaras too!Keep flying the Swara flag high wherever you are, and discovering new corners of our beautiful country, and most importantly, stay safe.
See photos from the week in the life of a Swara in this week's Starting Line: https://sway.office.com/6UkOHYmDthTXDtyP?ref=Link
As if you weren't being active enough…We want to make sure you're not just running!
Join us for the third edition of strength training with Mr Muscle himself, Elvis Abonyo.
This time you can equip yourself with your own makeshift home gym:
2 dumbells or water bottles
1 stepper/bottom step of a staircase/heavy books/box/stool
Mat or blanket
Space to workout!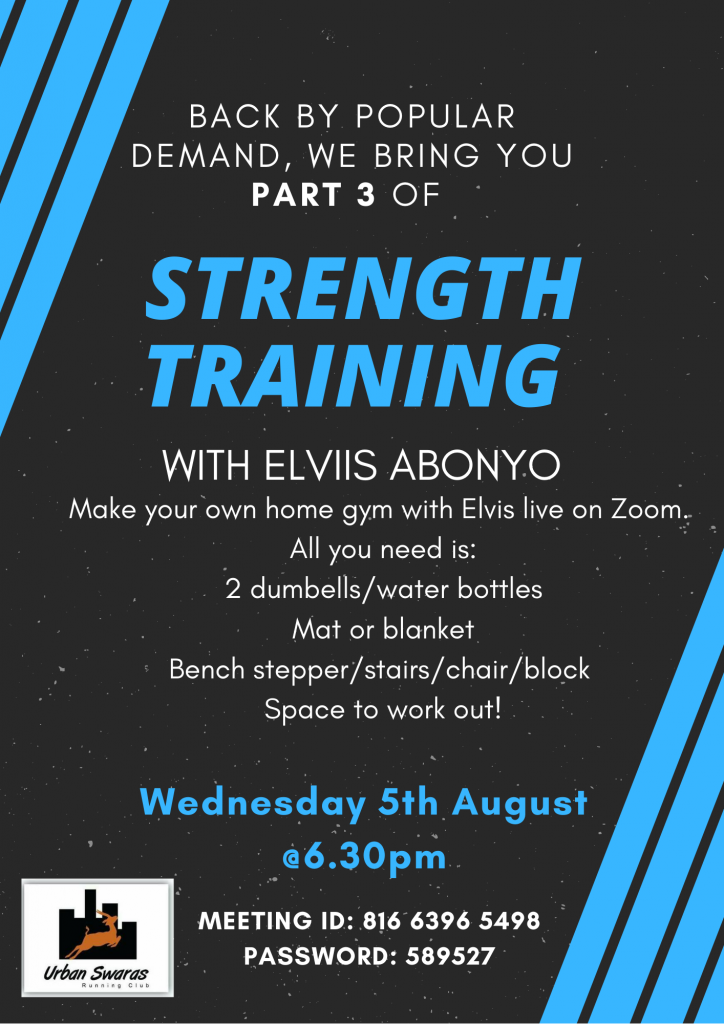 Be sure to tune in Wednesday 5th August at the slightly later time of 6.30pm on Zoom.
Full details in the Starting Line: https://sway.office.com/6UkOHYmDthTXDtyP?ref=Link#GetYourMuscleOn