Dear Swaras, 

I hope you've all been 'daydream-travelling' as I have, after Judy Nyaruai's Show & Tell last Wednesday. We may not be able to fly off to far-flung places to run, but we can run wherever we are, and imagine whatever world we have in our minds! That's the magic of running…your mind can run to wherever you feel like, with no passports or visas necessary. So keep traveling, fellow Swaras!
See photo highlights from this week in running in the Starting Line: https://sway.office.com/pM9G89IUelHWu1Pk?ref=Link
Swara Show & Tell
This week we have our fifth edition of Show & Tell! We've heard from Swaras in three different countries so far, talking about topics from writing a book, weight loss, running as mental health self-care, and travelling as you run, and each of them has allowed us to get to know our members a little more and learn some new facts and tips. This edition features Greg Hart, a consistent runner, our speed/track training guru and a running coach of several Swaras who have been lucky enough to be under his tutelage. This week he will be talking all things motivation, so tune in Wednesday at 6pm, and ask him your questions. Bonus points to those who wear their Swara gear 🙂
Link to join:
https://us02web.zoom.us/j/83475347289?pwd=YWhTSVo4NFZIenN0TW91ODVrYkQ5Zz09
Password: 262206
(Alternatively open zoom and use meeting ID Meeting ID: 834 7534 7289 Password: 262206)
You can join from your phone or laptop, just ensure you have a stable internet connection. If you have any issues joining, please contact me on Whatsapp +33615209676
Also feel free to invite your running friends and aspiring runners!
Full info in this week's Starting Line: https://sway.office.com/pM9G89IUelHWu1Pk?ref=Link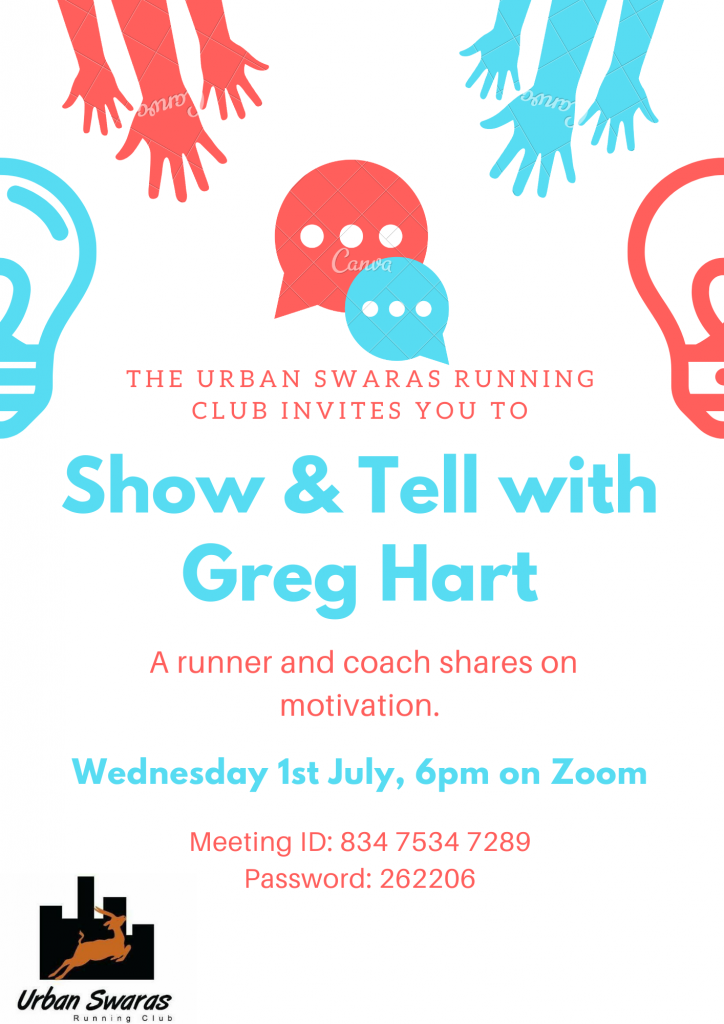 #MotivationNation