Our guest speaker last week, Hermann Kambugu, gave us all a bit of a 'sofa safari' as he not only joined us live from Kampala, Uganda, but also showed us his portfolio of runs covering more than 44 countries (yes, you read that right), including marathons, ultra marathons, and corporate sprints and relays! The beauty with running is that you can even travel on your doorstep…find a trail in a part of town you don't know, ask a friend to show you a trail you don't know, or follow someone else's route. See what trails Swaras have been exploring this week in the Starting Line: https://sway.office.com/Ff50xzE15yLogrVd?ref=Link
Now more than ever it's paramount that we look out for ourselves and each other. Run in places you know well, or run with someone, tell someone where you're going, and even share your live location with a good friend or trusted family members, carry a whistle/road ID, and avoid carrying valuables where possible. Unfortunately there are always risks when running, but please all do your best to secure your own safety, and look out for fellow runners too! And as always, check in on each other.
This week we're revisiting an old favourite in the realm of Swara Zoom sessions; we have a second instalment of Kundalini Yoga with Lydia. Last time we worked on our core, and boy did we feel it afterwards! This time we're using an ancient practice to stand strong in the face of chaos (I can't think of a more relevant theme right now), and this energizing and physical routine will work on breathing, energy flow and movements to achieve it.
All you need is a mat/blanket/thick carpet and a quiet space. All are welcome to join, no experience necessary, and no specific physical requirements or limitations. Lydia is a Swara and an experienced Kundalini Yoga instructor, and several Swaras have regularly joined her online sessions since our first Swara session a few months back.
Join the practice on Wednesday 30th September at 6.15pm, with a short cerebral warm-up in the form of some Swara trivia with new quizmaster Ameet Shah!
Get full details in the Starting Line: https://sway.office.com/Ff50xzE15yLogrVd?ref=Link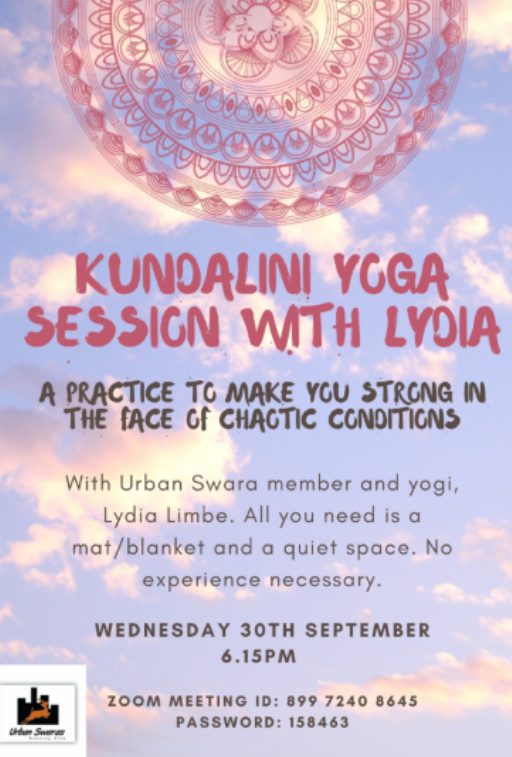 #StandStrong