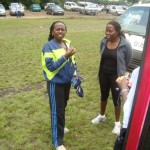 Date: September 17, 2011
We left Nairobi at around 6.20 to Ndakaini. We stopped at Ngara to pick one of the Swaras who was late at the meeting point and he was obliged to catch a taxi to join us, we also stopped at Thika to pick another member and at that stage I took some pictures. After spending 10 min, without seeing anybody, the chairman gave the go ahead to the driver and we left without her. While travelling, we of course felt the absence of MK. The only movement in the car was some of us standing to go to take some bananas or oranges. Fortunately, around 30 minutes before reaching Ndakaini, Tata stood in front of the bus and entertained us a little bit. Amai was very impressed to see her standing while travelling.
At about 5 min to reach Ndakaini, the chairman asked us to be ready for the run because we were exactly on time. We found many people still registering for the marathon and we were a bit worried to know at what time the run will start. We found a good place to ease ourselves and after that, the chairman disappeared. We couldn't even know where Tata was. Caroline, Ze (please she asked me to call her like this) and I decided to start the run at 9.00, but because we didn't know the route we must look for someone who knew the way. Ze went to look for Consolata and while waiting for her, we decided to walk slowly to the starting point. Fortunately when reaching the starting point, the run was about to start.
The run started at 09.05. After 15 min, I was still seeing some runners far away but after the first turn left, they disappeared. Nice because we were going down at that point. But when climbing, I couldn't even breathe, my legs were painful. I was asking myself if I could finish 5 km and I heard behind a voice asking me to keep on going, it was Caroline. She met me, asked me to stretch my back and breathe so that I will not feel the pain in my legs. I tried for few second and gave up. She left me and we met again after the second water point, she was suffering because of her knees. I asked her to go slowly to avoid the damages due to the fact that she is preparing for the Standard Chartered marathon. But I knew that she will meet me when climbing; no way; the run was very tough.
At the third water point, I was sure that the marathon was over, because I met some runners before who were saying that we only had 4 km to go. I didn't know that toughest hill was still in front of me. I happily went down as usual, but at that point, I stopped to admire the hill I was about to climb. I climbed it and when reaching the top, the game was not over; the torture was still ahead even to go down was another bitter trial. I had no choice, the only one I had, was to go till the end. I tried my best and reached at 11.45 min.
It was challenging, painful, tough but I was very happy at the end.
Nadine usually shared with us her own experience about these runs. I remember when preparing for Mount Kenya, she told us that, that run is to do once in our life and for Ndakaini she also told us that  the place is very nice but it's too hilly. Thanks Nadine.