Tag Archives:
naivasha relay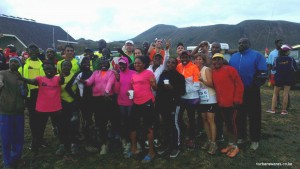 "Joy, you are Captain!" An undignified, " Eh"! was my response, followed by a plaintive, "why!!" "Gender diversity!" responded the Chairman with a straight face  and all I could say was, "really… Ajaa, you will pull gender diversity on me?" Well, by then he was gone and, that , Swaras ,was my baptism by fire into the Naivasha Relay.
( Video courtesy of Herman Hagström)
Otora disappearing like a fox into the bushes at the start of his first leg and getting to the end even before any of the cars.
Samuel Nyingi finishing 6 1/2 minutes before his next competitor who was in second place (astonishing considering its a relay).
Jael only finding out after the relay had well and truly begun that she was one of the captains.
Everyone was impressive including Steven Ndichu who in one of his legs clocked an average of 4:14 if i'm not mistaken, having begun conservatively then picked off runners as the K's wore on.