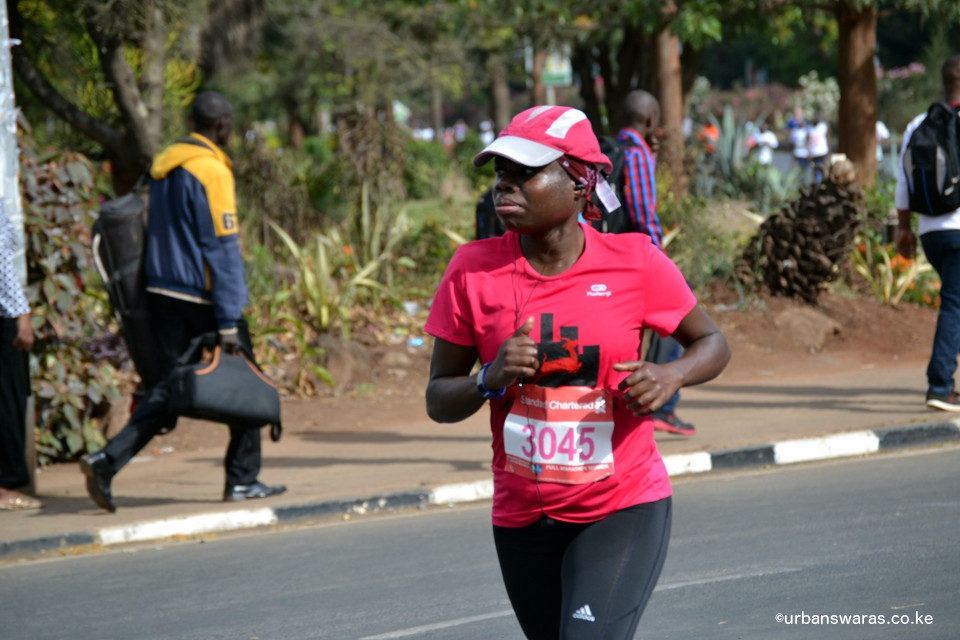 Like many Swaras who attempted their first 42KMs, I am elated. I am still walking awkwardly but there is a bounce to that awkwardness and a smile; once in a while a wince when I forget and the pain jolts me back to reality! It's the most rewarding and humbling experience to do the full marathon and finish, especially in the punishing heat, for yesterday, the mighty sun summoned all its off springs to 'rain' down on Nairobi!
My journey to 42 started as a joke really. I was beginning to slack off in my running and starting to hate it. Waking up in the morning to lace up while previously was a challenging but doable affair, began to feel more arduous, and I couldn't master any energy however much I tried. I began to resent running and myself for not running. That is when I panicked, because if you have loved doing something for a while and then you start to feel like it's a burden, that relationship is doomed. I had to mend my relationship with the trail. So this year after I did the Victoria Falls half marathon (which was a struggle to prepare for) I decided I needed a new challenge if I was to mend this relationship. So I set myself a 42K target, and immediately began broadcasting it loudly to my friends and anyone who cared to listen. Because once it's out of the closet, there is no going back!
At Vic Falls, I got encouragement from Suzy Wendot who despite having painful muscles from having white water rafted the previous day (we did warn them!), powered through the heat and finished strong. If it was hot in Nairobi yesterday, Vic Falls heat was double that. The only difference is the good event organisation where you get rain showers along the way and other drinks and fruits other than water. When I saw Suzy finish so strong despite the challenges, I knew I could do it. And then Eugene, another veteran Swara also encouraged me that if you are to attempt a first marathon, better do it on home ground where you will get the generous support of the Swaras.
So armed with those words of encouragements and my loud mouth broadcasts of how I was going to run a 42 come October, I started to train. And boy did I train. I remember the many Saturday runs where I was mostly on my own from kilometre 15 or 20 after most runners have taken the turn towards home. To train for a long run, you have to be prepared to run alone for most of the Swara runs, because sometimes you will be the only one doing a long run. So most of the time, it was me, my music and my fuelling belt. And once in a while I would gladly bump into Otora after I had long given up hope of getting any support. And the after run breakfast became a dream every day, gobbled up by the short distance runners!
I had been told by my good friend Molly that for you to finish a 42, you need mileage on your legs so I did as many long runs as possible on the weekends. In the end, what you put in the body is what you get out of it! I was so lucky to have put in a lot of mileage during the training without acquiring any injury, at least not before last minute. And so as fate would have it, the last semi-long Saturday's run at Ambo garden, as I set out to do my 20Km (I had started to taper), I felt an injury sneaking up slowly with every kilometre. I finally had to abandon the run at 16kms when my left heel could no longer step on the ground anymore. And I was emotional. I couldn't believe I had trained this hard to miss the main event! I was inconsolable. So I humbly visited Kariakim and ordered him to make sure he does everything in his power to heal the injury within the week! And that was the end of my training. I sat tight and crossed my fingers that come Sunday, that foot would behave.
The good thing about missing a run for a week is the anticipation and the feeling of guilt that makes you raring to go. Come race day, I was perhaps the most eager competitor to get on the road. So eager was I that I managed to convince all the cops (and bouncers) manning the various road blocks from Westlands to Nyayo stadium to let me drive through because I was going to run a full marathon (see my race number says full marathon!) and was able to park right outside the Swara tent!
The marathon itself was tough, mostly due to the heat. And my injury nagged me from the very first kilometre to the end. I was very strong until 30kms when began to slowly fade away and cramping set in. At some point it was like electricity was zapping through my body! Like my fellow full marathoners, I got incredible support from the Swara support team. A big thank you to Otora, Benja and the crew on Mombasa road. Not to forget Leif who together with his wife were handing out water and bananas as well as cheering Swaras loudly. Every time I saw a Swara, I made an effort to add a little bit more energy to my tired limbs and pretend I was still strong! And thanks to Molly who came to run with me the last 2kms, I finished strong. I would have just faded and limped home but she made sure I had a strong finish; so strong that I surprised some beaten up Ugandans when I passed them sprinting the last 500 meters! Thank you everyone, I am officially in club 42!