Tag Archives:
mt longonot
There are many good reasons to take part in the annual Osotua run. Let us start with the scenery. It is simply to die for. If you have not been, may I suggest you stop reading this and check out the photos that Roul posted on the Swaras facebook page. Or, if you like Victor more, here you go.

Go on and look. I'll wait.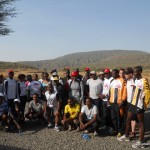 Mt Longonot: the hike, the run, the walk, the dizzy/nausea & dehydration spells, the photo taking & the picturesque view.
Congratulations to the facilitator of this run/hike – Amai. It was very well organized – in true Urban Swara fashion. But that's as far as I go in all smiles & a hearty hats off towards Amai. If I thought having Amai organize this run and not Ajaa would mean a gentler, less rigorous trail up the mountain and round the crater then I was highly mistaken. I should have known that they are identical twins & thus expect, hell, high water, sulfur & brimstone, & the works.