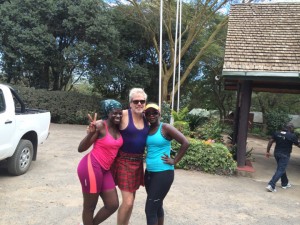 "I run because it keeps me balanced as there is a thin line between spiritualism and sanity, which running places in check, plus I plan my day, all my To do lists and work diary and above all it's a confidence booster." "I get the same feeling when I wear a good pair of high heels and carry my favorite handbag and I just know I will nail that board meeting."
Yes, Swaras, I do have a rather Chatty Cathy of an answer when I am asked why I run. And the response I get is always in the line of, are you always working or thinking of work, and that's when I get a bit sheepish , shy and tongue tied. As I write this story, I have a confession to make; I am in my running clothes in Kigali, it's 6:45am, I am sitting on the verandah with the beautiful view of the 1000 hills, about to have my breakfast, I just ran for 45 minutes and yes, I planned my days' meetings. But what is going through my mind is not this weeks' run in Kigali but my experience in the Mt Kenya Run last week, where I learned to live a little.
The hair brained idea to run up 10,000 ft in Kenya's highest point came when I went through our Frenemies website the Hash Harriers and it honestly sounded like a good idea and besides I thought, " I have been running up Mt Longonot for the last three weeks, so how hard could it be?" So one of the times I was in Nairobi, I was going for my usual 10 kms jog when I bumped into Ajaa at the Arboretum Forest and I told him I want to run up the mountain. His answer was very simple, "if you want to enjoy that run you need to do a long distance high altitude run, why don't you try Ndakaini Half Marathon?" That found me fumbling at the last minute emailing Jael to find out if there was space for one, which I got and just like that I ran a half marathon on Saturday, went the following day to Naivasha at 6 am and ran up Mt Longonot. Yes, I was on a mission to conquer Mt Kenya, and continued running during the week. Then came the day for the Mt Kenya Run; I left Nairobi at 6am, I was very excited, and I was in such a chirpy mood, all I could see were the golden rays of the sun bouncing happily on the leaves and I remember raising my hands breathing in deeply, twirling and saying, isn't it such a beautiful morning?"
And I got an absolutely undignified grunt from my fellow runners. Hmmm, clearly these were not morning people, none the less it was not going to spoil my mood as it was such a beautiful morning.
Driving down to Nanyuki, passing the Aberdares and seeing the looming Mt Kenya was really exhilarating until, the cops stopped us. So this policeman was trying to explain what law we had broken, until at THAT moment the clouds cleared from the sky and I could see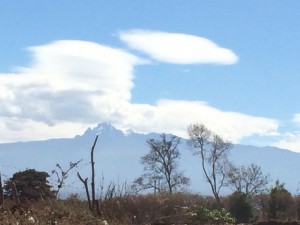 Mt. Kenya very clearly, complete with the snow and I did the unthinkable and said, "Boss, just hold that thought for one minute." I rummaged through my backpack and started taking pictures of the mountain, I mean it's not every day you see the mountain this clearly and yes, we temporarily found ourselves as guests of the state. And as the policemen were trying to explain what we did wrong, which we finally understood, I could not help but look at the view they had behind them. The beautiful mountain. So during the entire-do-you–know–what–you-have-done–wrong-speech , by the cops, I had this goofy smile, because it was a such a bloody beautiful day. Okay so we were let off, with a warning and continued with our journey.
The run was planned for 1:00pm and we made it to Nanyuki at 10:30am , went straight to Naro Moru River Lodge, where all the runners were staying, opted to camp instead of staying in the lodge, yes, the camp was facing the mountain. Prepared breakfast at the campsite and just relaxed as we waited for the remaining runners.
By 12:00pm, all the runners had come and we drove to the base of the mountain and there were two running options, 12kms and 16kms. And I chose the 16kms, I was the only lady in the entire run who chose this and a fellow Swara called Nderitu, and we began. It was tough. My feet felt like I had added 5 extra kilos to them and I had to run 4km to the National Park's gate in time for the call for the 12km run, though I made it I must say that was a forced warm up and I am glad I did it as not only did I catch up with the other runners but passed most of them. Now this was not only a beautiful run, where I saw wildlife, but it was equally well organized, there were water points in every 4km, clearly marked signs, showing how many kilometres were left for you to run, until it began raining. I was 12km to my destination and the heavens opened up and I must say, what was missing was shower gel and I could have taken a good bath with that rain. I had to be more careful as it now became a slippery run all the way to the end. I finished my run; I was very pleased with my performance. Bless the organizers, as they had prepared tea, samosas, mandazis and sausages, which I wolfed down with relish and they promptly sent me to the car that was carrying all the warm clothes with firm instructions, KEEP WARM!
It was when I was taking tea I found out one of our runners was 78 years old, she ran 12km, she was my hero, she entertained us with her songs and as we happily sang along all that could go through my mind is that God bless me with life and such strength.
After the run we picked all the rubbish we created on the entire trail, went back to the campsite, took a hot bath, set up the camp chairs and as I popped a bottle of Champagne, toasted with my fellow runners, we watched the sun set and looked at Mt Kenya, I breathed in slowly and I finally had a shorter answer as to why I run, "it makes me relax and live a little." Truly that was indeed the end of such a beautiful day.