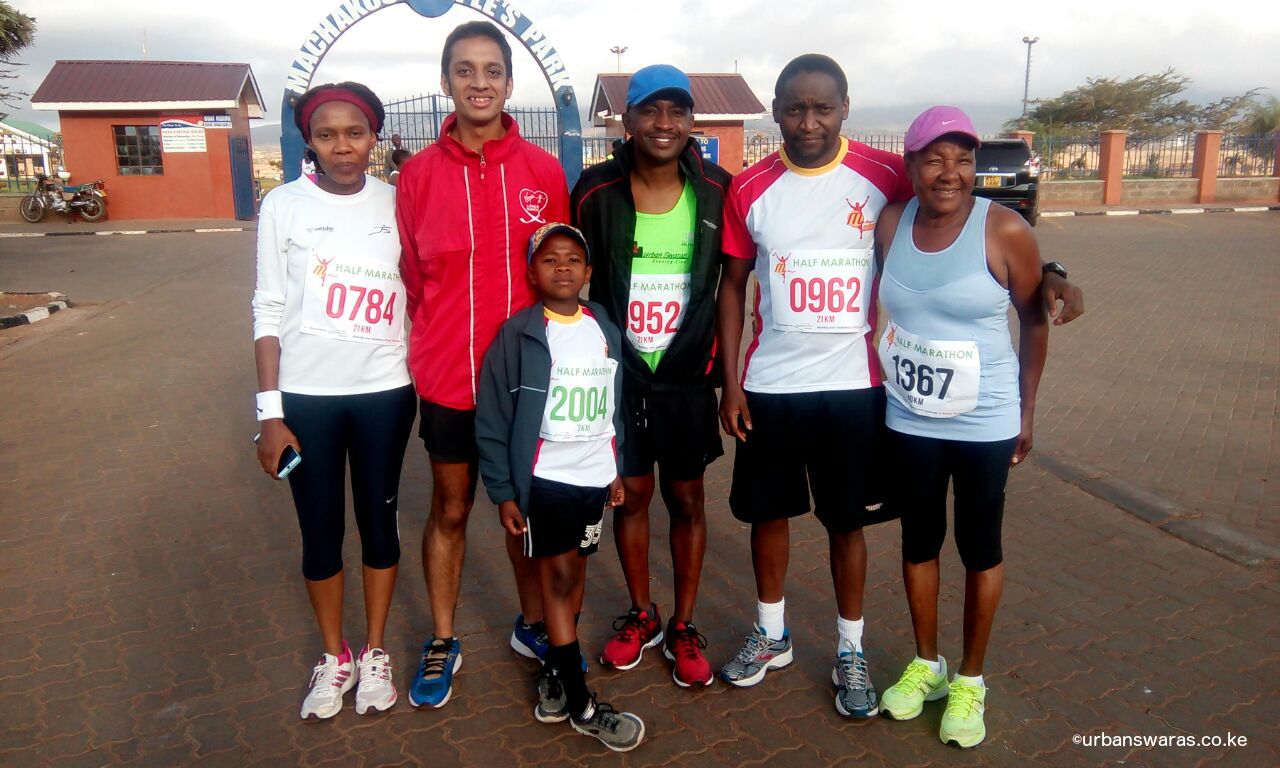 The Mulley's Half Marathon 2016 took place on Sunday 9th October from the People's Park in Machakos. It would be my first visit to Machakos People's Park, that being one of the reasons for my excitement. Arriving there at 6.30 a.m approximately, Swara Henry seemed to be the first arrival, he who often posts images from Swara Runs on his Facebook page accompanied by nice words. He was accompanied by a pal of his from Safaricom.
Having had a rather exotic dinner the night before, i was eager to spend a few minutes beforehand in a washroom at the Park, which was surprisingly in an impeccable condition. Once back at the car park, i heard a familiar laugh as i was leaning into my car to grab my jacket. I turned around and saw Tata's face, who had run 25k's the morning before in Ngong in preparation for StanChart Full, and would be doing the 10k that day as a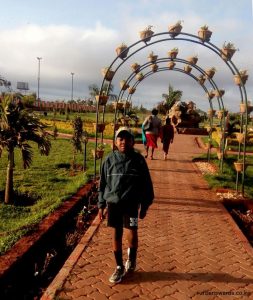 recovery run. With her was Davis, who had brought to my attention this run, accompanied by his young son, who would be doing the 3km race. The young boy ended up finishing in the top 5.
Davis then went to collect my race bib and t-shirt for me, something that made me feel appreciative. A delayed start seemed inevitable at that point, as last minute registrations were being entertained. It was the 10k that would start first, at approximately 7:30 a.m, and which would have to finish before the 21k's started, perhaps because it would have led to confusion otherwise. The front pack came in in quite close packs as we watched later on, with moments of confusion as one or two thought the start line was also the finish line, and had to get going again for the final section after realising that wasn't the case. Tata could also be seen passing by, looking good in her swara getup.
Soon after we saw Tata passing by, waving to the watching crowd that had built up, the announcement was made that the 21k would be beginning in a few moments. Also at the start line was Swara Diana, who may have only joined us recently, but seems to be a runner going places, having also done the Ndakaini Half Marathon earlier in the year. Henry though had unfortunately left, the late start having caused him to abandon the run.
A loud noise went off, signalling the start of the 21k with the more serious looking runners at the front. The first section was a loop on murram ground followed by a somewhat straight section also on murram, heading to the main road, which lasted almost 4k's. Next was the main road, after which we turned right and began a gentle climb to the turning point, approximately 11km's long. Inevitably the return section was downhill for a handful of kilometres' allowing one to clock in faster times.
Prior to the main road, we turn left onto another tarmacked road, leading us into the heart of the commercial district of Machakos, before geting back on the main road for a short stretch. A left soon followed, leading to a tarmacked section curving to the right, from where one could see what looked like an endless mountain range both left, right and in front, that seemed to be continuous. It was a pleasant sight as I tackled that section. Turning right meant the wind was now at my back, giving me a welcome boost of speed and movement.
The run would end with almost a complete loop inside the People's Park, with mini climbs of it's own, and ending with a short straight to the finish. I finished in 1 hr 54 min, which I was pleased with. It was perhaps a landmark occasion for Davis, who accomplished a P.B. of 1hr 34.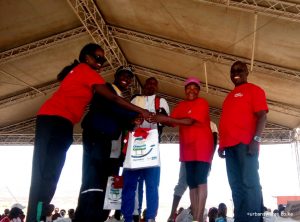 Just as I crossed the finish line, music started blaring again from a big stage set up to my right, on top of which was Tata, showing off some dance moves. She won in the Masters Category, the winnings being various food stuff items.
As I recap the run, i feel that punctuality can be improved as far as the start time is concerned, and water points can be more evenly spread out. However the race stewards were very helpful and lively, and the variety in the run is also good.
I plan to go back next year.