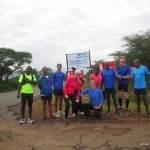 Date: Saturday August 31, 2013
Ever since Wilson Kiprugut won the first Olympic medal for Kenya in 1964, Kenyan elite runners have gone on to dominate world athletics, consistently bagging medals in middle and long distance races around the world year after year. As part of their training, a number of these runners periodically test their mettle at Kerio Valley where they run from near the Kenya Fluorspar Mining Company premises to Nyaru on Eldoret–Eldama Ravine Road, in the process climbing a staggering 1800m. Last weekend, the Urban Swaras set out to follow in the footsteps of these elite runners and get a first hand experience of this formidable trail.
As always, some chose to run 40km, while others set out to do 35km, 30km, 25km, 20km and 15km. The first few kilometers were relatively flat with minor inclines and dips, several river crossings with only stones to step on, and great views of the green hilly surrounding countryside. Some waterfalls could be seen cascading down the slopes in the distance. This part of the trail felt like a walk in the Garden of Eden, encircled by the landscape's natural beauty. Little did we know what awaited us further on.
As the morning sun rose higher, it started taking its toll. The gradient got steeper by the minute. This was the turning point in the run, the real run had just began. The trail became a series of sharp twists and turns, snaking its way gradually towards the elusive end at the top. Each step became a struggle as we started questioning our sanity. It wasn't all gloom and doom though, as the occasional sideways glance was rewarded with stunning views of the distant valley below. The activities of the Fluorspar Mining Company were now evident from this vantage point, as dug up ground stood out like open wounds amidst the green surroundings.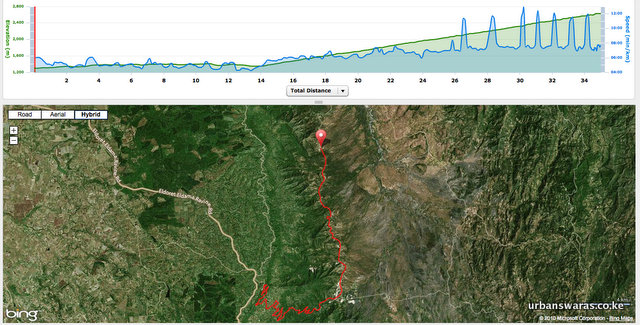 As the run progressed, it soon started claiming casualties. With the exception of those doing 15km, the rest began falling like dominoes.  Some succumbed to muscle crumbs, others to exhaustion in the face of the relentless climb. It was gruesome, it was merciless, it appeared all was lost and no one would be left standing. Finally, here was a trail that the indomitable Urban Swaras could not surmount, and it seemed their well-earned reputation was crumbling … well, not so fast. Like the mythological Phoenix, the Urban Swaras' saving grace came from Otoro and Wahome who gave it their all and rose above this challenge, both finishing what turned out to be 42km from tarmac to tarmac (from Kabarnet-Item Rd to Eldoret-Eldama Ravine Rd) with an elevation gain of over 1800m. Waliaula also finished his target 35km in a very respectable 3hrs 42minutes.I don't know how they did it, but well done to the three heroes of the day.
And so the Urbans Swaras lived to run another day with a renewed respect for our elite runners , having come face to face with the type of obstacles they overcome in their march towards Olympic and World Athletics Medals and accolades. As always, without the lifesaving selfless support from Tata, Monica and MC, this run could have been a total nightmare. They ensured runners got water, bananas, sodas, chocolate and the much needed moral support to come through this experience in one piece. We cannot thank them enough for the role they played.