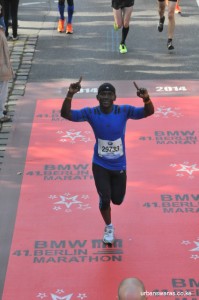 Folks, it had to be Berlin. After all, this is where world records are broken and as one went down on the very day, how fitting that I also outdid myself cruising home at an official time of 2.56.43, a personal best.
Guys', running a sub 3hrs marathon is the pinnacle of running achievement for most recreational runners and one would be hard pressed to find a more grandiose road race than Berlin to accomplish such a feat.
For folks like me with no natural talent or gait for running, a sub 3hrs marathon is really hard to accomplish, the holy grail of amateur running if you like. One has to be dedicated to a pretty all-encompassing training plan, literally training with same dedication as Wilson kipsang, but aside from the number 2 leading off your result time, there is no reward in waiting and yours is only a personal vendetta against the clock.