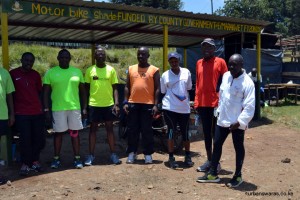 (Reader Advisory…this is a long read)
It's now 48 hrs after this misadventure and as I write this critique, the word experience keeps coming back to me.
Experience; (Dictionary.Com)
Involvement in, participation in, contact with, acquaintance with, exposure to, observation of, awareness of, insight into …a thing
Many of you Swaras experienced this run or chose to in view of /despite the warnings issued last week by Tata's writings that the great General Ajaa, fell in battle in 2013. This is why I chose not to. But being 50+ and looking to do a respectable sub-4 (Swara Lingo for under 4 hrs) in the up-coming Stanchart marathon I decided last minute (Jael would agree that I paid last) to throw all caution to the air and experience it. I told many, it's a death wish but I'll take it. For the first time in many years of running for free, Stanchart is willing to reward me with a 15% interest on Savings account -that 15% thing was the clincher for me. Normally I wake up 5:00am Mon-Fri. So this Friday was no different. But believe you me, I had no idea what to carry or leave behind. So I just packed a small sports bag with 'He-things' and a pair of trainers. Other things I would re-use and re-cycle in the countryside's hot open air!
My 'boss' was least bothered by such suicidal tendencies to self-destruct somewhere deep inside the belly floor of the Rift Valley. But before I left we knelt and said a prayer for the Almighty to remember me, and them, 'the left behind'. Soon we were hurtling down the highway to Nakuru having dropped Tata somewhere along the way and detoured to Karen to pick up two Swara newbies, Duncan and Francis. Then Kinale forest, Soko Mjinga, Kenol-Kobil and the turn-off to Run-Together camp. We relived 'Boston Hill' like it was just yesterday! At Naivasha someone said they hadn't had breakfast so we branched off to Delamare. Personally I never buy anything at Delamare. I always feel cheated on the price. So I simply hung around the car, made some unnecessary phone calls and basked in the morning sun waiting for these coffee tourists to be fleeced of their kwachas.
Towards Gilgil, it was a bit too early for the baboons to start their roadside entertainment for drive-by viewers. So we entertained ourselves by admiring the green carpet of vegetables and flowers of Naivasha orchards and got busy spotting and counting the zebras and antelopes in Cholmondeley's (the serial homo-sapien hunter) ranches. Someone muttered that racial clashes might someday drive Lord Egerton's grandchild away from his priced property at Elementaita but we quickly discounted that.
Lunch? Would it be Nakuru's donkey meat or Mogotio-roasted goat or Marigat's sisal-smoked-obambla or Kabarnet-koriema? We settled on Kabarnet. We had a high quality and high value passenger who wouldn't touch any roadside anything. So after a brief stopover in Nakuru to purchase juices, sodas and water, we headed off to Kabarnet.
Duncan's GPS was accurate to the last ten meters, mostly contradicting my prior rusted knowledge of the route. We went along with it thankfully. Somewhere past Moi's famed Kabarak, and after the turn-off to Eldama-Ravine, where Baringo county begins, we arrived at the Equator monument. I had been there sometime back and never noticed anything like a monument. But we stopped and even bought some soap-stone-globe held by three hands, between several clicks of selfies. A mama selling the globe-thing indicated that one of the hands holding the earth is Satan himself. The women were lankier around the equator area, reminded me of Karanja Road in Kibera. And this soap-stone artistry? Yet there were no signs of Kisiis or Kambas anywhere near! So I bought that one because it showed Satan outnumbered two to one.
Off again to Marigat, through rows upon rows of sisal plantations. If you thought sisal bags were outdated, think again, so says our high value passenger. Coffee and other high quality foods cannot be transported in plastics. Up there in the Acacia trees, I counted a dozen different Acacias, were hung some beehives. So this is beehive, sisal, goat and sheep territory. And it was 33-35 degrees outside. So hot, one could see goat sheltering under trees. Once in a while you could spot the infamous mathenge tree. Deceptively green, beautiful, good on outside, bad on the inside. There's plenty of charcoal on the roadside and one hopes that it's being made from the mathenge, otherwise this is purely an environmental disaster in the making.
Somewhere along the way our GPS stopped working or succumbed to the heat. Being in the downstream marketing business I couldn't help noticing one or two retail service stations cropping up here and there. We are now headed North and the twists and turns begin. Vegetation also gets greener, signifying that we are probably into Marakwet territory. Don't ask me who those souls living on sisal, charcoal, goats and beehives are. Maybe Tugen, Ndorobo, Ogieks, Njemps or even Pokot. A lot of place names have 'Kap' and some 'Os', and no telltale suffix 'er' at the end. Made us think that Baringo County is a hotbed of the wildest of the wild. Aaah, Koriama! We were yet to decipher the full meaning of that word a few hours later.
2:30 pm: We are the final twists and turns to Kabarnet and we are being hit from all sides of the road by pebbles, pebbles and more pebbles. Apparently someone seriously Kenyan is busy doing the unneeded road carpeting and making a damn poor job of it! Then Kabarnet. Even dere is now too tired to fidget with his mobile phone as he is driving. We will have coach him on road safety some time soon! Sissler African Dishes announce our arrival and we turn right thinking we are heading into town. But we have all read the arrow signs wrong! As we pass Kabarnet Hotel, formerly a power base of the Kiplagats, the Cheboiwos and the Barngetunys, our high quality high value passenger says this is where he is going to have his lunch. Realising we are on the wrong road we turn back into into town. If you ever want to know you are in town center, look for a bank. Aha, Equity, Family bank and the ever dead or dying KWFT. But no Hotel that meets our new standards, just some roadside eyesores. Turn back again to Kabarnet Hotel, passing Sissler African Dishes for the second time. I am sure Davies is cursing one us because he and Alfred, who has been reserved most of the journey, suddenly quote from a book they have read recently about gut feeling and instincts. I mumble to myself that it must be instinct for goat meat driven by a burning stomach. I tell them what I have learnt; that instinct is just a sub-conscious process that regularly bursts out into the conscious when the stimulus is right. Thank God! Kabarnet Hotel turns out to be a ghost hotel. No car in the parking, no one at the reception. I announce to all that "I ain't eating here even if the food is free" and so for the safety of my pocket we turn into Sissler. Here we meet koriama again. Koriama-chips, koriama-chapo, koriama-ugali, koriama stew. What on earth is this koriama? So, in order to die together, like all foolish homo-sapiens do, we all order koriama. It's delicious, it's goat meat after all. Bye bye Kabarnet and bye-bye Koriama.
We head out and down the hairpin bends to Iten. It is so steep we hardly want to imagine if someone might be mad enough to make us run this. We pass some gorge with rocks the colour of coffee, which look like a million years old. "Tourist attraction", say many banners. Later we learn that this is where for a small fee you can send someone to his maker. They dive 50 meters headlong into the gorge. So 100 years after Conan the Barbarian, our brains are still reptilian enough to make us subject human beings to such gruesome display! The nice tall Marakwet girl in Sisslers said the junction is 10km away. We'll soon know that those hairpin bends and corners reminiscent of a road through the Swiss alps are not counted as distance. It's actually 16Kms and about 20 minutes later we make out turn-off. The descent was so spectacular, breathless and fast that we failed to notice. Ajaa's laugh looming over the table mountains. When we see it, we freeze! "OMG, we are going to run this?" Are the mumbles you could hear from us all. Newbies like me could only pray that the human side of Ajaa take precedence. After a few minutes through brick makers masonry, mangoes, sorghum and failed maize harvest, just before 4:00pm we check in at Sego Safari Lodge. We notice it's actually called Sergon, but someone savvy enough removed the ethnic sounding from the name and put a "Maina" in charge.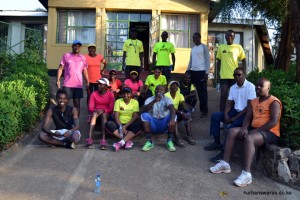 Maina insists on checking us in on a sharing basis! Yes we paid for sharing. In this heat and those granary looking mabati roof cottages? No way! So we go through the list, 32 so far and there's 41 rooms. Give us a room each, we demand! So by the time Jael came, she must have found anarchy and all her plans ruined. After the long drive, we try and catch up on sleep but that posho mill thing keeps snorting up every two minutes. By 6:00 pm, I have given up all attempts to sleep. Get some ice. Davies got some in Nakuru and our drinks are all ice-cold. Then Dinner. Then some camaraderie, some before-the-run braggadocio and chest thumping. "I am doing 30km!" declares one senior citizen who walked most of the 25km previous week at KEFRI. "Tarmac to Tarmac", declares some delicate young sweet thing. A week ago at KEFRI, I saw her walking and cursing unprintables over only 30kms. After the final briefing it was bedtime. I saw a lot of runners disappointed that everything starts from 20km. No 10km. No 15km. Some of the runners will have to do it backwards, Lillian tells me she has a plan.
The Run| The Challenge| The Slaughter
Its morning. There's apprehension on what waits us but it's subdued. Veterans know but are rather quite. I don't see Ferrah smiling and that bothers me. My fellow tough runner Munyao has full gear of scientifically researched and prepared Camel Pak. He says he has 2litres of special purpose water and additives in there. He is doing 30km. That is my first source of worry. I am not as good as he is, and I am mad enough to attempt 35km. Eleven of us get to the tarmac. Munyao is driving and will drop me at the 35km mark (turns out to be 37km). We drive ahead at the white board and start mine too. If you ever wanted to do 40km next year, start at the first white board sign post for some primary school and AIC. It's a struggle to run with one litre of water, half in each hand, like some Slim-Possible participant running with weights; but the alternative is suicide. So I take it slowly. Tough climbs gentle descent. But those dogs out early morning, they scare the hell out of me. I have been bitten twice by my own dogs, so the sight of a strange stray dog puts me on breaks. Every time I saw one of two I slowed to a walk.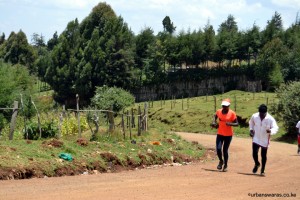 Soon enough I pass Sego Lodge and Munyao & Co, 30km group seem to be waiting for transport or something. "On On" I tell myself. I reach Muskut and survey the environment for a mosque. Can't see any, so why Muskut? "On On" I urge myself, I am the only one doing 35km. I see at a distance a swara, I wish her strong and move on.
At the valley I spot a junction that turns seductively right and am tempted to head that way. But some old man out of nowhere stops me. "Njia yako ni ile". So I continue on njia yangu and reach a gate and a barrier in front. So this must be the 21km. I'm still strong and I've passed four mwenjoyos and I have only 21km to go. Maybe I can now start sipping the heavy water. The dust kicked up by these monster lorries is going to kill me soon! Then I remembered a nose cover I left behind in the city. I ran again some 2-3km to another manned gate! Damn! Did the chairman not talk of one barrier? Yes he did, but he also said the barrier to the left, and I cant' see any barrier to left. Just before this gate, a river or waterfall or whatever overflows the road, there are three more mwenjoyos washing their faces. I wave and move on but notice that there are no more down hills or flats, just uphill. The battle has just began.
Before long, I meet Lillian thundering down. So was this was her plan? To run down?
I've got to keep the remaining sugar until I meet Otora. A really beautiful woman with an equally soft smile is manning this gate. Well, there were men there as well, but I didn't notice them. I stopped. Removed my now hot head gear, smiled my best and asked her to tell me the truth about how far Nyaru is. "24km", she says. No it's 24km minus 3km.
I ask her jokingly, "Did you say you are 24 years old and Nyaru is only 21kms away?"
"Yote sawa" is all I get.
I move on. A young swara, zooms by. I wave him down.
"It's a marathon boy!"
"This is my pace", he says.
"It's a pace to nowhere", I mumble.
My mind races to hundreds of opportunities I lost in my life because of being young and stupid. Ahead, our Usain Bolt is bent over in a painful crouch position, the hill hit him and the gas went out of his legs, I assume. I catch up and we trot for some time. He picks speed and disappears in some corner as I check the temperature and quality of some water oozing off the rocks on the road. My 1litre of water and additives is now down to half a litre but I dare not touch it until Otora appears. Thank God for small mercies, here are Otora and Yusuf!
"Wasn't Yusuf supposed to be pacing our Patron? Is the Patron already 'dead'?"
Later I heard how some Swaras branched off to buy their own rescue sodas in the numerous shops dotting the hillsides. Then the corners! Every time I approach one, I hope for a flat or a descent after. None of that! 'Usain Bolt' & Co. are trudging ahead dying slowly. It's my time show all that 'old is not sold'.
"How far is Nyaru?" I ask again and again and I get the same answer. "Mbali!"
I may as well stop asking. Turning one corner I get the feeling that the trees above me are talking. If I am not running mad, how come trees are talking, chatting and even laughing.
Then ahead I spot a group of Swaras doing a slow hike in a zigzag pattern. They must have been the talking trees. I turn to look down the corner below me and spot the wind-assisted Nyingi flowing up! He easily zooms past. That is when I realize one of the "Tarmac to Tarmac" champions have caught up with me, yet I started 5kms ahead of them,which means I have lost 30 minutes already. So Ajaa must be nearby too. I told myself if Ajaa passes me at 38km that would be respectable enough. I can live with that. Ten minutes later, Macharia catches up with me. I try to keep up but his muscular frame and legs, which look like they are made of oak, is too powerful a kick for me to keep up. I let him go and let God! (seriously, I said let God). Another steep corner, Munyao shows up. We ran together for while. His Camel Pak looks lighter; its additives must be in his veins. Up hill is Otora mixing water and sodas. I ask Munyao who has a Garmin how far to go? "10km". I am elated, 10km and I have so much kick in me! But it's actually 13km. Because somewhere ahead I pass another Swara trying to kick the air with her legs for blood circulation and she tells she has belted 27km, must be 3km to go. Not so fast and thats when the trees start playing games on me. At the end of each row of trees I swear to myself that no one can build any road there. I reach the end of a tree line, see some blue sky, think I am done with the damn hills, then turn a corner, suddenly another set of trees appears above me!
These trees are making me hallucinate. And where is Ajaa? I am now at 40km, I am sure. Am I the only one passing one swara after another. It's a heavenly feeling I can assure you. Then I notice the tree lines are getting narrower or tapering as they say. Before long, Lo and behold a farm with dairy to my right, the hills, one more corner and one more twist.
I'm now running on soil; happy and strong! I conquered it!
Time? I don't know. I don't care either.
Then I see vehicles. Tarmac. Tarmac. Tarmac!
I sprint to my Finish…I did it!
Other than Nyingi, Macharia and Munyao…No one else came close to this 50+
You ain't ran nowhere if you ain't ran the Flouspar!