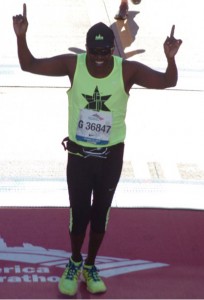 Chicago Marathon 2015 to me was in many ways a thanksgiving and tribute outing to this great city and to the people of Chicago for the support they gave my fundraising effort in 2013.
I first ran the Chicago marathon in 2011 and fell in love. I registered for the 2013 marathon but wanted to combine my love for running with my passion for charity work. I founded Bloodlink Foundation, a Non-profit Charity in 2004 to mobilize Kenyans into becoming regular blood donors. Over the years I realized one of the biggest challenges willing donors faced was access to blood donation facilities. I decided to run the Chicago Marathon in 2013 to raise money for a mobile blood donation truck. I needed to raise $75,000. A few weeks to the marathon, the Westgate tragedy struck and I was more emboldened. The sudden demand for blood and long queue's by blood donors was justification for my cause. Kenyan's came out in large numbers not just to donate blood but also to contribute to this worthy cause. The city of Chicago and Kenyans in the diaspora led by Faith Chepkwony in Chicago also contributed generously including offering logistical support to me and my team. We raised just over $100,000 and procured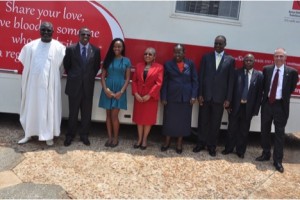 the specialized mobile blood donation truck from the UK. It was launched by the First Lady, Mrs. Margaret Kenyatta on Valentine day 2014. To date over 10,000 Kenyans have donated blood on board this truck giving life to over 10,000 patients at our hospitals. I went back this year to pay tribute to this great city and to those who supported me.
Back to the 2015 Marathon. En route I spotted Florence Kiplagat (The eventual winner of Chicago 2015 and 3rd placed in 2014) and Lucas Rotich at Schipol Airport Amsterdam on the way to Chicago. We later chatted as we queued at immigration at O'hare Airport Chicago. Florence was first to be interviewed followed by Lucas and the immigration official was so amazed at their marathon exploits that he kept chatting with them oblivious of the rest of us queueing. When I presented my Kenyan passport the first question was "so, what is your time?" I retorted I would probably be "in" 2 hours after Lucas. We were to later hook up with the elite runners at a dinner hosted by Kenyans in Chicago in honor of the Kenyan runners and organized by Faith Chepkwony at the Hilton down town. The Chief Guest was the Deputy Governor, Kiambu County Hon Githinji. He is a former Hash runner and promised to join the Swaras at a future run. We discussed with him the possibility of a Swaras high altitude camp and club house at Kerieta forest, Kijabe or Limuru and will be following up on this.
On marathon Sunday I was up at 5am because I was staying with my brother in Skokie a suburb of Chicago and with the road closures we needed to make an early start. We were out of the house at 5:30am and using the freeway got to downtown at 6am ready for the 7:30am start. The weatherman had promised a cool 55F going up to 75F later in the day. The first half ended being too chilly and windy for me given that I wore a singlet and shorts. I ended up stopping at every toilet stop and alley I could find the 1st half disrupting my entire game plan. Though I recovered in the 2nd half I never caught up with my anticipated sub 4 and timed a well-deserved 4:31 better than my 4:33 in 2011 and 4:50 in 2013.
To the Swaras and especially Jael a big kudos for pushing me in my training runs. I wouldn't have done it without you.