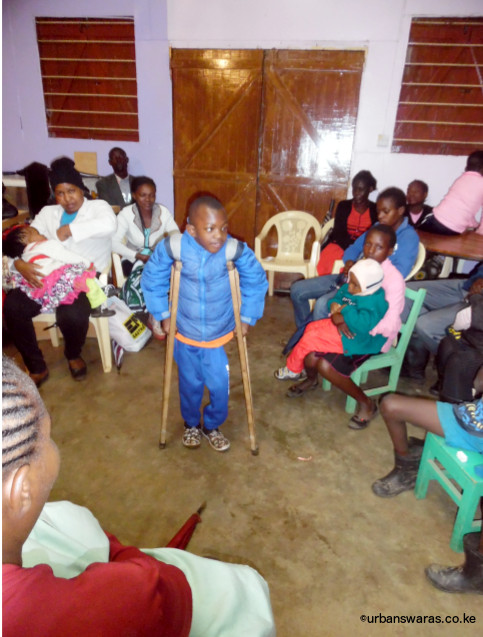 Every Saturday with the Swaras is an experience to remember, but an unfortunately small number of the runs really leave a lasting impact on the communities we, affectionately, trounce upon; well, aside from the carelessly discarded water bottles and plastic wrappers (you know who you are, people 🙂 ). December 19th finally brought real opportunity to benefit the less fortunate, but first things first… the run!
Waithaka is tucked behind Kangemi, Dagoretti, Kwangware, and lots of other places that are much easier to find. The Chairman's late Friday supplemental directions, coupled with a sixth-sense familiarity due to many adjacent past Swaras' routes, thankfully got nearly all of us there on time. Jael was in an accommodating mood for the few stragglers, however, as nearly everyone had a tale of turmoil from the night/early morning before. A whistle-less (another nod to those who may have been more hungover than they'd admit) start had us heading off just after 7:00, and easing in to a mostly downhill course through classic Swara-run features: villages, markets, muddy rocks (of course) and dense trees. Each kilometer passed with surprising ease, and seemingly everyone was scoffing at the first "10" mark and hanging a right for "L."
I paused at this moment of truth, probably hoping subconsciously that a familiar face would meet me and convince me that 10 KM was a great pre-Christmas outing. Instead I was summoned over by a friendly Matatu driver stopped at the same point, who proceeded to trade 100 words of Swahili for my three. This was followed by a curious pinch on the cheek, which I took to be this man's equivalent of a pat on the backside by a sports coach—I was off for 20 KM!
The next few kilometers proceeded without incident, though the turn for 15 KM came entirely too soon for someone who had barely before decided to extend beyond 10 KM, especially considering the monster hill in between. That psychological hurdle was overcome by the sudden sighting of Anthony and Yasin just ahead on the path towards 20 KM glory; two inspiring Swaras who could provide ample motivation to the finish. Just as I caught them, however, we agreed on a necessary detour. Not for water, bananas, or a choo, but for a closer look at something that only lives in movies and clichés; an actual train wreck.
As we approached the scene, I remember (foolishly) reviewing Google maps the night before in hopes of navigating to our start, and focusing on what seemed like an oddity; "there's a train station in Dagoretti?" Well, not anymore. We stood under a massive, twisted shell of what had once been a passenger train car, and faced a thoroughly smashed freight train engine that had clearly gotten the best of this brawl.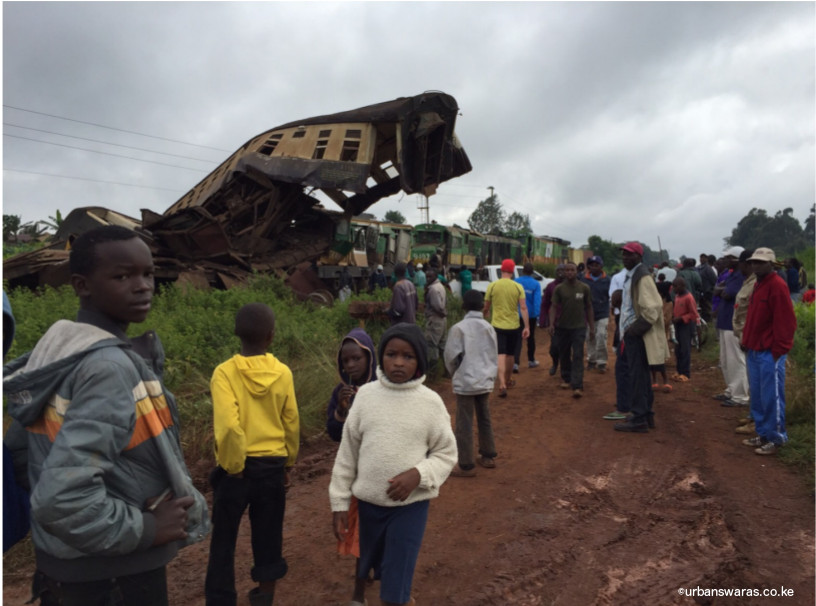 Thankfully, and miraculously, we were informed by one of the salvaging crew members that not a single person had been hurt, a product of the Nairobi-bound passenger train being empty on a Friday evening. That bit of good news had us in good enough spirits to hit the home stretch of the run, as we had important matters to return to at the finish.
In all the adventure of the run, it was easy to lose sight of this day being the Swaras' signature CSR event of the year. The few folks who turned towards their cars can be forgiven for forgetting that the day's most special moment was still ahead. Nairobi Support Services was there to welcome us with hot chai and an amazing group of children and their mothers. These were the beneficiaries of the Swaras' generosity who we had read about in previous emails, but meeting them in person was something else completely. We were given an overview of the program and its many successes; seating and walking aids had allowed dozens of developmentally disabled children to attend school with their peers, but also its limitations; one of the boys the Swaras had recently sponsored for surgery was unable to attend, as his mother couldn't afford the transport fare for the day. Being here and offering emotional, and of course modest financial support to the mothers was incredibly rewarding, and timed perfectly with the Christmas holidays. It also sparked enthusiastic dialogue among the Swaras, with a recurring refrain of "why don't we do this more often?".
We're all drawn to this club Saturday after Saturday for the 100% guarantee of a gorgeous running route, great company, and real sense of achievement that comes from tackling 10-35 KMs while the rest of Nairobi is just waking up. This one, topped off by interacting with a charity that drew even more attention from the Swaras' than a real-life train wreck, had us all craving more. Not only for runs such as these, but for opportunities to leave more than muddy footprints as legacies in the communities we run through each weekend.