Madaraka day gave us a long weekend gift. The Swaras, Kenyan Swaras to be precise and some spots of Cameroonians, planned a running holiday in Voi. Wahome has built a spectacular lodge there. I decided to hop in. I later heard the wazungu runners backed off when they heard Voi is near Mombasa. Sad!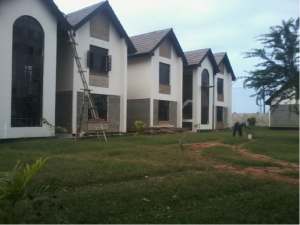 The lodge is easy to spot. We got there early enough for a stroll and a power nap before the planned afternoon run.
To schedule a run at 3pm under scotching sun is crazy, crazier when no one is expected to run less than 10km. The chairman assembled the runners in time. The host gave details of the trail. Otora was still marking different routes. It looked like this time he would do a hard job for nothing. But just when we were about to get in cars, Otora arrived with a different idea, "I have marked a wonderful trail. The 22km can start now". He reported. "The chairman brew the whistle for Ameet. He was the only one willing to stay under the sun longer. I guess it was more for a tan than mileage. The rest of us were to wait for 30mins for the route to be marked. I am one of those Kenyans who keep time but don't wait. And this wasn't to change in Voi. A nice idea flashed my mind. "Let's use the marked route, ran 7.5 and hit back." I suggested. The rest happily agreed.
10 mins after the start, my legs reminded me I had not done anything better than kick boxing the whole of that week. I slowed down. The rest, Ndungu, Alix and Susan took off slowly. In a short while they were out of sight. I love lone runs but this one is more scary than appealing. It so beautiful and quiet. But being alone in unknown forest kind of a place is not fun. I put off my music. Just to make sure I can detect any unwelcomed step. I tried to increase my pace but the heat played a big hurdle. A few more steps got me out of this deserted place. There were goats grazing and men looking after them. Most of them, well, actually all of them were very polite. They murmured polite words and moved on. Out of fear, I greeted anyone who looked unfriendly.
The trail was perfectly marked, even when the trail got in a bush, the white chalk followed. I thought of Otora. How can he arrive in Voi and get a route in a span of time? And why am I following the marks to unknown? If the devil decides to have all Swara in his house, he will bribe Otora to mark a trail to hell. And we will all follow in the name of avoiding getting lost. A large herd of cattle and goats distracted my mind. The herder is a mean looking man. He walked eyes straight on probably thinking of his dinner at home. He ignored my greeting.
In front of the herd I saw my team coming back; I'm happy and relieved to see them. Susan hurriedly explained where 7.5km turn was and vanished. The way back looked different. It's crazily hot for any sane person to be running; I stopped and walked. I saw Ajaa, Amai and Ferrah approaching. These guys run like lunatics. I bet they would run in to big trouble if a run is set in Turkana. Why would someone waste so much water sweating in such a dry place?
Back in the lodge, Peter, Susan and Alix looked relaxed. How would someone run 15km in scotching sun and still look fresh. I wondered if some gods had shaded their route. I enquired about the following day's running schedule. I was pleased to hear a mention of an early start.
In no time, the lunatic twins arrived. They looked like they had escaped a forced baptism from the sea. They dashed to change. Ameet arrived looking quite exhausted. He had managed to get a nice tan. It was all worth it.
A scene after dinner aroused my doubt on the mentioned early morning run. The 5 litre box of wine in Jael's hand was enough to have several runners drop. The music changed from low to high. I suspected trouble. I enquired about the scheduled run from our host. "We will start at 12:30." He responded without blinking." "Am or pm?" I questioned. "12:30 pm." He confirmed. I knew instantly I was holidaying with insane runners. "
After chatting with a few people, I realized there were other morning run dreamers. Lets go for it, "I suggested. I sealed the deal and headed to bed. On my way, I saw Chairman. I shared my early morning plan. Like a school girl reporting her plans to wake up early to study, I waited for a pat on the back. But things turned out completely different. The chairman got really agitated. He wanted everyone to follow the schedule to the dot. Amai joined his song. I knew no matter how long the discussion took, whatever the measure Chairman would threaten to take, nothing will make me start a run at midday. The host later changed time to 9:30am, which was still too late for me.
At 6: 25am a knock on my door indicated I was getting late. Mercy was ready and eager to run. Consolata and Njenga later joined. We kicked off. The plan was to use the 15km trial which we missed the previous evening. It is a bit chilly but the morning view is stunning. My muscles got happy with this morning arrangement and become friendlier. My plan was to run 10km, but Mercy termed it as a waste of time. "You can't wake up at 6am to run 10km", she said.
After 4km or so, I heard people running behind me. I looked and saw Otora and Alix. They too had decided to join the morning bus. They passed me without any sympathy. I have to add mileage, I reminded myself.
I caught up with everyone at a river crossing. Mercy was threatening to go back if there was no bridge. Consolata joined in; "I can't wet my shoes, that will cause blisters", she complained. Otora the magician performed his wits. He got two logs together and helped everyone cross.
I started a lone run at 15km turn. It is a Sunday morning and the village is still asleep. At 7:30am and the sun was hitting me hard. Apart from the dehydration which is clipping in, both my legs and mind are ready to kick out some more. Just when I was to throw the towel and pick a bike home, I saw a familiar car approaching. It was Ameet and tata. Theirs is a morning sightseeing tour. "Do you have some water?" I asked in a begging tone. Ameet grabbed a one liter water bottle behind the seat and handed it to me. I gulped. "Do you want to take the water with you", Tata offered. "No, it's too heavy?
With renewed energy, I kept on. The marks took me under a bridge. I think of Otora again. If this guy doesn't have a GPS that indicates all corners, trees and rivers he must be a witch. How else can he get in a town and within an hour get a route through bushes, rivers, villages and even under a bridge?
I managed to get back to the lodge without a bike ride. I'm the first of the morning rebels to arrive. I feel sorry for the runners still having their breakfast happily, without a clue how hot it was. Soon Njenga is ferried back to the lodge by Ameet. He followed the 22km trail simply because he couldn't believe women could defeat him. Sadly, he is yet to get out of this male superiority complex, which is a no no attitude In running.
We later took an easy drive to witness the real insanity of runners. The scenery was spectacular. We stopped frequently to take photos and missed a lot of actions.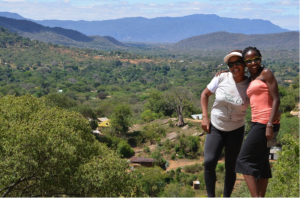 We caught up with Ferrah, I think she is the only lady standing. The rest are shaded in the cars in the name of supporting and cheering. Next was Raoul, he spotted Alix in our car and he was attempted to jump in, but he was full of sweat. No space.
We caught up with Chairman on a steep hill. He begged for a soda. We offer him juice instead. He is the only one running at this point. His bare clean shaven head look badly hit by the sun. He has a trail of cars following him. This is what politicians like; Power! I think he is practicing to be one in future. The villagers are all curious. The bold ones asked what was going on. The rest just stared. After 3 hours, we got bored and tired of this trailing game. We turned back. The previous night, Wahome had promised we would go hiking. I had my picnic ready but there was no sign of any hike. I'm still confused about the Taita hills hike. Where are they?
That evening Mercy took us to Voi lodge. Yes, you can lodge at Wahome's place and take a ride to see animals. That is if you like them.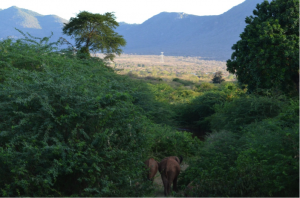 Back at the lodge and Swaras were all celebrating. There were all sort of drinks on the table, wine, whisky, vodka. A lot of discussion on which music to be played, and when. I sensed danger. I arranged with Otora for a sun rise recovery run and went to bed.
At 6:10am, I was joined by Chairman, Otora, Alix and Ferrah. We followed Otora. He had not marked the route but his signal head directed him to some hills. We followed. My muscles started getting tight. I turned back.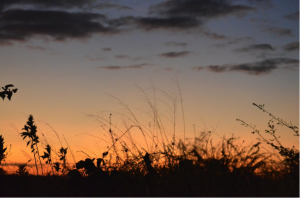 After an early breakfast, we all set out after thanking the Wahome's for their hospitality. I can't wait to go back to hike the Taita hills.