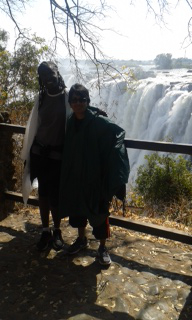 My account of the Victoria Falls Marathon is a combination of Ajaa and Avani's accounts, at least on the scenery. We traveled on the June 26th morning. At the Airport, we tried calling Ferrah but there was no answer on her phone. At the time of departure we had no idea what had happened to her, and only learnt of her fate on landing in Lusaka. It was quite sad and we were gripped with mixed emotions as we proceeded to our hotel. Pole Ferrah, we don't understand why it happened but thank God you are better now. Wish you a quick full recovery.
The days went fast with the activities and of course the world cup, and soon it was the eve of the Marathon. My plan was to take it easy and just finish. To be honest, I had been unwell for about 4 weeks and also got pricked by a thorn at Maasai Lodge 2 weeks prior to Magadi, so I was out of action a bit. This had a huge part in my decision not to pressure myself. Prior to this, I had received valuable advise from Kimmie, Avani, Ajaa and Lilian. This was on taking it slower at least on the first part, and that I could speed up on the second half. That being said, my mind knew to relax, but I tossed and turned most of the night.
Marathon Day
We set off at 6.30am. Once we got there, I wondered when we would start. Loise told me to relax but I just wanted to begin. I was a bit anxious as the later we started, I thought the sun would be on us. Anyway at the start of the Marathon, we were so few we could stretch without touching the next person. One of the ladies competing mentioned it was her qualifying race before comrades! Wow, I wondered how many Marathons she had run, and I just said to myself, focus on your race.
The race soon began, much to my delight and soon we were on our way to the Falls. I remember it was a bit humid but the shower from the falls was cooling. As the run progressed, I kept on referring to my Garmin watch and found myself running a bit faster. I had to literally tell myself loudly; slow down girl, it is the first loop. Kimmie's words came to me. Don't get carried away by the excitement. But I tell you, keeping your body in check when you want to take off is a mental thing. I distracted myself by telling myself to enjoy the scenery. So I kept on saying beautiful, the place was beautiful. This also helped, as there were 2 distance marks on the road. You would have a 4km mark next to 26km mark, meaning we will be back for a 2nd loop. I soon got distracted and even stopped to enjoy the drummers in one of the hotels. They had oranges and bananas and I quickly ate them.
There was a couple that was running alongside me and they would stop for photos. I would pass them and after a while they would pass me. We got into a conversation; they asked how many Marathons I had done, only for me to tell them that it was my maiden run. They encouraged and inspired me. The guy had done 86 Marathons and the lady had done less than 10! Wow! At 10km I had done 1hr 15min and by 21km I did 2hrs 40min.
The start of second loop was good and appreciated. At the 26km mark, I saw Loise and Ajaa at the opposite side of road at 33km mark. I remember thinking they will do a good time. We cheered each other and continued. I was feeling quite good but reminded myself to continue taking it easy. Did I mention there was a place in the course where some breeze was blowing on us? Quite refreshing. Now I had heard stories that at 35km mark, its when at a Marathon your body checks out and adrenalin, will power and determination kicks in. I was a bit apprehensive as I approached this point even, stopping earlier to stretch. But alas at this point I was feeling strong; I looked at the time it was 4hrs 10 min. For the first time I thought I could actually run at least a good time, but wait a minute, not so fast. I had to be careful not to speed up too fast.  At 40km I was at 4hrs 45min. I started accelerating and at the entrance to the stadium, I ran in to what I thought was the finish line only to be told there was a loop; what? Loise paced me up this stretch and at the finish point, I started celebrating and forgot to stop the watch until Ajaa said 4.59. My watch stopped at 5hrs.  I thank God for strength and good weather as well as the support I received from Swaras. It was a fantastic experience!
Congratulations to the team at Vic Falls and Lewa. I know Lewa was not easy with the heat overhead. Well done! Quick recovery to Mk and Ferrah.