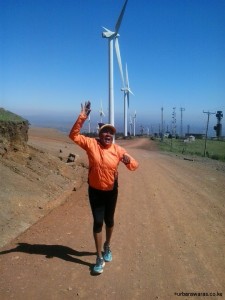 Day 1 – December 30, 2014
Happy New Year. As it came to the end of the year 2014, I decided to go and run at the Ngong Hills. I had planned to go with Lucy the previous night, but when I woke up at 5.45am from Athi River and started the journey to Nairobi County, I didn't check my phone. Little did I realize that Lucy had send me a message to inform me she couldn't make it to Ngong for the run. At that point, I decided to proceed to Ngong and run by myself, after all this is the place that I ran every Saturday from 2005 to 2007 without fail with other Swaras e.g. Wahome, Wanjohi, Loice Mbogo, Nancy Kinyua, Shiku, Mutua, later on joined by Ajaa, Jael, Lucy, Mercy, Nadine and UNEP team etc.
I arrived at new Ngong Police Station which has been renovated. I located the canteen where I left my bag. But guess what, the owner who is of Somali origin was wondering how an old woman of my age and body size would run the hills. He accepted reluctantly, then off I started my lone run at 9am. I made sure I had my road I.D. and my phone. I ran all the way to the picnic site and stopped a few times to take photos. It took me an hour and when I reached there, as I admired the view for both Kedong Valley and the low lands of Nairobi, guess what emerged from the bushes after where you can't go beyond without the KWS staff. Two buffaloes wanted to cross over to the other side of the forest. One was watching me from a distance of 500M then it crossed and got into the forest. After 20 minutes of rest, I started going down and then immediately I met a group of women carrying rack sack bags like they were coming from mountain climbing. I greeted and asked them where they were coming from. I couldn't believe when they told me they were coming from overnight prayers in the forest just below where I had spotted the buffaloes. I asked them whether they are never scared of the wild animals and guess what, women are just prayer warriors. At that point I was in a state of shock how one can be that daring to pray overnight with animals. I tell you no man can spend a night there without a gun.
Anyway that's how I gave them my phone to take a few photos then I ran down to the station which took 30mins. As I came to get back my left luggage, the Somali man commented that I looked tired and shouldn't run, instead I should just stay at home and not bother to run. I picked my bag, changed my clothes in the open just behind the mabati makeshift houses, and headed for breakfast at our usual cafeteria where I enjoyed tea, madazi and Spanish Omelet for only Ksh120 then left to usher the New Year the following day.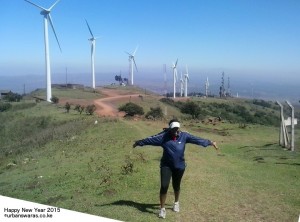 Day 2 – New year January 2, 2015
On this day, I met Lucy and off we went back to Ngong Hills to test our running prowess. We started the run at 10am from the Ngong Police Station, and off we went all the way to the picnic site. We stopped a few times because the hill is so steep, and having been used to running around the city, I tell you it takes experience to run hills at high altitude. Those who have run the Ngongathon can bear witness.
It's so beautiful to run and you will have both the expertise of hill work and speed work coming down the hill. In this regard, I urge all of us to run the hills and experience the beauty of the Kedong Valley and Nairobi City. Kengen, the electric power generation Company, has done a lot of work installing Wind Mills on the Ngong Hills for generating power.
Lastly, this is the place to be in 2015, and experience where some of us got the prowess of running. You can see for yourself and the enjoy the photos.