Quite some coincidence that I'm writing this supposedly 'fulfilling' marathon experience just after reading about the dangers and folly of marathons. You may call them naysayers; don't, the article is absolutely true…I'm already thinking that once I get sufficiently scared, I'll drop this marathon craze and redirect my energies to a grander substitute; Ultra marathons…:)
Moving on to the marathon at hand.
With the running bug having bitten quite deep, Victoria Falls marathon was a natural contender for marathons to conquer in 2016, its case strongly seconded by past mouthwatering tales of the run and the extras on offer.
Now, I would go straight ahead and tell you how the run went down, but that would be a paragraph or two and I'd feel cheated if the hundreds of hard hours put into the run were to be summarized in a heartbeat.
The Preps
The build up to this race was a test of my uninspiring organizational skills and willpower, squeezing an extensive marathon plan into a 7 week frenzy of running, successfully I must add. Primary goal being to at least get back to the splendid shape I was in while running Kilimanjaro Marathon back in February.
The determination was so intense that around early June I managed to do three long runs in the space of a week;
28th May:               The Ilovoto run, an excess of 35 Kms
1st June:                 a total of 60 Kms, 38 K in the morning and 22 K in the evening (this                                       was attempted suicide I must say)
4th June:                 The Chairman's Magadi run of 42kms
All running literature of course actively discourages such a foolhardy cluster of long runs. Foolhardy or not, the effect on my psyche was priceless, giving me the impression that I was suddenly ready to run any marathon on any planet.
This marathon was also to be my first gadget-assisted run. I've previously been a random runner with the pace dictated by 'listening to the body' and hanging onto the coattails of Swaras in my pace bracket. That the dang gadget cost some pretty dollar angered me into training even harder…
Getting there
The last days to a marathon can undo all the sweat and tears (no tears for me), so the planning of all aspects had to be meticulous. I did not disappoint myself. My brilliant plan for travelling was to arrive at Victoria Falls on Friday the 1st at 9:30am, get a hang of the surrounding, do some of the famous Victoria Falls activities, and largely have two days of general calm before the stormy marathon on Sunday morning.
In summary my excellent plan came to naught as I missed my flight and had to hang around till late in the night to leave Nairobi. Probably fate felt I had to stay back to watch the Olympic trials that midwifed the birth of a new 800 m female track star. I eventually had to travel halfway around Africa late Friday night to arrive at Victoria Falls on Saturday at 2 pm, quickly register for the marathon and get my bearings for the race.
It was great arriving to warmer climes, quite a welcome escape from the Nairobi winter. The town was awash with would be runners and tourists.
I gained mini celebrity status at the registration on account of my Kenyan nationality and probably my relatively spare frame. I was in no state of mind to disclose that I was just a slow recreational runner so I made no attempt to correct the 'marathon winner' impression. The Victoria Falls marathon never attracts the Kenyan marathon elite, probably due to the modest prize monies which would barely cover airfare to the place; $900 for the full marathon and $500 for the half.
So here I am in the evening at the restaurant of my hideout, dangerously stuffing myself, with the excuse of last minute carbo-loading, when a band of 'traditional' musicians/dancers show up and belt out some juicy Southern African tunes; good for the digestion I should add.
Suddenly, and please believe me on this, I get alarmed. I don't know who they think I am because the next song is addressed at me. They must think I am someone I'm not… they somehow seemed to have seen me over Jordan, and I am swinging low, and I am here for to carry them home, and I am now 'sweet Cheruiyot' (unacceptable), very confusing…. Hard to believe? here, see for yourself on the attached video… note that my name is Cheruiyot…
The Marathon
6:45am is to be the start time. I get there a few minutes early. Swaras are represented as usual. Victor paparazzi is here; no camera this time; serious business. Brendan is here too, as is Suzie who is running her first full, and an unidentified swara lady. Five Swaras doing the full marathon. The half marathon Swaras are probably lost in the crowds except for Antony Mwai who instructs us to run some ambitiously fast times that I am embarrassed to quote here… don't want to look like a failure.
Victor says he plans to run a 4:42 min/km pace; I on the other hand have a plan of a brutal 4:35 pace for the first 21 kms then slow down marginally the second 21 K. We end up running with Victor almost the entire distance at close to my planned pace.
The first 3 kms is all downhill leading to the bridge, crossing over slightly into Zambia. We are cruising at an average of like 4:20 min/km and so it is no surprise that as we get to the bridge there is a bold 'Reduce speed' sign and another one a km later…you may say they were regular road signs, I say they were placed there specifically for us…
The view of the breathtaking Mosi-oa-Tunya from the bridge throws you off balance a lil bit, as does the gorge below you, a whole 110 metres down…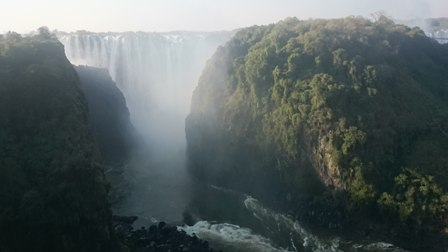 The occasional jumbo-sized elephant dung on the marathon route hinted at the possibility of running into wildlife; I visualized what an elephant on my tail would do to my PB…too bad the wildlife kept away. I remember at some section of the marathon there being some cool refreshing showers that got me thinking that it was beginning to rain, only to look up to a perplexing 100% blue sky. Only then did it dawn on me that these were showers from the falls quite a long way off.
So with a few hills, lots of water and coke, great weather, periodic hollering at fellow Swaras fighting their individual marathon demons, welcome views of the mighty Zambezi upstream, 26.2 miles is finally conquered and with it dies my earlier PB, knocked out by a whopping 11 minutes.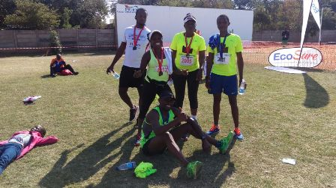 The half marathon contingent is hanging around the finish line. Here we find Beatrice and Molly (part of the people I was to travel with from Nairobi on Friday), Njagi (who advises me why and how to scream when doing the swing at the Victoria Falls bridge), and others….
With the supposedly meaningless marathon activity done, there was no earthly reason not to engage in the other equally vain pursuits of jumping off a bridge, fancily named Bungee jumping, and the more adrenaline inducing and terrifying 'swing' (and no, heck no, I did not scream as advised), before heading back to boring old Nairobi.
And I will now uncover the great Victoria Falls facade; the Victoria Falls marathon is a blindfold. You think you are going for the marathon as your primary objective and while at it, enjoy yourself a little on the side… it's a lie, you primarily enjoy yourself and while at it run a marathon on the side… the marathon is definitely hard pressed not to play second fiddle to the other vast array of experiences on offer.
And so ends my whirlwind 28 hour Victoria Falls dalliance…