The first time I ran in my life, apart from physical education in secondary school, was in October 2016. It was actually a slow painful jog that lasted about 10 minutes, most of which were spent walking. My friends ran and planned their lives around running and so to spend time with them, I decided to run as well.
I jogged two to three times a week, never able to do more than fifteen or so minutes per run, and had no idea of distance. I do not know the number of kilometers I covered per run, but looking back, I estimate them to be between three and four.
As time went by and my body got used to running, I started to enjoy it a little bit and surprisingly, my body would call for a run if I took many days off runs.
The turning point came in January this year (2017) when I joined the Urban Swaras and learnt many things about running. The rubbers gave way to proper running shoes, and cotton was cast aside for breathables. I learnt of kilometers and realised that the distances I had done previously never exceeded 8km. With the help and in the company of the slow runners, I gradually added distance, increased speed and put in milage from the back. A running watch soon followed, and so I learnt of pace, speed and distance, even though I am yet to run fast.
From the Swaras, I got to know that there are marathons, with distances of 10, 21 and 42km. My aspiration was to attempt 21km at the StanChart in October this year, since I was already comfortable with lesser distances that I did on Saturdays in the Club runs.
My plan was to try the Mt. Kenya ultra-marathon by running it as far as my body would allow, in preparation for the Standard Chartered. Then I got an opportunity to participate in an endurance race at the foot of the Himalayas Mountains in India, and registered for 25km. Even though it was a mountain run, the distance seemed achievable since it was less than the dreaded 42km. Two months to the race day, I registered and then focused training begun in earnest. I increased the number of weekly runs to four and on advise, cross-trained once a week.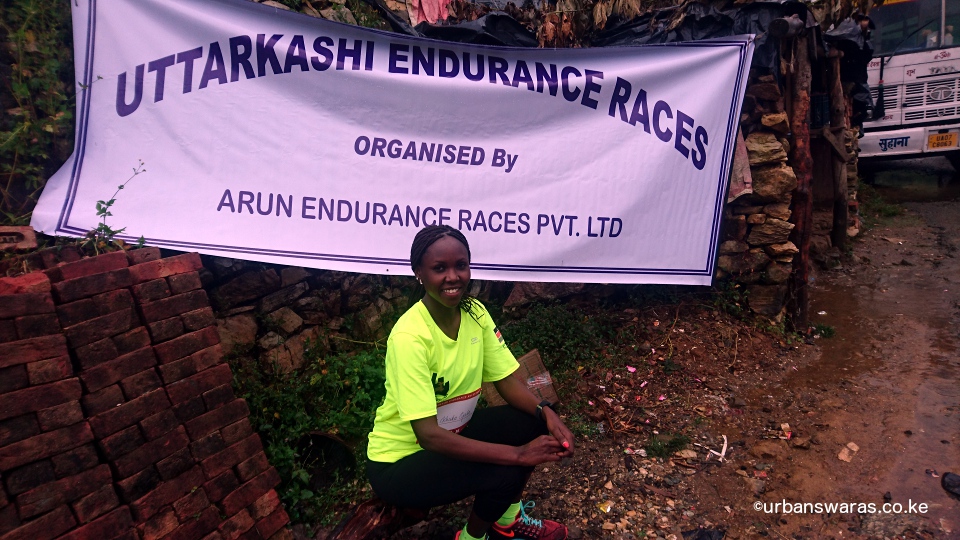 The race is called Uttarkashi Endurance Races in Uttarkashi town, Uttarakhand State, 300km north of New Delhi and consists of four races, 25, 50, 75 and 100km.
On 23rd September, I lined up for it and all the participants were flagged off at the same time. As I neared the end of my chosen distance, I begun to entertain the thought of just running the way I would have run in Karatina that morning; that is, until I could not run any more. Feelings of guilt crept in. How could I come all the way to do the least distance on offer?
Mr. Arun Bardwaj, the race director, is a multi-day ultra marathon runner. He holds the record in India for the most distance run in the least number of continuous days; 4500km in 60 days, from southern to northern India, averaging 75km every day. He planned the race with the runner only in mind and so fuel, water and first aid stations were available precisely every four kilometers. With constant rehydration and replenishment of energy, I soon knocked down my first ever half marathon. Then 25km fell, and having completed my official distance, I had no fear or worry but adrenaline. So I trudged on, exhausted but excited and determined.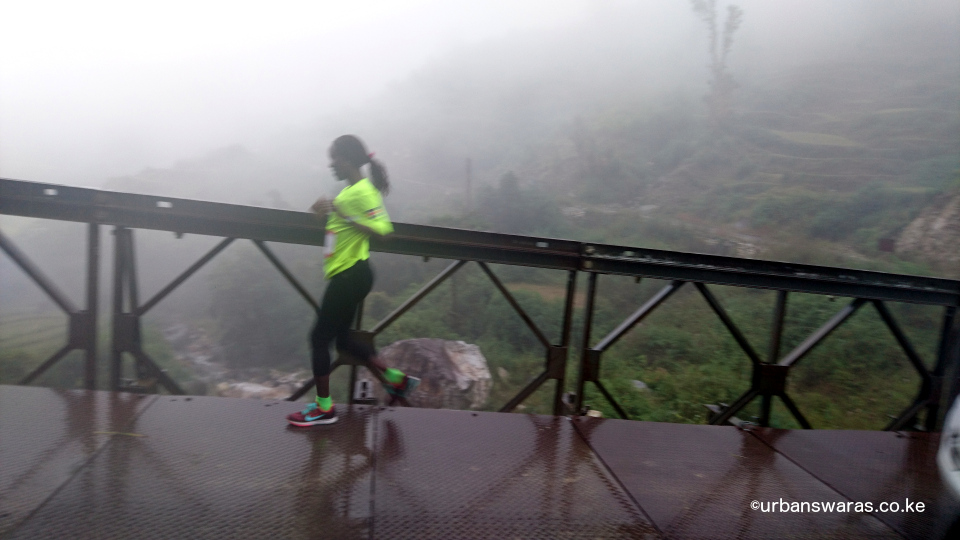 Seven hours later, without walking even for a meter, in those hills some 4000feet above sea level, in a foreign land, I crossed the 50km line, arms barely in the air and tears in the eyes, to the warm embrace of the race director.
In eleven months, I had done what I was yet to even begin dreaming of as a runner; run and complete an ultra-marathon. The off season monsoon like rain that had started the previous night pounded me unrelentingly for the entire seven hours. Perhaps it was the magic that enabled me to set a record, or is it records of sorts.
In the one race, my first ever competition, I transformed myself from a mere runner, to half marathoner, marathoner, and ultra-marathoner.
For these feats, I have the mighty Urban Swaras Running Club to thank.