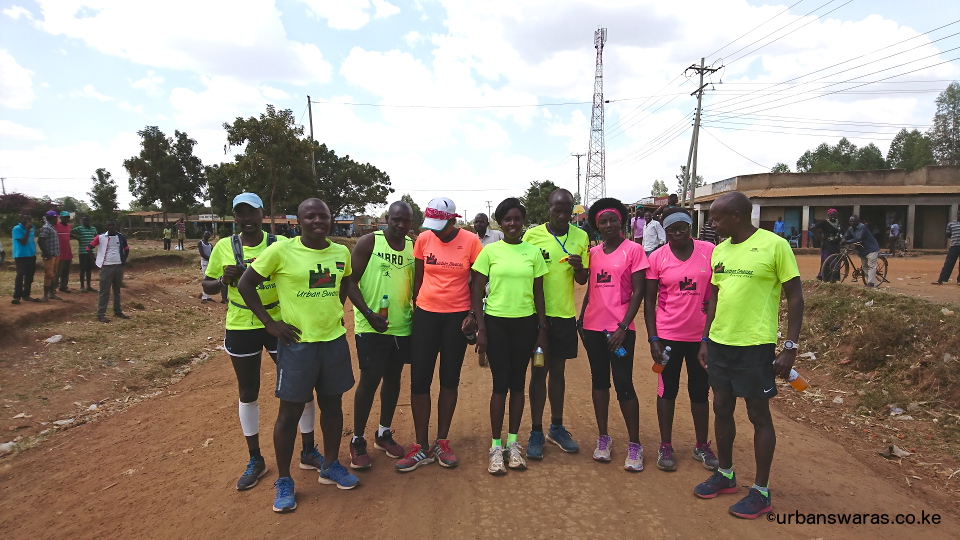 In 2016 over the Christmas period, I did my first mountain hike and with Amai and Wesonga Victor, did a 30km run that ended in his home. On 15th July 2017, I crossed the border and ran in Mbale, Uganda.
An idea of sports tourism was then born out of these three events. The three of us, all from Western Kenya, decided to do a pilot with a few Swaras to see if our idea and dream could come to fruition.
Because of uncertainty, a few Swaras were randomly approached and most of them agreed to come and sample what we had planned. They are Ngatia, Mbarire, Chebet, Ferrah, Achuka, Loise Mbogo, Wahome, Masika and my 12 year old nephew Olubayi. Together with the three of us, we were twelve in total.
On 28th December 2017, we all met in Kitale town, ate lunch and headed to the Mt. Elgon National Game Park, about 36km away. Because of time constraints, we made payments at the gate and proceeded for caves visit and game drive. We also went to a view point from where the peak of Mt. Elgon, the forest, Endebes and Kitale towns were clearly visible. Then we retired to the self catering Bandas, cooked, ate, took a little wine and slept.
The next morning, Mbogo the matron led the other ladies in fixing breakfast as I took Wesonga through tummy and core training. With breakfast eaten and supplies packed, we boarded the vehicles and headed for the hike. About 26km later, we got to the point beyond which the vehicles cannot be driven, parked and started the hike. The scenery and views were stunning. Due to age and altitude, the young Olubayi could not summit but credit to him, he stopped just 1.25km to the summit. Three hours twenty five minutes later, we summited. It is called Koitobos, 4222m. The whole trek is about 6.25km, one way.
After catching breath, refuelling, taking pictures and sips of wine, we begun the descent. It took 2 hours 20 minutes to get back to the cars. Back in the Bandas, exhausted, we showered, ate, rested, bonded and retired to bed early enough for the next leg.
On 30th December 2017, we took breakfast, checked out of the park and headed to Uganda. We stopped in Amagoro town, in Teso and ate traditional Iteso foods. For ease of movement in Uganda, we parked our cars in Kenya and boarded the ones hired from Uganda and crossed into Uganda as Ugandans. This was a sneak out of Kenya and into Uganda act because we did not go through the immigration process.
We drove from Malaba Uganda to Mbale town, through Tororo, a distance of about 50km. In Mbale, we quickly checked into our hotel rooms, changed into the running kit, got into the cars and headed to the starting point on the slopes of Mt. Elgon.
The trail took the runners across two streams, five waterfalls and spectacular views. The 16km run took us about two hours and ten minutes, ending at the highest point on the slopes, a massive cliff from where we enjoyed an eagle's view of the town below and the its surroundings.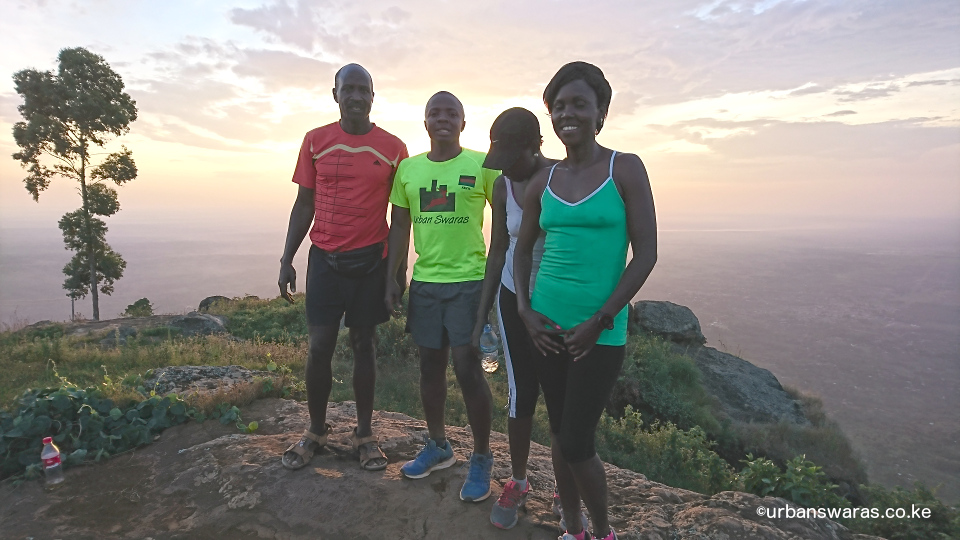 The vehicle drivers offered us great support. Ngatia took a short break to sample the Nile Special beer on trail. Amai unfortunately had to seat out this run and support the others because he forgot his shoes for running in Kenya and there were none to buy in the Mbale shops.
The drive back to the hotel begun as soon as the last runner had arrived and taken a view of the town down below because it was getting dark. The nightfall denied us views as we headed back to our hotel. After showering, we were taken for dinner in a restaurant that serves traditional Ugandan dishes which we enjoyed tremendously.
Because of fatigue and the next day's schedule, we retired early, but Ngatia and Masika stayed up a little longer for some beer. By 8:00am the following morning, we were done with breakfast and were headed back to Kenya.
After sneaking back, we got into our own vehicles and drove to the Bungoma Tourist Hotel where we had early light lunch. By 2:30pm, we were all assembled by the banks of Nzoia River in Bungoma County ready for the last leg of the tour, a 30km gentle hills run in 34'c heat. The run took us through parts of the Kakamega forest in that County, and ended in Victor Wesonga's home in the outskirts of Kakamega town.
Chebet was too exhausted for this last leg and did not even attempt it. Amai who took off fast succumbed to the heat and dehydration at 24km. Ferrah the Trail Queen could not take the grueling four day punishment any longer. She suffered massive double leg muscle crumbs at about 18km and quit, possibly to try it again this year. As for me, I took four hours and thirty minutes to complete the run and I was the last one home. Wesonga and Mbogo beat me by more than thirty minutes, for good measure.
Wesonga's family was gracious, magnanimous and kind. They cheerfully opened their home doors and hearts to the exhausted, stinking and famished Swaras and fed them to their fill. I stopped counting the different kinds of food at count ten.
Some Swaras were in bed by 9pm because of fatigue. A few stayed up until a minute or two past midnight, just to usher in the new year and promptly retired to bed.
For the first time in my Swara life, there were no takers for the morning scent of the Swara recovery run.
As we parted company on 1st January, all were tired but fulfilled.
In four short days, we had driven more than 960 km, done a game drive, visited Sabaot traditional caves, hiked Mt. Elgon in Kenya and ran its slopes in Uganda, and staged a run across two Countries. It was an epic physical activity filled sports tourism. None could ask for more.
The resolution was that the western circuit tour be made less militant and annual for willing Swaras and be replicated in other parts of our lovely country and region.