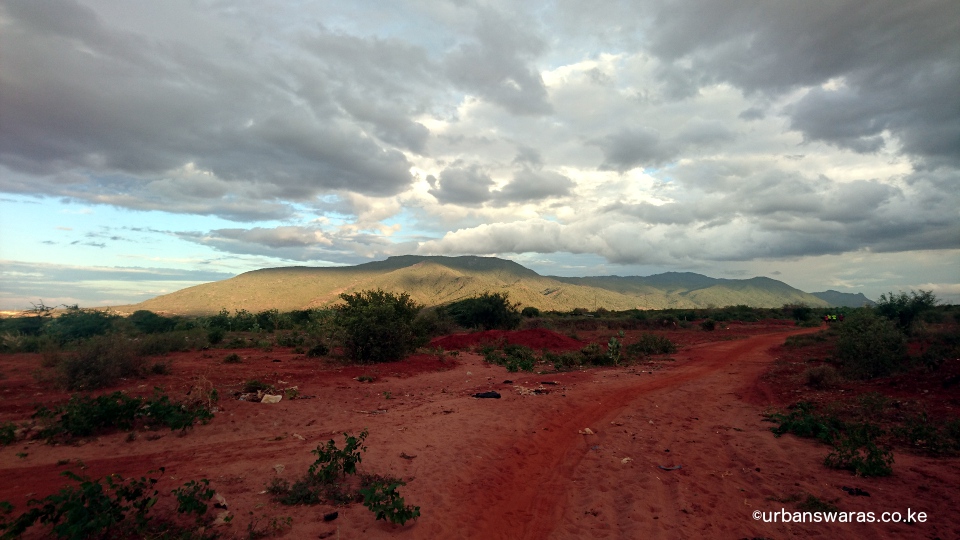 This run took place on 30th April 2017, three weeks back, but it is one timeless run so I'll still give a bit of my experience.
Voi is the farthest swara run out of Nairobi, it is also one of the two 3 day odysseys; Day one you arrive, day two you run the main course, day three you leave. The other one such run is Fluorspar. Heading to Voi is a breeze, you can drive, carpool or take a bus. You'll travel through the wildlife corridors where you'll generally be able to spot an Elephant and other wildlife.
Voi taught me a lesson, don't rank Swara runs until you've run all of them- and you'll never run all of them anyway as new ones keep cropping up, you may as well receive this e-mail from Ameet in 2027; "Dear all, please send in your confirmations for the Lunar run by Thursday noon…" and you start sending us mails looking for a space shuttle to shuttle-pool in…
Swaras usually talk about all the memorable runs in terms of aesthetics, difficulty or any other unique characteristics. So conversations about runs like Fluorspar, Magadi, and Mt. Kenya Ultra usually come up. I had never heard any recounts of the Voi run so I expected no surprises and was therefore unprepared for any, it was just a run in a new part of the country possibly wrapped up in a relaxing weekend.
The Voi run is a point-to-point run, meaning you don't finish from where you start. I'd previously thought there were only two Swara point-to-point runs; Magadi and Fluorspar, these are runs where you generally run up resulting in some juicy elevation gains, these are also runs that have 'ambulances' plying the route to evacuate the 'mortally wounded, dead and dying' swaras from the warpath.
The run
Ranu's account has captured the details of the run down pat, I don't remember a single name of places we ran through. So this mostly captures my personal labors and some stats.
Armed with misplaced courage, I started at the 45 kms start-point, the common end-point for all distances was to be the top of Vuria hill, Highest point of the Taita Hills and the general Kenyan coastal areas. I felt no need for alarm, after all how high can a coastal hill be? There were three 45km takers; two machines- Chikani, and Mwasaru, and one human, myself. The two machines sped off from the word go so I kept tail for a pretty long stretch.
On the road are obese Baobab trees, you'll notice that despite the worthless nature of these oddly shaped trees in terms of shade, they have a unique use; billboards, broadcasting political spray painted 'so and so for MCA…' messages. The initial part of the run is semi-arid and sparsely habited.
The hill proper comes up after 15 kms and the loud colored swara shirts can be spotted in the distance. Running up unrelenting constant hill is not too difficult, one can easily lock into a modest pace and autopilot all the way to the top. On autopilot I soon reunite with swaras, beginning with the two Susans, one running her age, the other keeping conversation going. Soon after I meet Ranu, he's shed off his camera, slightly ahead is Wahome.
Carry your own Kes. 200
The first hill dosage is soon done, an elevation gain of 1158 m from the start-point of 579 m to approximately 1737 m ASL. Such elevation displacement is bound to break the spirit of the most hardened machines and it is not surprising that I soon come up on the earlier mentioned Machines, first Mwasaru and a little later Chikani seeking deliverance into a roadside kiosk, he is immersed in Bread and some juice drink. Chirie, who is also here, and Mwasaru are broke and hungry, considering their destitute predicament I am forced to play savior and buy them sodas with my valuable first aid cash.
From here it's an up and down affair through populated and well farmed hillsides, you'll run through a few shopping centers, one of which hosted famished swaras (who must have carried their own Kes. 200) in one of its eateries.
The up and down is soon over and there comes the second hill dosage, Voi's own heartbreak hill. Starting from elevation of about 1730 m ASL to the top of the Vuria hill sitting at approximately 2200 m ASL, an unrelenting elevation gain of close to 500 metres over approximately 2.5 kms. Look no further for a definition of Cruel.
My history in Swarasphere is that I do not DNF, there are those runs that have thoroughly whupped me but I largely only sit down a little, grind on and generally manage to at worst walk to the end; Ilovoto and Magadi (which come up in the next two weeks), Fluorspar, Eco Lodge and Run-together are notable culprits. Therefore by unceremoniously stopping my run (which had since turned into a walk) after 5hrs 20 mins at 45.39 kms handed Voi the dubious honor of being my first DNF.
Of course I stopped with absolutely compelling reasons; first, I had hit 45 kms (that was supposed to be the longest distance) secondly, the end point, which supposedly commanded magnificent views all the way to the sea on a clear day, was engulfed in 'white darkness'. The dense mist limiting visibility to only a few metres, so bye bye great views.
Ironically, after stopping came the hardest task of the day, walking down the drop of 300 metres to where the cars were parked. I felt much better later when I learned even tough swaras like Nyawira, Chairman and Davis didn't make it to the top (sorry to expose you guys like this- collective responsibility for our failures… hoping you've not spread stories of your Voi conquests…); for safety in numbers sake, I'm tempted to call out the many other swaras on the DNF list of shame but I can only handle three enemies at a time.
Altitude, hunger, cold and exhaustion can play games on people's patience, so we losers that didn't get to the top were soon getting irritable as the swaras up top were clearly taking their time. Did they not know we had other businesses to take care of? Why keep us like this? Anyway we shivered away, took our lunches, and waited.
Here come the stats
Running has its bad habits, one is obsession with stats. A year ago these stats would have made no sense to me, so free not to bother but i'll just leave it here…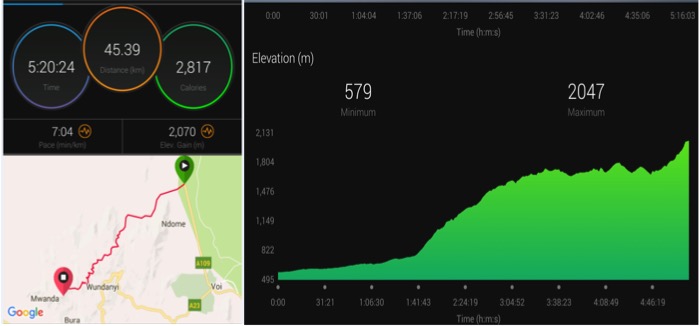 Voi run in summary; and some comparison with Fluorspar…
Net elevation gain
2070 M (Fluorspar; 1972 M)
Start point altitude

Highest Altitude

579 m ASL (1163 m ASL for Fluorspar)

2047 m ASL- 2193 for Ranu who got to the top
(Fluorspar tops out at 2745 m ASL)
I'd long concluded that there can't be a swara run with a net elevation gain close to Fluorspar's, Voi debunked that myth. Average mountain climbers don't do this much climbing in a day in their excursions. It also beats reason that a run in the lowlands delivers the highest elevation gain, but well.
Celebration time
A more than deserved supper is served, swaras get to know each other and briefly take turns to share their horror tales. Wahome, the host to this run, is generally a nice interesting person with strange stories…he has one failing though; a penchant for throwing a Mbuzi here, a lunch there, some wine… you'd be tempted to think he derives some dark pleasure from watching people fatten up as he maintains his running form. So In line with tradition, Wahome throws in a sumptuous Mbuzi Choma and accompanying Mutura.
The Mutura deserves its own paragraph…I'll attempt to explain; you bring it to your mouth, you take a bite, your eyes close-involuntarily-to shut out any distractions, the savoriness diffuses through your systems, like a wonder drug, all activity in your body, stops; moment of silence…to savor the feeling…something deep down tells you this is it, your life's purpose…. shudder… you open your eyes and take another bite.
Each swara thereafter retreats into their favourite zone nursing their preferred baada-ya-kazi drink, entertaining banters, wisdom is traded, some populate the dance floor and you fall into that semi-alive vegetative state soaking in the stories and generally remaining alive until the wee hours of the morning before you catch a quick 3 hour sleep.
These overnight runs always have the so-called "scent of the swara" recovery run. You endure a punishing run, and what do you do to recover? Run some more the following morning. Makes perfect sense. Unfortunately, I've always wanted to but have never taken part in the recovery runs, doctor's orders… so the recoverers did their thing, breakfast was served and Nairobi here we come…
Voi, unfinished business.