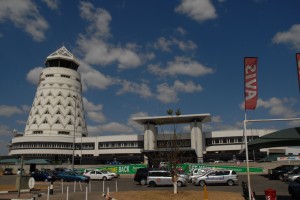 If there is anything Kenyans  are INFAMOUS for is their lack of subtlety. It ranges from matters geo-political, social to mundane.  So we go through what is colloquially known as ratchet moments  and some of them are colossal. Case in point; we are the only country in the world, that made a farce of  democracy  and actually made some would be dictator's bucket list . Electing a President and Vice president indicted at the ICC. On matters social,  and according to research presented at the  World Social Forum  held in Kenya, the rate of domestic violence in men  in Kenya is one of the highest in Africa (So much for, "it's a man's world"). So in essence this means, that, when our women are fed up, they don't leave the men, they beat the hell out of them! Still on matters social, we have literally made  some of the leading international media houses apologize and take humble pie, when they report incorrect information about Kenya. Anyone remember #SomeoneTellCNN ? Well it was  so bad that it was reviewed  in almost all the major newspapers in the world… and don't get me started on the fact that the average Kenyan is known to speak his mind and the chances of having a foot in mouth moment is very high.
So it's with this in mind, that I was rather concerned  about how I was going to tackle Zimbabwe. Bearing in mind I fall in the category of  speaking my mind and having got myself in several  two–feet-in-mouth-moments, where a shame faced apology is a bit lame and too late. As I landed , the only thing that I could think of was that, this will be a long week. I wanted to not only run but make friends , but not at the expense of  the wagging finger and , "that woman has a big mouth" attitude! So it was quite refreshing when my host brought up the uncomfortable issues regarding Zimbabwe immediately he picked me. So first order of business after buckling my seat belt was, matters about Good ol' Bob, hyperinflation and the infamous Land  Reform.. It must have been so obvious that I wanted to talk about it that he brought it up. Honestly it's like going to Swaziland and the first thing you'll ask is, "soooo your King has 13 wives and his dad had 78 wives?! Wow…how does that work (Oh I asked that when I was in Swaziland)?!"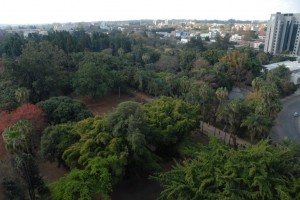 Talking about  Bob, hyperinflation and the Land Reform  from an academic perspective made me realize that typical Africans create humour out of unfortunate situations they find themselves in… and the result of this discussion was that it led  to charting jogging paths in Harare and as luck would have it, my hotel was adjacent to a park and  from the view of my hotel room, it looked serene and worthy of a good  run.
The park was a  kilometre  and a half around and it bordered the National Art Gallery  and it was quite tempting  to jump into the gallery  have a quick look then go on with my run. Since it was close to my hotel, my kms  were shorter but I ran twice a day, besides what would be my excuse, it's just down stairs 🙂
So I guess our lack of tact has its good moments, next stop Dubai. Well, this  is bound to be interesting , bearing in mind  the average temperature is  36 degrees, precipitation 0% and oh I have already charted a path thanks to one of their active running clubs.