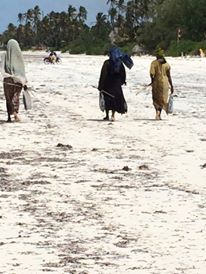 The East African coast, and I say this with confidence from Mogadishu (oh yeah, I was told I looked very 'womanly or really feminine and grown up …., when I was wearing a niqab', it is one of those statements you hear from men and you wonder, where on earth did you get that from… anyway A for effort!) to Maputo has in common…. Beach boys! For reference, I was given stony silence on attempting to run on the Mogadishu coast so I took a walk (http://urbanswaras.co.ke/running-tales/the-nomadic-urban-swara-somalia/) hence my experience with the said boys.
Now Zanzibar wins hands down, because of Swahili. For the clueless pure Swahili (Swahili Sanifu) to East African   women is like French, Italian or Spanish to women in the global north. There is a romanticism about every syllable, no matter how inane the topic.
So Zanj! At some point in my life , I worked in Tanzania for two years and Zanzibar was a weekend holiday destination. So a few years later guilt tripped by the baby sister ( ** You have not seen my first house post college kind of discussion***), I flew to Dar- Es-Salaam, and Easter found us in Zanzibar. So, we took a speed boat from Dar and two and a half hours later, I was in Zanzibar. I had missed Stone Town. It is a mixture of Islam, Taraab, Animism, 16th Century architecture, horrific human history (slavery), spiritualism, lots of cats (which you are not meant to bother, lest you end up having a haunted night as you pissed off some disgruntled spirit.)the ocean, narrow streets, baobab trees…. And Beach boys in their oh, so perfect Swahili.
To be honest Beach Boys can be a blooming nuisance, very enthusiastically selling you anything from cocaine to butane! If you are to enjoy your walk on the beach, sometimes , you have to grow thick skin and have a sense of humor, otherwise you'll be upset.
Now what does this have to do with running? Everything, because, though Running is Living as we Urban Swaras say, there are times you just need inspiration to get out of bed and run. In this case my inspiration was Language.
So day one check into the hotel in Stone Town .Since it's a lovely afternoon, I go for a run. It's not the first time I have run in Zanzibar and there are a few rules… It is okay to get lost in Stone Town , the narrow streets have been like this since the 16th century and I was running in a UNESCO World Heritage Site, the only difference is that 21st Century Stone Town has satellite dishes . You have to contend   with weaving through lots of Vespas and the occasional rich girl or boy treacherously maneuvering a sports car in the oh so painful narrow streets.
Anyway I digress, so I leave my hotel, and begin running in the streets of Stone Town. The beauty about running in Stone Town is that you are surrounded by Taraab music, which complement the old Zanzibar doors ( which have a rich Indian influence)that have a history back to the Oman Era , old Palaces ,with my favorites, being, Forodhani ( the first fort built by the Portuguese on the East Africa Coast then followed by Fort Jesus in Mombasa Kenya) and Beij Al Teib (House of Wonders).   Still digressing… and now really, moving on.
I was running through the streets   and expertly avoiding Vespas that were weaving through human traffic which is comprised of tourists, until I took a break and I heard , this, " Dada, pole kwa mazoezi, mbona kukimbia vile.(Loosely translated to 'Why are you running? ** Though it was obvious as I was in spandex*** ) Bless the poor soul, encouraged, he continued in fluent Swahili, then noted I was rather clueless though I had a silly smile as I was enjoying him talking in Swahili, so the smart bugger switched to English, in a bid to be customer friendly , " I will show you the House of Wonders," and I responded, "no it's okay I have seen it."
Nonplussed he switched back to that oh so perfect Swahili and of course I had the giddy and silly smile and he offered to run with me! And that's when I woke up, and the only thing in my mind was Woman run! Shaking my head I continued running.
Two days later I was 56 km from Stone Town, in rural Zanzibar in Bwejuu , a bit of a private beach but the only difference the Beach Boys are a bit Bohemian, who assume simply because you have dreadlocks (which I have) is that you are equally Bohemian and you may be trying to get your Groove back (read how Stella Got Her Groove Back), or going through an Eat Pray Love moment….but oh my the Swahili is one that inspires you to run every morning.
In total I was in Zanzibar for the entire Easter holiday, from Thursday to Monday and ran 7- 10kms every day and let's just say I was inspired and I thank the good Lord for Swahili Sanifu and before you raise your eye brows and point fingers in self righteousness at me and say shame on you, were you able to run from Thursday to Easter Monday nonstop where you were spending your holiday? Ehe *** hands akimbo and wags finger*** be honest!
Next Nigeria(Nsukka, Oyo,Lagos,Calabar)