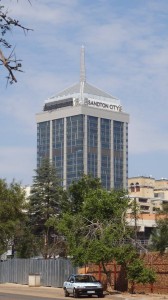 Eh!! Tho yaye! ( Loosely translated to Oh… My word !).At this point allow me to go native.  Asking for directions in Africa is a palaver , regardless of  region. I will give a tale of two cities in South Africa.
1)      I am not a technorati, I  stuck to my $10 practical  thief proof phone for 5 years, until I actually got an Iphone two months ago as a gift, which, I must say I just charge and continue using my trusted  development phone .
2)      That goes to say stuff like google maps is  an  exciting new technology, which, I honestly never use, but stick to asking directions
So those who have run with me may have noticed the following, when  Jael or Susan sends us a Google Map link for directions. 1)- ME: "Oh it's not necessary, we can get there, I know the landmarks!", MY FELLOW RUNNERS: " I will transfer this to my smartphone as a back up."….. and they are always right, because somehow I still get lost!
So this caught up with me. My trusted finger-in-mouth-then-wave-in-wind- GPS not only got me hilariously lost physically but also in translation.
I got to Sandton, in Johannesburg South Africa last week on  Thursday , so, immediately after checking in I went straight to the gym as it was dark. Right after my meetings the following day, I planned a 10 km run in the financial district and  I had a targeted  destination and yes, I went straight to the concierge for directions.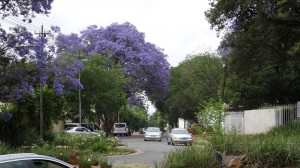 He holds  my hand  and  directs me " Maam, you see that tree with purple flowers…",  "Oh boy, it's going to be one of those…", I think and sigh. So let's start with the fact that this time of the year the Jacaranda tree and its family is blooming all over Sub Sahara Africa. So yes, I did see a tree with purple flowers, and this is Johannesburg, the city with the fastest  growing man made forest  . So yes, I did see a tree, but also lots of purple trees!
After the 'poignant' directions, I started  running and  I must admit the beauty of the jacaranda was that the floor  was a carpet of purple and of course with hint of jasmine  flowers from the side walk, made it worth getting lost, because I DID get lost  and found myself  outside Sandton. The  return trip made my run a total of 12 kms.
So two days later I went to Maphikeng 400kms North West from Sandton and  after checking in, I  planned  my running route and…I am  either  a sucker for punishment or too rigid to learn, because as you guessed it, I asked for directions. Which, led  to this  conversation, "Maam,  pass the  two robots and the  two circles and you will get to the right path." So my first  reaction was , "this country has ROBOTS," and I asked , "what robots?" the impatient concierge said, "Maam, the  red orange and green on the road!" Right… the robots were  traffic lights and the circles were roundabouts.
The good thing  is that thanks to getting lost again in the morning,  while I was running, I was able to run again later in the afternoon, so that  day I was able to  do a total of 15kms. Other than these  hilarious experiences, I was able to run everyday, plus it was also hilarious to run  in a financial district where you see a bank  and stock exchange advertisement , to running in a town where the normal advert was  sheep for  sale!
Anyway next stop Botswana and boy do I have an  adventure for you guys.
… and yes… i  will  make use of the IPhone LOL