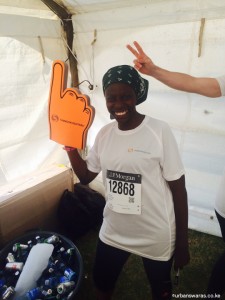 South  Africans  have  this colloquial  high-life term  called  Phuza Thursday, loosely translated  from Zulu meaning Alcohol, but in a sentence it denotes to Drinking Copiously and  Thursday is pretty much reserved for this.  So, after 4 days  of board meetings, I was deaf in one  ear and a bit cross eyed from the presentations  and  when Thursday came, the office was abuzz because it was  Phuza Thursday.
Appealing as it may sound to an outsider  I was not risking Phuza Thursday knowing that some of consequences , will include me singing loudly and badly at karoeke , and thank God that happened  pre YouTube years. So ahem…no  Phuza Thursday for me…. And that's when I spied the first runner in the office, dressed completely in his running clothes, and another,  and another.  And I followed him and shamelessly asked," is there a run today?"  To which he responded, "yes, there is  the JP Morgan's Challenge taking place  today and we leave in 20 minutes; and you need to have registered a week  earlier."
So this  is where  the perks of being a runner comes in. Ahem…. I  begged, nearly whined , threatened a tear or two and pulled -I am- the- visitor- card… and it worked! So armed  with a  corporate T shirt named after my male colleague , I quickly and happily changed into my running gear, just in case he changed his mind… and that's when I found out  the run was  5.64kms. So flippantly I thought  this would be  easy. Was I in for a surprise.
The run. There were 13,600  runners from 120 countries. The route mapped was in one of the oldest and wealthiest suburbs in  Johannesburg, called  Illovo , it pretty much reminded me of the Patrons'  run that  was done in Muthaiga  earlier in the year. Another interesting thing about the run was  that  it was  going to be done  from 7:00pm and  the 5.64 km was  entirely  uphill. My flippant views about the run were  slowly quashed and I was rather nervous.
The one thing I love about organized runs is the anxiety and excitement leading to the run. Everyone is edgy, music is blaring loudly and the announcer keeps on reminding you why you are running (The run was for charity). The start of the run was at the bottom of the hill  and we  began  the uphill task (pun intended) at 7pm.
As we started  the run  the only thing that was going through my  head was ,  "come on mates have the decency to  have some sense of etiquette as you run!" Runners  weaving through your path is a sure way of landing on the ground. So here we were  running in the middle of  upper class suburbia in Johannesburg and in true South African fashion  they  came out of their homes, in their pajamas or jeans , tshirts and slippers, whipped out beers  from the fridge  got the   barbeque  stove  and started  to Brai ( Colloquial Afrikaans term  for barbequing meat) and cruelly  encouraged us how they loved the smell of sweat and  running as they enthusiastically chomped away  at their  barbeques! Ah Upper  Class issues! And in all honesty at the moment, as I sweated away running up the hill,  I would not mind joining them.
So 29 minutes 33 seconds later, after running through great Johannesburg suburbia and being psychologically tortured over  the smell of the tantalizing smell of  Brai,  I made it to the finish. My personal best for 5.64 kms .
Next stop Zanzibar (Stone Town and Bwejuu)