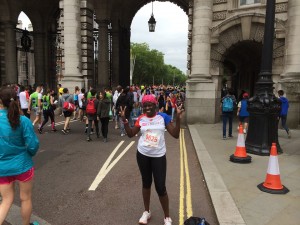 There is a Swahili saying that goes Kingereza ilukuja na meli (English came by ship). The saying forgives us hapless Africans, when we speak or write poor English. I grew up watching TV shows like  Mind your Language that emphasized on the importance of speaking proper English. Prior to  the Children's Act and the term spare the rod spoil the child  was used with relish, my elementary teacher put the fear of God in me, every time I failed my English test by reminding me with every whack on my hand, "Joy, English IS the QUEENS' language!" and  in tears I grudgingly acquiesced  and wanted to know who this Queen was who made my life very miserable. Then later in my career working closely with academics and researchers, it was further reinforced that English IS the language of Science.  So armed with this knowledge and ready to do my English teacher proud,  I landed  in Heathrow and discovered ….Cockney ! Don't get me wrong I have been to London a number of times but in the soft bubble of my academic peers,  and I never quite had the privilege of being spoken to in Cockney.
How can I explain it, well, Cockney is to England as deep south old prospector English is to the US. You know, the kind where you ask for directions and the helpful chap goes like, Weeeiill… (Well) as he grabs his laurels and all you can visualize is that he will expertly spit in a cup on the floor, before further giving you directions.
What led me to this medley of corrupted language? Avani Patel.  During the dreaded Magadi Run in June, I was running with Avani and for those who have met this Swara, she has a cheeky and very lovable demeanor about her. Don't let her pint size fool you, she will run steadily nonstop in any run thrown at her. So back to Avani and Magadi. As we were huffing and panting through the dreaded hills, she told me about the Vitality run, that was taking place in London in July and by then she had already registered.
Now in true African fashion I was late to register and my excuse was , "well it is not Lewa and I will definitely get space". 3 days to  the race I went to apply online and there was a  big sign on the website-registration closed. Frantically I went through the website and got the contacts of the founder and organizer of the run and that is when I got my first taste of Cockney. Trying to explain to him and at the same time apologizing profusely for my tardiness was quite an effort. Fast forward   to the day before the run, I land  at 6:30 am, check into my hotel by 7:30am and  I try and make my way to the registration desk where I'd get my running T-Shirt and tag. Well, to get there I needed directions and that's when the Queen's language was thoroughly desecrated . " How do I get to WaterLoo and Pall Mall for the Vitality Run?," I ask. And this is what  I got in response , "If yew wan' ter get ter WaterLoo an' Pall Mall. Ye need ter pass Leicester Square , Piccadily circus, turn left an' yew are on Pall Mall road. Know what I mean?"- translated to -If you want to get to WaterLoo and Pall Mall. You need to pass Leicester Square , Piccadily circus, turn  left and you are on Pall Mall road.
Incredulously, with raised eyebrows, I asked, "What! Did you just say?" and bless the good Samaritan as he asked, "Wa ?" and I tried to clarify "What or did you mean Wort or Wat?". I was going to be here for one and a half weeks and on my to do list, when I got back home was have a serious sit down  with my elementary English Teacher on the Queen's Language .
Language aside, which , I had to adapt to very fast… and yes, there is a Cockney-English dictionary. Thanks to Google. So armed with it I got my way to the registration desk and went back to my hotel, though miserably got lost, as by then  my battery was dead and well no dictionary to support me! But it was good fun. So race day , I had a good breakfast and it was a warm day , got in touch with Avani and this time she was the true  African, she came in later than me and as a result I found myself in the second wave and she was in the  eighth wave of runners.
The warm weather turned briefly to a drizzly morning, but that did not stop the twenty thousand odd runners dressed in very interesting costumes from taking part in the run. One of the reasons I was excited about this run was because  we'd pass all the major  sites in London. Ideally  it was   a very tourist centric run.  All the major London iconic  sites were in the  10km route and  it was  worth every  bit of it. So 1hr 2min later I was done with the run and very pleased with myself and celebrated by going to the theatre to watch a musical on the Phantom and the Opera, which, I proudly sang along to, very loudly and badly. In my defense I wasn't the only one and besides, what better way to enjoy London's cultural highlife than go to the theatre.
So these are my tips on being a proper Londoner:
You should own a good pair of brogues
Own something made of tweed.
Own a pair of wellies…well it always rains.
Definitely own an umbrella…because… it always rains.
Visit the theatre (They have plenty of them)and museums (the entrance is FREE)
Ooook….learn a bit of Cockney, so you are not lost in translation.
Now  do I have plans to come to England , just on holiday and not Worliday (Work- Holiday)? Lor' luv a duck! Yes! Why not?! Know what I mean?– Yes why not!