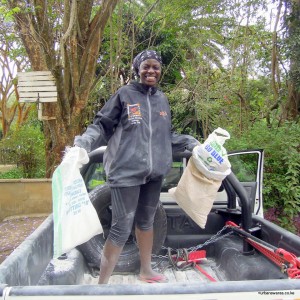 Commitment to running is marking a running trail in the rain (Otora I salute you. Marking trails is not easy).
Commitment to running is still  going for a run, regardless of the weather ( To the Swaras, who I have given flimsy excuses about not coming to your runs as it's raining… well let's just say, I will kick off the warm blanket with enthusiastic ferocity as I come for your run)
Commitment to running is actually seeing running routes non runners  will never find, which, answers the question I get asked all the time, "Where do you run in Nairobi, Lagos or Cairo?" My answer is very simple, " I get into the hotel, before I  unpack my clothes, I get my running gear and just run!" " If I am in Nairobi, I get out of bed and just run…"
Commitment to running is also looking  like  a crazed  woman or  who may be passed for a limestone miner , as one is dusty from head to toe with chalk dust ( This is a result of  marking running trails).
What started 10 years ago in Dar es Salaam , Tanzania as a long walk, turned  to a routine  that has become  part of my lifestyle, regardless of where I travel or work. Plus, for the first time  I happily bonded with men over shoes, and not the high heel type.
It was a rather rainy Sunday afternoon,  when I chose to celebrate a decade of running. I had just arrived the night before from Durban and the first thing I did was call my co-host and ask if there was anything I needed to contribute for  the run and  party, and in German precision, I got a  break down of every detail , which was precise to the kilograms of food bought. " What's left is to peel potatoes and mark the trail," was the chirpy response. I inwardly groaned, knowing the last time I actually peeled potatoes  en masse, was in boarding school, as a punishment. I must say I was not look forward to it.
Fast  forward to Sunday morning, which turned out to be  rather gloomy and the first thing I did was send  an invitation to the various running mailing lists, then I began potato peeling duty. The gloomy morning turned to  a rainy mid-morning through to afternoon- and I remember  my contribution-marking the trail. "I am not going to like this," I inwardly groaned.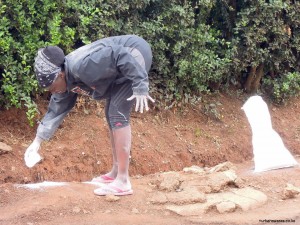 Thankfully the rain  slightly  dissipated (it was down to a drizzle), and I quickly changed into running clothes, minus running shoes, hoped onto the back of  my co-hosts' pick up and started  marking the trail. This is where I got lessons on marking trails and as it was drizzling, I was not taking chances, I rather took to the job enthusiastically ( It's Wednesday and you can still see the marks on the road 🙂 ). I was the antithesis  of a Sunday best look. Covered in chalk dust from head to toe and sometimes running on the route and plonking markers ( Once again Otora, we are not worthy of your duties).
Gratefully the rain had stopped and we were able to mark their entire  route  in the quite rather sleepy ( Rainy sunday afternoon with minimal traffic) Lavington neighborhood.
I must say I was pleased with my markers ,which, provided  runners with options to run from 5 km, 10km and 15km. By 4 pm the rain had stopped but it was still  cloudy, gratefully the air was now clean, the  running paths were cleaner and with over 40 runners who came, I was confident that it would be an easy run for the guests. I must say I was abit cheeky about marking the short run, such that the short route was actually 10kms . So the 5kms  runners ended up running 10kms, which, turned out to be the popular route. I took the long route and measured it with  my Garmin watch and it turned out to be 14.5kms ( Not bad for a first time fox trail).
As the guests happily  enjoyed the German themed  barbeque, all that could go through my mind, was 10 years is such an achievement.  It means, I am no longer  eligible for the Kenya Youth Fund and now I understand what a young adult and adult means. Being called Madam, Ma'am is mixture of respect ( because of one's age) and civility. And,  looking at the mature runners in the clubs is a reason to look forward to being old and of strong mind and health.
Here is to the next 10 years of running.