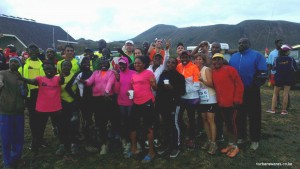 "Joy, you are Captain!" An undignified, " Eh"! was my response, followed by a plaintive, "why!!" "Gender diversity!" responded the Chairman with a straight face  and all I could say was, "really… Ajaa, you will pull gender diversity on me?" Well, by then he was gone and, that , Swaras ,was my baptism by fire into the Naivasha Relay.
I must say I was so excited about this run; allow me to explain. I am a child of the eighties an absolute country bumpkin , who grew up in backwater one street dusty Naivasha town (for the Brits Happy Valley should ring a bell). It is still dusty but no longer a one street town.  By then our only source of entertainment other than playing in mud pits was looking forward to 5pm, when  the Voice of  Kenya (VoK) opened its station and we were subjected to children's programmes for two hours,  then 2 hours of news filled with Baba wa Taifa!,  Swahili  for Father of Nation, and I must admit then the only president I knew, and who was  the bane of the West was President Daniel Arap Moi- Baba wa Taifa. So I did not know better  except for play in the mud pits, take a quick bath and wait for the multi color TV stripes to change to the blessed  VOK logo, then it was  cartoon time followed by news.
So it was in this rather , now that I think of it, boring routine I lived my life until once a year every Kenyan, country or city mouse, came out of their homes to literally eat dust, to  watch  the East African Safari Rally.  This was an iconic route; it passed my home through the escarpment to Nairobi. Our local hero Shekha Mehta, won a record 5 rallies and was a force to reckon with. All I knew was Shekha Mehta, I swore to drive a stick shift like he did,  be the first woman to join the rally. But the closest we kids could do was create motor vehicles made of wires, complete with tyres made of cut out slippers and race them .  This led to the development of play from the mud pits to pushing creatively produced car toys made of wires  and have our own rally. For the clueless like me who were utterly hopeless at shop , we stole our parents spare wheel tyres and pushed them alongside our  innovative  pals and triumphantly raced in our rally.  And prayed  we were not caught by the said exasperated  parents ….sigh… good times.
Suffice to say, today,  I cannot drive a stick shift and I am still rubbish at shop is an understatement and  thank God for technology and  automatic driving.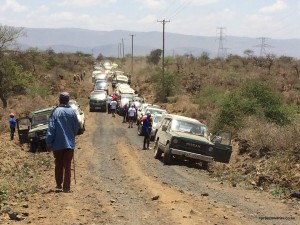 What does this have to do with the Naivasha Relay? Well, this was  the East Africa Safari Rally route. Never in my life would I have dreamed of using this route as an adult and use it as part of a sport beyond watching the rally and eat lots of dust, as it is truly a dusty route.
The  run started  from Nairobi and systematically went on through 17 stages   which had up to 6.6 kms  in each stage to Naivasha. The run promptly started  at 7am and by the time I was getting to my stage (stage 9), it was  high noon and apparently the most dusty route. Though the shortest, I must say I loved the banter amongst the  running groups, with continuous encouragement, that this is  fun (which it was), and that it was not a competition (yeah right…) and just simply enjoy the run ( which we did).  As we ran through this route  all that could go through my head was, my hero drove on this road and what a beautiful view.
By 6:30pm we were done  with the run , which, ended at Hells Gate.  Everyone was exhilarated, vehicles were blaring with music  and  people were dancing celebrating their personal success. Despite the fact we won, the group that made  the greatest impression on me were the children from the Swedish School, who, ran with such enthusiasm and in one of the stages they were leading just after the elite runners and I was absolutely proud of them. In my opinion they were the true winners, that early enthusiasm in sports should be encouraged among children, bearing in mind the 21st Century children consider sport as a game console and a screen.
I will  definitely do this run again and now Chairman, I know what it takes to be  Captain and I say, "bring it on!"