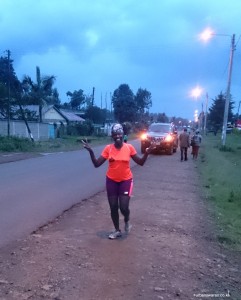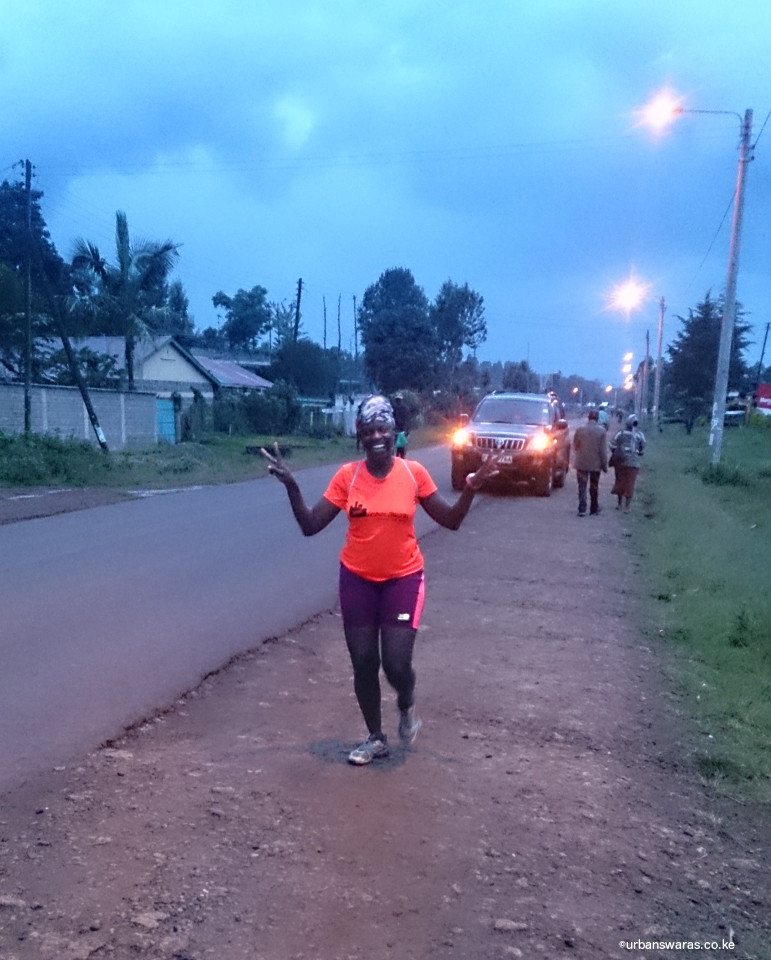 As always, it was a hair brained, not thoroughly thought through idea. I was going to run the Mt Kenya ultra marathon. My objective was simple; I wanted  to kill two birds with one stone, join club 42 and if I survive it, join the exclusive ultra marathon club and  pull in bragging rights like Loise, Mitch and Raoul and  thump my chest with pride and say I am an Ultra marathoner, and just annoy my friends  every time I say it. Guess what! I did it! And I am such an annoying muppet!
It started with Ndungu's emails and one caught my eye. We will need rangers to chase away elephants. My first reaction was, "ELEPHANTS"! Ndungu was quick to respond, " they are tame …honest!" and I  retorted, "the only tame elephant I know is Dumbo. He flies  and he is cute. The last time I checked , Kenyan  elephants do not fit the bill!"
Ok for exercise. I must say the 10 kms runs I do every other day regardless of where I am in the world really helped. Investing in a personal trainer last year to focus on strength training was helpful. The trainer turned me into a small Popeye with the ability to bench press up to 60 kgs and the strength built in my muscles was evident in the run. So for practice, I ran 20 kms on Sunday in Diani, but I was so chaffed that my plans to run during the course of the week in hilly Kigali (yes I was still travelling) was thrown out of the window. I got back on Thursday night, and on Friday drove down with Martin Boelle to Karatina. Now that was the only smart choice I made!
Saturday morning, we are having breakfast and I declare boldly, "I will run 56kms!". There was silence followed by the following statements, "write a will," "hmmm, let's see how you will survive with the rain!", then followed by a rather sage question, "What is the longest you have run?" "21kms at the Ndakaini run in September!" I chuffed with pride. "What about for exercise?"  I responded "Well, I did 20 kms in Diani on Sunday, doesn't that count?"  Silence and everyone focused on their breakfast, then one last reminder, "make sure you write a will!" Honestly who needs enemies if you have friends like these?
But I was so excited. This was green Mount Kenya; we were going to pass through forests, with the possibility of evading angry pachyderms. I had hiked through the same forest in March, ran through it in September and it was a beautiful day. I just knew I'd do the run, plus on hind sight I was on an adrenaline rush.
We drove 10 kms to a small village called Kagochi, and we started running. What was my plan? What plan! I had no idea except drum into my head to save energy, put one foot in front of the other and make sure I finished the run. And in Ashok's words, if you can't fight the hill, you can as well enjoy the view. And what a view we had as we ran passing through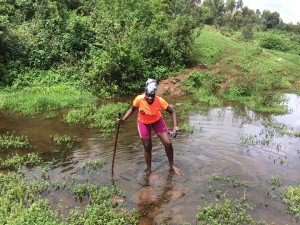 potato  and coffee farms, until when we reached a river and I debated on whether I should remove my shoes or not; Martin threw me a stick from across and shouted, "You will need it for support as you cross."! I gave up and removed my shoes and started crossing. Susan was ahead of me and she happily chirped, "my shoes are water proof so I do not need to remove my shoes," "Oh Susan…." I grouched.
I am glad I removed my shoes and waded through the cold river as it cooled my hot feet. I resumed the run and after 30 minutes it started raining and once again Susan chirped, "Did I forget to mention that my shoes are water proof!" "Susan, I swear you will be mugged in Nairobi and they will only take your shoes!" I further grouched as we slogged in the mud.
It was at this point that I definitely made up my mind to do the 56 kms run as I kept on asking, "What is the worst that could happen, other than being rained on?"  and I swore, unless there were hailstones and earthquake and the actual possibility of snow, I would not stop and definitely finish the run.
To keep my mind busy and off the run, I started playing associative mind games. I started with the rainy, muddy forest and reminded myself that it was like running in Karura Forest. Then in some stretches  I reminded myself of when I was climbing Mt Kilimanjaro and it brought back memories of my preparations for the expedition and the actual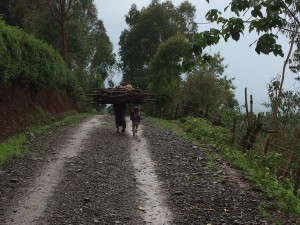 achievement of reaching Uhuru Peak, and of course I was already planning my diary, I had a lot of kilometers to cover and my entire week was planned ! But the most important thing I learned was that people love people. I greeted everyone on the way, asked people in kiosks if they had tea for a weary miserable runner, to which they enthusiastically responded and I encouraged children to run with me. Some held my hand as we ran together.
Then I started looking for life lines. Susie (Brendan Molloy's fiancé), gave me her gel and she offered to give me money for a boda boda, which, I declined just in case I got tempted to hop onto a motorbike due to fatigue. Susan also gave me her gel, and then the vehicles started following me. The soft purring engine of Ajaa's and Wahome's vehicles reminded me that I was not alone and I slogged on, in the umpteenth wave of rain.
Vehicles and boda bodas pulled over to give me a lift and I politely declined and I continued running. At some point I was given an orange which boosted me, my Garmin watch had died after 30 kms and I resorted  to asking the friendly villagers how far I was  and I got colorful responses ranging from, Huogopi mvua? Aki uko mbali, Madam ingia tu kwa gari (Aren't you worried about the rain. You are really far. Madam, please get into the car!). 3 kms to the finish, I had unexpected euphoric energy and ran nonstop to the end. The Swaras were waiting for me, followed by exhilarating high fives with incredulous comments, "Joy, you are crazy! My God you are stubborn!". 9hours 20 minutes later, I was screaming at the top of my lungs, "I am an Ultra Marathoner!". Will I do this again? Oh yeah and I cannot wait for the Two Oceans Ultra Marathon in South Africa.