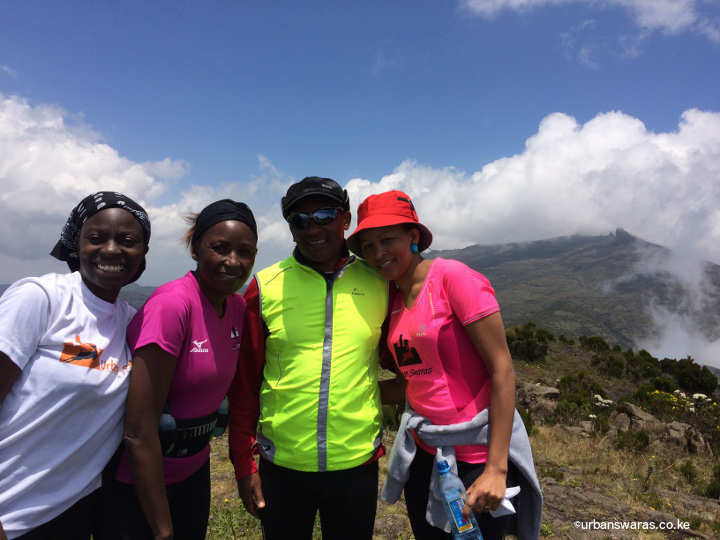 So here  I am bright eyed and bushy tailed as the Bush Babies  are screeching manically in front of my log cabin somewhere in Happy Valley, right in the middle of the Rift Valley.  I have this amazing view of the  valley, it's a warm night, the stars are sparkling in their full glory and the moon is shyly creeping out of the clouds into the sky.
Since  I am awake  the only thing that can go through  my mind is  my bull headed , borderline fool hardy hike and eventual run at Elephant Hill in the Aberdare Ranges last week.
So there was an announcement on the Swaras mail portal  on a  hike up Elephant Hill. I  had been on the road for two weeks and a hike and a good trail run is what I needed, not to mention I am climbing Kilimanjaro in July. I wanted to start acclimatizing  as early as possible to high altitude. 12 hours to the hike  it was cancelled. Though disappointed I was still determined to go for the hike, then I get a call from Martin a.k.a Hunny Bunny. He is about  the only person I cannot keep up with and puts we 'young ones' to shame  at his consistent pace, even in hilly trains. "I am still going for the hike!" He says resolutely , then followed by Felicita of the Amsterdam Marathon fame, with a firm , " I am still going for the run." So we promptly leave Nairobi the following day at 6:00am, happily car pooling with Martin and arrive at Njabini at 7:30 am.
Clearly we were the first ones and  we wake up a partially sleep confused  ranger, with the firm statement, "we are ready  to hike up the hill."  Can you not wait for a group of 40 we are expecting in a couple of hours whom you could join?" Tempers flare with  harsh words  exchanged ranging from… such incompetence to we did not come this early to hike with 40 other people. As  heated words were exchanged, Wachira of the Graceland fame  joins us and we happily pipe, " there, we've got our crowd and we are leaving with or without the ranger, so wake up and join us."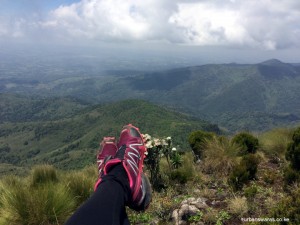 On hind sight I  felt guilty and sheepishly apologized, but that was done after he found me at the summit. Yes I did leave him behind.  So the hike, Wachira  Felicita ,Martin and I began the hike and  it was more like a speed walk . Then along came the voice of reason or in my view Jiminy Cricket- Felicita, "do you know I once got lost on this hill, we should have  waited for the ranger!". "Noo we will be fine " I affirmed and we continued  hiking and at some increasing our pace improved  to an occasional  slow run and in two and half hours we were at the  summit. Having packed  sandwiches , eating them at the summit was  such a joy , I was humming happily and I started seeing the world in Technicolor.
The adventure began on the way down and Felicita encouraged me to run all the way to the bottom and that's what I did and like that she was gone. So I ran all the way down alone. When  I reached the electric fence… I took the wrong turn and a few things came to mind, Felicita's warning and having the ranger by my side now sounded like a very good idea.
So chin up Swara style, I reassured myself, "ah, this means extra kilometers to my run." But I did get my way back, enjoying every bit of the view of  my new route.
So finally back to the original route I continued running back to the rangers forest station only to find  Felicita stretching (that lady has jet fuel for blood!). Martin had reached the Point of  Despair and returned earlier and Wachira joined us 20 minutes later.
What a wonderful way it was to spend a weekend. So, here, to more runs in 2016 and of course I will be running tomorrow in the scrub lands of  Happy Valley.