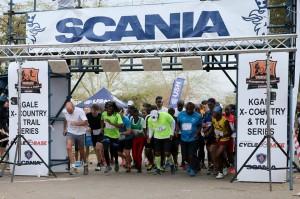 So, it's official the universal uniform for runners is  spandex,  and the brighter the color the better  and it is that uniform that creates some sense of familial bonding regardless of race, color or nationality . And  it is  in this spirit , that , after I landed in Gaborone, checked in my hotel and  changed into my running gear and started running in the streets. 2 kms into my run, I saw a large group of people  running in spandex and I took a chance.
So, I joined them.
In the interest of my personal security, one of the reasons I was comfortable with, was that they were running not far from my hotel and bearing in mind  my hotel is one of the tallest buildings in the city, well, I knew there was NO way I would get lost as my landmark could be seen from a 10km radius. So the running  party I gate crashed turned out to be the Gabarone  Striders and I was  able to run a total of 10 kms with them and they invited me to a 21kms race, which, in my naiveté, I thought was their normal weekend runs like we have with the Swaras and wasn't I in for a surprise.
So club day turned to race day  because I noticed product banners, huge Scania trucks , who happened to be sponsors and a podium. And the first thing that went through my head was I am way over my head. This was the Kgale X Country And Trail Series . Please note I had woken up at 6 am , left the hotel at 6:30am and ran 7kms to the beginning of the race,  and at that point I  quickly realized that I was not going to do 21kms, as I would have to run a another 7kms back to the hotel. So I chose the 10 kms route. So in total…I ran 24 kms!
So Botswana was a series of firsts for me.  As much as I have been running for ten years, I have never run in a competitive race and I have never done Zumba  and I did both in one morning! The latter is not so bad  after all, it was good fun  dancing as we warmed up.
The hilarity of waiting for a race to begin is you connect with fellow runners and curious by standers. One in particular piqued my interest when she talked to me that morning, all dressed up in garish make up and a cut out top  with the sign in bold TWERK IT OUT and of all colors,  magenta ( For the male readers, who cannot tell the difference between white, off white, brilliant white and ivory white… Magenta is a bright bordering neon colored pink).  Well, she would have as well danced the anaconda in front of me and I would have patiently listened to what she had to say to me afterwards,  because as , far I was concerned it was morning and my graph was minus zero and I had just run 7kms to join my fellow runners. On hind sight you need such kind of characters otherwise this world would be boring!
The  next interesting conversation was with a chatty  Cathy of a seven year old who quickly categorized her  father  and I as old , because we were 35 and 34 years old respectively and the fact the father could not do squats!
Anyway, race time. The 21 kms runners started  then we followed. The routes  were well marked and it was 32 degrees and we  ran in scrubland and  smack in the middle of the Kgela hills, so it was a bit of a hike, the run had a few water  and fruit stops, which, came in handy in the heat.  Though slightly windy, we were  competing in almost desert climate(Read the Kalahari…). There were   a number of older runners and there was one in particular I was not able to keep up with. All I could see was a messy flop of  white hair ,  and he was  quite fast and all I could think of was our patron and his capacity to endure long races.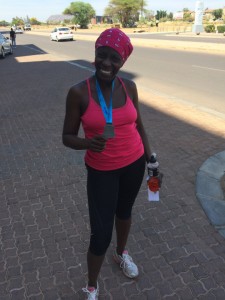 The terrain was  quite easy to run through, but because of the heat it had its challenges,  but the fact that I was able to race competitively and come up 7th  in the womens' category at a speed of 1hr 15 minutes, I must say, I was happy with my performance, though it was longer than my usual running speed which is always under an hour when I do the same distance.
So  yes I went through the baptism of fire in competitive running and I will not shy away  when the opportunity comes and I actually missed the Urban Swaras, because what went through my mind was that after such a run, we would be having breakfast regaling each other with the horrors we went through when running  and before the year is over, I will definitely run with the club.
Next stop Rwanda