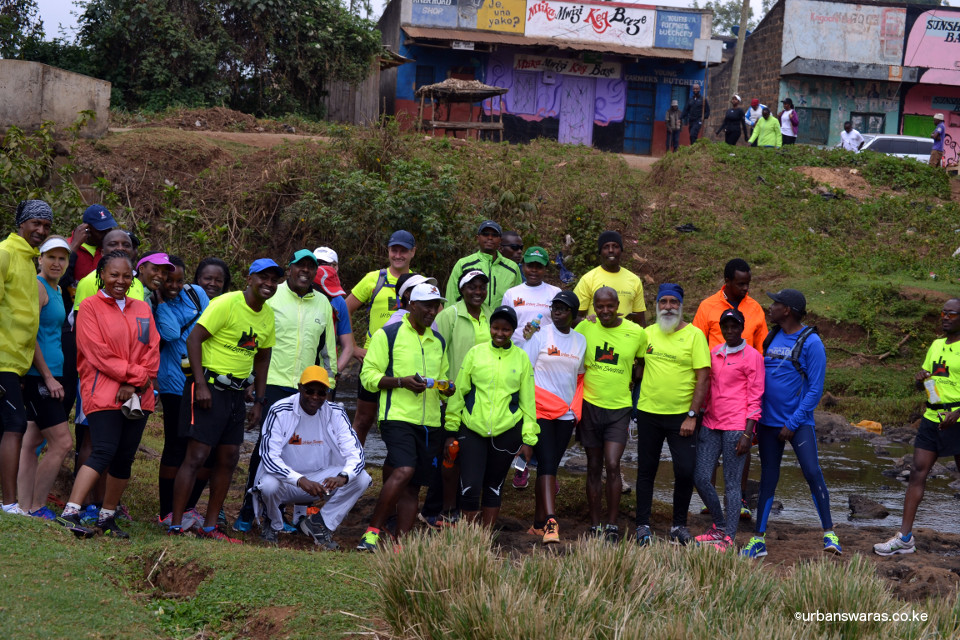 This run can only be recounted with a lot of pride, notwithstanding the reality that your body is a pile of ruins. We'll try to make this as summarized as possible…what to write is just too much, after all it was an ultra.
Date: Saturday 24th September 2016
Place: Somewhere at the foot of Mt. Kenya
Time: Early
The turnout is impressive, droves of Swaras arriving early to make sure they don't miss out on the penance they are here to pay for their various transgressions. The heavens tease runners with mild showers and dark menacing clouds; for a moment it seems Ndungu's rain stopper is sleeping on the job. The dampness of the weather nevertheless not dampening the runners' singularity of purpose.
As expected, such runs have their morning nerve-induced shenanigans…sample this; the good patron vows he saw one Molly head into the gents, ostensibly looking for someone; nerves right there…, but just a sec…we can't rule out the flipside, can we? So we'll conveniently take the Solomonic high road and argue that it could just as well have been Patron's eyes playing tricks on him…
This being an ultra, you can tell the participants are geared for it; hydration belts, camelbaks, ORS solutions, it wouldn't be surprising someone carried a rosary or some other tools for summoning divine intervention in case the going got tough.
Such distances are where chafing could haunt you to submission, so the friction points better be well greased, and your shoes better not conspire to sneak in a blister or two earlier in the race. Not forgetting the nipples, you've seen bloodied shirts before, so someone better be sure of their shirt or have the dang things taped…the kind of stuff ultra-runners go through.
For easier digestion, we will split the ultra into 3 courses.
Sightseeing
Swaras are flagged off at 9 am. You immediately enter the forest. Cool and lazy running all round, no one in a hurry…
Before long things get interesting, hillocks of elephant dung on the road, fresh. Telltale signs in form of broken branches, and then…. behold you have spectators! In the forest? Yes, in the form of elephants? Yes. You picture a slow cold evening in Jumbo village, around a fire, bottles of Tuskers all round, a jumbo's smartphone beeps -email alert, he lazily checks it, shakes his big ears and grunts, 'our crazy swara cousins will be running through these woods….', so here they were to look for themselves (someone counted six elephants), maybe next time they'll carry their trumpets, a proper marching (trampling?) band wouldn't kill the runners.
You soon come up to a dam, the 35K split is here. You get to that river crossing where everyone had to wade across in 2015. Mercifully the water is low this time and you can artfully maneuver across without getting in touch with water.
Immediately after, you come face to face with Mt. Kenya, the matriarch herself. She seems to have had a lazy morning and it's only now that she is showing face, drawing back the erstwhile cloud curtains to witness the curious goings on at her feet. The view is always awe-inspiring and like every other time you're immediately raring to hike up the mountain. The swaras with photo devices predictably pause for Kodak moments.
She continues watching as you run uphill through the potato farms, here the farmers double up as caretakers of the forest, they tend up and coming trees and as a result the mountain soil rewards them with overfed potato tubers… which are subsequently ferried to Nairobi to overfeed you.
By now clouds have been bullied out of the skies, seems Ndungu's 'Mundu Mugo' was deeply impressed with the unblemished white goat offered as compensation for his troubles… You get to a second dam and you're tempted to take a dip. The forest that comes up and its resident breeze is more than welcome. Full disclosure; the 'second dam' ceases to exist later when you look at the route map and realize dam 2 is actually dam 1, you just toured both sides of it.
You soon exit the forest but not after going past some colonial structures that look older than time itself and a scenic leafless forest whose naked trees makes the place look like autumn up in the temperate climes.
If by some miracle you've not dozed off through the foregoing paragraphs you'll notice that no one has talked about the run. This is because it's been sightseeing all along, you could as well have been on a truck touring the forest…for 20kms.
Warming up
With 20 kms under your feet, you're still fresh; you know the run is still way ahead. You therefore plan to make the next 20k a comfortable jog in preparation for the onslaught.
You've since reunited with the 35k crowd, the routes having merged at around 18k, so you're in good 'strong' company. Victor is so comfortable despite the seesaws of ascents and descents. He soon starts offering other swaras support, 'anything? A soda? Water?'
The support has been flawless so far, you've already taken…let's see… two bananas, a Fanta, an Afia (juice drink), a bigger Afia, a Coke. You'll end up taking more coke, and lakes of water- enough to drown the cells in your body. At some point you cut down on the water and only take the other fluids. You've read sufficient literature to know there's such a thing as electrolyte imbalance.
2015's ultra was easy on the body, absence of hills after 30k- a good thing. As a result some conquerors of the 2015 ultra went chest thumping, proclaiming that the ultra was all in a day's work, using words like 'losing altitude' et al- a terrible thing. Such careless talk is bound to throw the routes crew into panic mode, and it did, as a result enough hills were now part of the menu. Soon you are cussing under your breath on sighting a descent and cussing some more on seeing the hills.
Here comes the ultra
40 kms down. You're still alive, you want to keep it that way. End is in sight, you don't want to but find yourself counting down the distance, 16k doesn't sound like a bad number. You soldier on.
A progressively painful 10k drags by, you finally get to 50 and are rewarded with a flat 2 km stretch, your paces speed up from around 7:30 to 5:30 mins /km. Your feet settle into a comfortable cruise, this will surely go all the way to the end…
Then Ajaa shows up, he has grave news…'you're going into 3 kms of hill with great views…' you take another coke.
The hill is punishing, the pace drops to a crawling 10 min/km, victor hinges his hopes on a communication mast way ahead trusting it to signify the highest point… luck smiles at him, but not too fast, it's not over yet.
Going downhill is the toughest test of the run yet. Your feet are no longer coordinated, we can safely name your movement 'ginger steps'.… you gingerly set one foot in front of the other in a painful dance down the slope, someone would be forgiven to think you were walking on hot embers…
Let's grudgingly admit that the hilltop offered quite some view… 'cud view' would be the appropriate term though; You definitely can't enjoy the view right then, so you take it in like a ruminant, bringing it up later that evening as you convalesce… only then do you soak in the panoramic view, the now dark and ominous foothills of Mt. Kenya, her head safely above the clouds, the endless plains on the opposite side, and Karatina town calmly nestled in her space.
The hill itself looks like a bizarrely shaven head, tea farms interrupted by slight bushes and an odd house here and there.
56k done. It's now evidently this run isn't going to be anything less than 58k. Victor is getting edgy, you find it wise to keep to the opposite side of the road, who knows, He could turn and suddenly think you are Otora, and then your tense would be past.
Back on flat ground you are comparing pains. For you it's definitely the knees, victor is paining everywhere and nowhere, he can't quite locate his pains. It has to be the soul.
Soon talk of stopping crop up; supported by statements like, 'haven't we completed the 56k?' and 'surely not many swaras will finish this run', but neither of you takes the plunge, the following is at play in your disoriented mind;- You don't want to stop because Victor would probably keep on running; you think Victor is probably waiting for you to stop so that he stops too, he probably fears that if he stopped first you'd keep running; You, on the other hand are waiting for him to stop and then you'd probably, well, keep running…have we lost you? Never mind… neither stops.
58k, 59k, you're still hopeful the end is near; 60, 61, 62…, nothing matters any more, you submit to fate.
Then out of the blues you are on familiar territory!! You estimate 2 kms of easy jogging to the end but oh no, no sir, the demons in Victor's head have other ideas, the fellow decides that this is perfect recipe for racing. It is as if the hotel is moving away and you have to run like your lives depend on it to catch up….result? 63rd km at 4:40 min/km pace, 64th at 4:14… and just like that your run ends after 7 hrs 28 mins.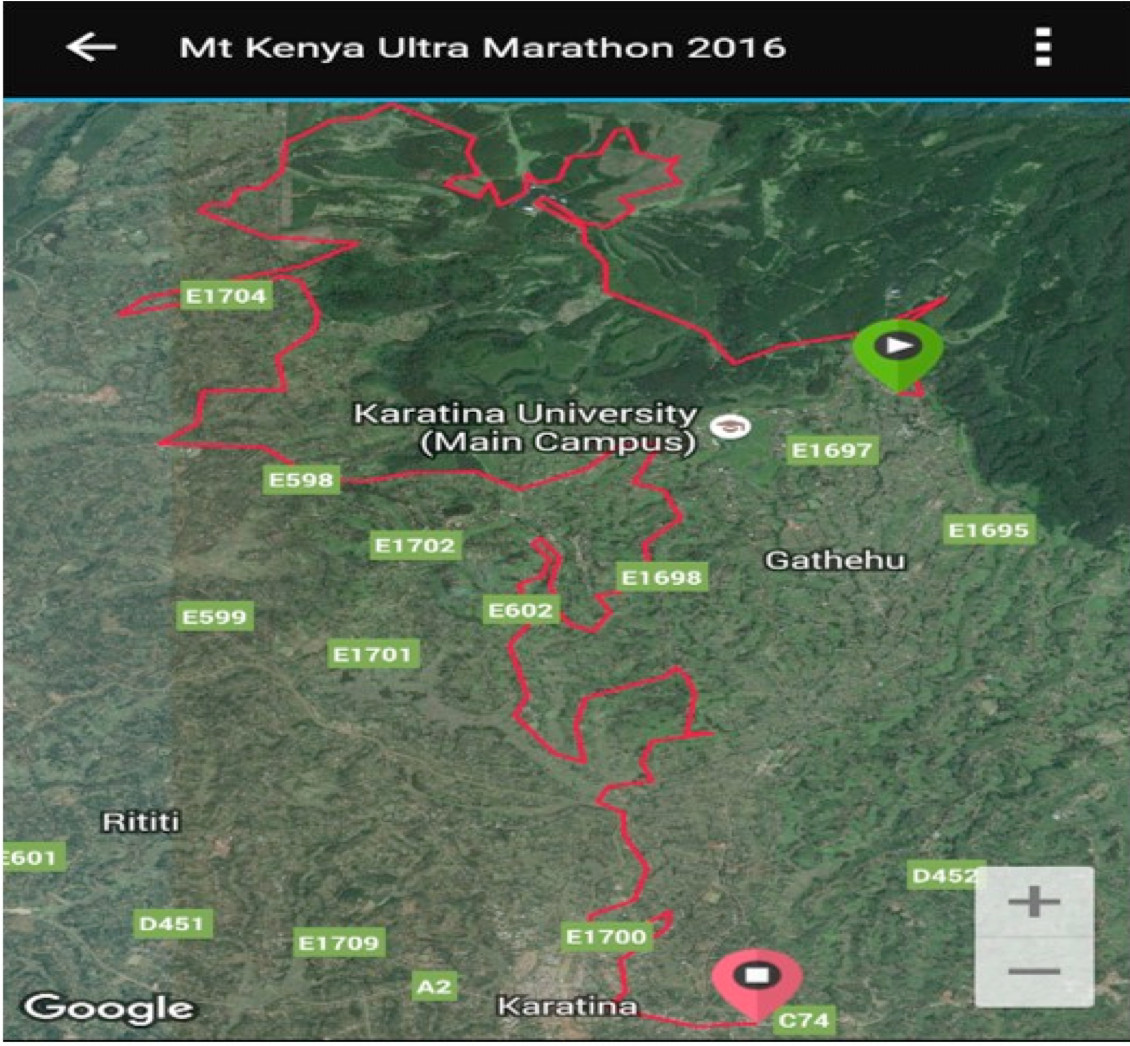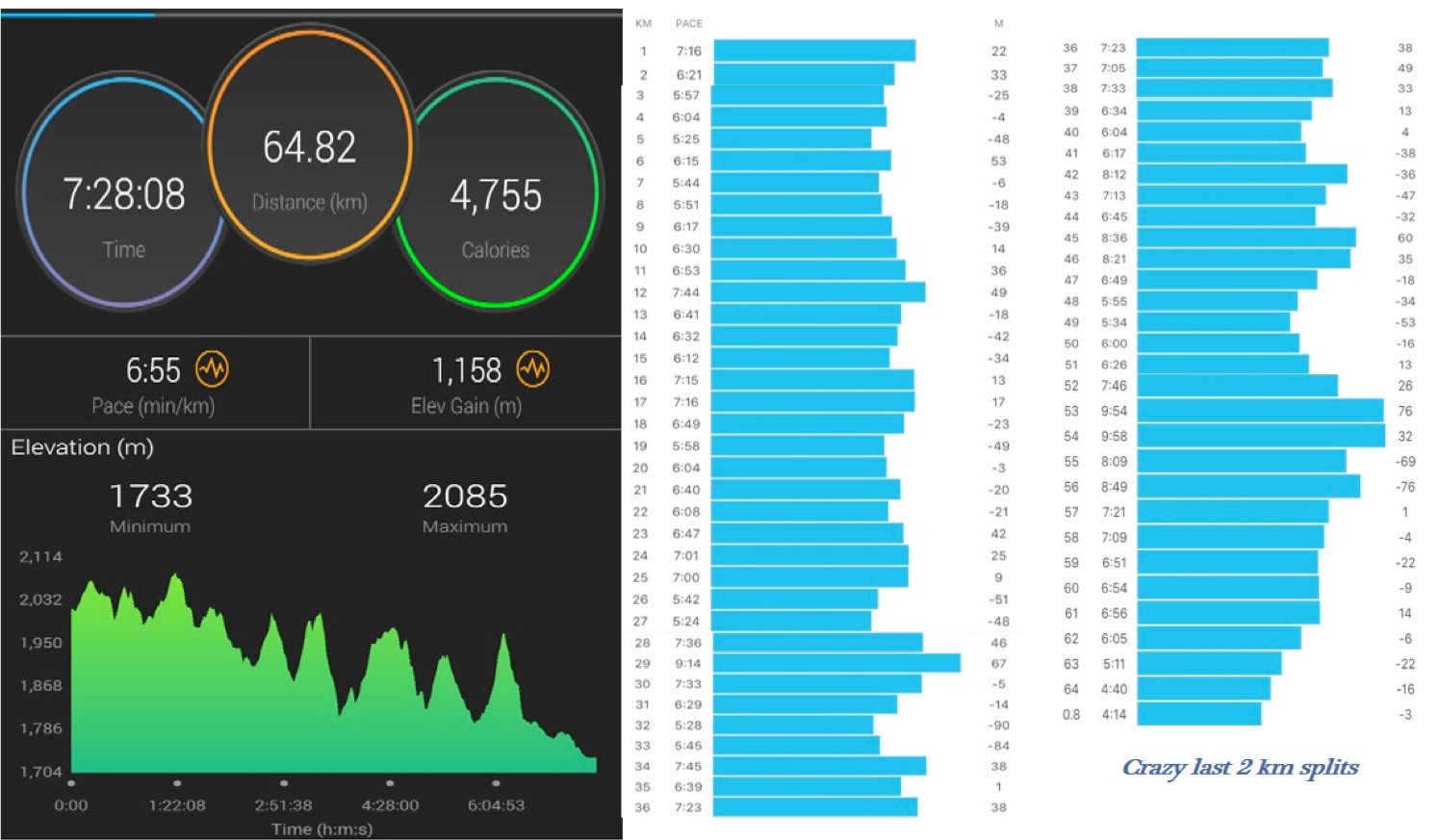 You now realize why chairman and Ndung'u conveniently didn't run, these two wizened distance runners clearly chickened out, ostensibly to do support. They must have had doubts on the doability of this distance, and you, dear runner, was an experiment to test their hypothesis…
Two swaras have already completed the ultra ahead of you, more trickle in and by the time you stop counting, a whopping 8 swaras have completed the staggering 65 kms!
You sit down to contemplate your unlikely achievement, it no longer looks that intimidating…suddenly your mind explodes and out spills a world of possibilities… what if there was a 100 km option? What If there was a 'circling the entire mountain' option? What if? You get the chills and stop writing….