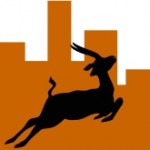 Date: May 26, 2012
Somewhere in the gated community in Kitisuru, off Kirawa road, Ameet must have woken up at about 5am, taken his power breakfast of cereals and milk and hopped onto his Hammer to pick up Otora in Kangemi and head to Eureka hotel in Kiserian. Otora was at Engen Petrol Station, Waiyaki Way, at 5.30am together with Albert waiting for a ride.  He did not find it necessary to refuel.
At 6.00am, Muyodi's call interrupted my bread and black tea breakfast.  He and I agreed to ride together.  I swung by Tusky's on Muindi Mbingu Street to grab 2 cans of red bull for the Magadi road hills, parked my car in town and got into his after picking Emojong the driver/waterman off Parliament road.
Gerald Mutua called me at about 6.30a.m. requesting me to hold the start until he arrives at about 7.30am.  Molly Ayiemba too called requesting for the same but was actually ahead of us.
When we got past Nakumatt junction, the bad news came in.  A matatu had rammed Ameet's car damaging the entire front right side.  The driver was speeding while talking on his mobile phone when he inexplicably swerved onto Ameet's lane.
I called Wahome to help.  He drove into the Ngong Police Station but established that the accident occurred within the jurisdiction of the Kiserian Police.
To Ameet's relief, the officer in charge of Kiserian traffic police happened at the scene of the accident while on his way to the police station.  Nzansumuryimi, Ndichu, Avani and four semi-elite runners who had come all the way from Kangemi by matatu to experience the Magadi course were at the scene.
A breakdown was called by the police officer and it towed Ameet's car to Nakumatt Galleria.  It was agreed that Ameet will unfortunately skip the run.  He had planned and trained for 35km. Avani and the rest of the runners squeezed into the two cars, Nsansu's and Muyodi's, and we drove to Eureka.
At Eureka, I flagged off Otora and Albert at 8.05am. They were going for 66km and so were to run one way for 36km then turn back for 30km, ending at Kona Baridi.  The two took off as if they were doing 10km.
The rest of us crammed into Githenya's and Emojong's cars to be dropped at 30km, 25km, 20km and 15km.  There were no takers for 10km.
I flagged off Ndichu, all ready with his tablet strapped on his back and one Semi elite at Ole Tepes Market to commence their 30km pain.
Soon thereafter, I flagged off Kones and his co-semi elite at the 25km.
Molly, Ferra, Muyodi, Wahome and I tackled the 20km.  Mr. and Mrs. JT, Avani, Nzansumuryimi (the name means "come to the lord") and Ndichu's workmate must have flagged off themselves because I begun running before them.
After 7.4 km of running uphill, molly started bending and stretching her back as she struggled to run while complaining of backache. I advised her to run off the pain, which she did. Soon she started walking and running and walking.
Before long, I put respectable distance between the four and myself.  When I looked back, I saw Ferra too walk for a while. 12 km later and as I neared Ole Polos, my fellow 20km runners disappeared.  The running became steeper.  When I got to the traffic sign warning motorists to beware of the possibility of toppling over and to engage lower gears, my pace dropped from a respectable 7.46mph to 9.21 mph.
By this time, Otora and Albert had run past us, flying but not before I had described the turning point to them.  Later I learnt from the waterman that on reaching the turning point, they were so famished that they stopped and took tea and bread in some Kiosk before embarking on the return journey.
At Kisames, some 6km from Kona Baridi, I met Gathenya.  Avani was comfortably seated in the car. She had revised her desired distance from 15km to 12 km and finally to 10km and then walked most of it before hiking the lift.  When I requested for my energy drink, I was told that some runner had drunk it.  This guy had not even brought water for himself and I wonder why he thought that an energy drink would be available for free.
Disappointed, I grabbed Muyodi's bottle of water laced with honey and headed for the distant finishing point.
From a distance of about 1km, I could see Kones closing in on me.  I vowed never to be caught up by him and kicked in my low towing gear.  I averaged 7.3mpk on the kona Baridi hills.
At the finishing point, JT and Ndichu's friend were all smiles and fresh having successfully completed their 15km.  They walked some though.  I stopped the clock at 2hrs 30mins.  My average speed was 7mins, 50 seconds. This was admirable given that I had not run at all for thirty days.
Kones who was doing the 25km arrived five minutes after me, annoyed with himself for having failed to catch up with me.
Muyodi wobbled in some twenty one minutes after me, tired, hungry and anguished.  He walked the Ole Polos hill.
Next to arrive was Molly, hardly moving her legs, ten or so minutes after Muyodi.  She then understood why I sent to her an sms the evening before begging her to come for the run.  Molly has sworn never to do Magadi again but I know that that was just fear borne of fatigue.  She will be back.
Ferrah Etyang clocked 3 hrs 11 minutes.  She must have walked the entire Ole Polos hill.
By this time, I had stretched, eaten a banana, drunk water and rested.  I paced around waiting for Ndichu to arrive. He arrived of course but in Githenya's car.  He said that his  tablet read 17.4km when he hit the wall.  He has vowed to "heshimu milima"
The three semi elite surrendered to the hills at various stages.  None of them managed 20km.  One of them later told me that he usually covers 21km in 1 hr 20mins.  That this time, his watch ticked but the distance never reduced substantively, so the guy stopped running, sat by the roadside waiting for the stragglers bus and poured water into his shoes to cool down his burning feet.
The four of them want Magadi road to become their training base.  I am willing to teach them hill running as they teach me speed.
Unknown to me, Otora and Albert could not conquer the return journey non stop.  They were ferried by one of the watermen for about 12km.  They resumed running at the base of the Kona Baridi hill and ran all the way to Eureka.  The guys must have run for about 50km.
Of the Swaras that turned up for the Magadi run, only the chairman ran his distance, NON STOP.
Raoul was away in Somalia, Amai was down with a flu and Ameet got an accident.  Soon, I will take them  for their Magadi run.  Any swara interested in coming along?