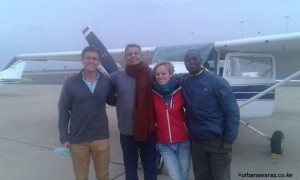 This is a 'short' account (the official abridged version) of our trip to the Victoria Falls for the Vic Falls marathon run that was held on the 28th of July 2015. The following events happened in real time between 0630Hrs on Friday the 26th of June and 1842Hrs on Wednesday the 1st of July 2015 in at least six different countries of eastern and southern Africa. If any of it is/was contrary to local and international laws or liable to cause a diplomatic incident(s), this is by no means an admission of guilt by any or all of the parties involved whether singly, jointly or severally.
And so it goes that four Urban Swaras – Zach Drennen (pilot-owner), Katharina Rochell, Ashok Franklin and Shem Kiptoon had signed up for the trip of a lifetime on Zach's single engine 4-seater light aircraft Cessna Skylane182 registration number 5Y-CCY (which we nicknamed Charlie after its call sign Five-Yankee Charlie-Charlie-Yankee). Right from the outset, we were all heading into what must surely have been hitherto uncharted territory, at least as far as recreational running is concerned.
Friday, 26 June
At 0630Hrs we set off for Wilson Airport, arriving shortly before 7am. The plan was for take-off at or about 8am so we had time to grab a quick bite before boarding. Due to some slight delays, we ended up leaving a few minutes to 9am. Meanwhile, as we waited for that, Zach took us through our pre-flight briefing. We were all excited and raring to go!
1230Hrs: Touched down at Dodoma in Tanzania. So far our journey had taken us on a south-westerly where we had splendid views of Ngong hills, Lakes Magadi, Natron & Manyara, several volcanic features in northern Tanzania including the active volcano Oldonyo Lengai which still has white volcanic ash on its slopes from the last eruption a few years ago. As it was quite a clear day, at one point one could even see Kilimanjaro and Meru mountains in the distance to the east. We were received by a very friendly and enthusiastic immigrations officer who was clearly glad to receive visitors. Stopped for an hour or so to refuel, stretch our legs and have some light lunch before embarking on the next leg of our epic journey.
17:30Hrs, Central Africa Time: Arrival at Kamuzu International Airport, in Lilongwe-Malawi. Barely had time to clear with customs and immigration, then look for a hotel in town before it got dark. At this point we were all famished and desperately needed a hot meal. Someone had recommended to Zach a certain restaurant but he couldn't remember if it was the Bushman or Buckman restaurant; tried looking for it, eventually stumbled on a good place where we had dinner anyway only to discover Buchanan's in the same complex on our way out…
Saturday, 27 June 
0800Hrs: We checked in at Kamuzu International Airport for the last leg of our journey to Zimbabwe. Interestingly, we are all herded into the aircrew briefing and flight planning room despite the fact that it was only Zach who had a clue of what to do… Anyhow, we take off at about 9am after refuelling and are soon headed west across the border with Mozambique.
1430Hrs: We landed at Victoria Falls after enjoying magnificent views from the skies of the humongous man-made Lake Kariba with its many islands (Ashok staked a claim to quite a few of them as we over flew 🙂 ) The airport there is currently being expanded with a second longer runway under construction which confused our final approach.
1530Hrs: After clearing immigration and customs where I got my fair share of ribbing from an officer who said he wouldn't let in any Kenyan to claim the marathon purse (well, no sir, at least not this poor specimen of a Kenyan athlete!) We head to town and make a beeline for Kingdom Hotel to pick our race numbers before checking into our hotel. The place was teeming with people from different countries and we were all sizing each other up, eying the competition…
1700Hrs: We finally arrive at and check into the hotel that had been booked for us. We meet up with Marcel Owino who had arrived the day before from the US. He shows us around the town as we look for some chow being famished after the fairly long flight. Later in the night we meet up with Mercy Wanjiru with whom we head out for supper at a Thai restaurant called Nam Took. There we also met with Anna Dybicz and her friends, though they were on their way out.
Sunday, 28 June -RACE DAY
0615Hrs: We walk to the start line from our hotel that is nearby. The atmosphere is charged as we wait for the start of the full-marathon run. Molly Ayiemba and her friends manage to locate us and we have a few good laughs with them too. We encourage and psyche each other up especially the people doing the full, Mercy, Marcel and Ashok who soon set off at precisely 0645Hrs. Funny thing is the start pistol fails to work and we are startled a few minutes after they leave when it finally goes off! At 0720Hrs the rest of us set off for the half.
0645-1200Hrs: THE RUN! Words fail me to describe the incredible route that first takes us down to the bridge over the gorge where we get the first fantastic views of the waterfall. Of course we try to keep our eyes on the road, and the route quickly loops back at the 5km mark into the park where wild animals abound. Game rangers and race marshalls in vehicles patrol the route, though that doesn't stop one rogue young male elephant from chasing Marcel and others (I will leave it to him to recount the rest of that story firsthand, though happily it ended well!) The route was on paved roads for the most part except for some short loops that were easy on the feet, and also took runners through forested areas, bushy scrubland and also posh neighbourhoods of the town.
We finished our various runs well enough, which is to be expected of all Swaras anyway. Those who finished earlier waited at the finish line to cheer on the rest until we had a full complement of the team. The course itself is fairly balanced with a gentle gradient for the most part. However, there is a killer steady uphill climb from around 16Km to 18Km that really saps one's reserves. I can't imagine how those doing the full (that was essentially two loops of the half!) would have felt on their second and final ascent of the killer hill. Other than that the rest of it was quite manageable and we were able to put in some respectable times too…
1300Hrs: After the run, the weary band of Swaras both hungry and tired trudged back towards town from the finish point. Somewhere along the way, in true Nairobi style, we hijacked a van and much to the chagrin of its official passengers, we commandeered it to drop us all at our different hotels…
1500Hrs: We went to have lunch at this fantastic place called Look Out Cafe which has fantastic views of the gorge and the bridge across the Zambezi river. While there, some got tempted to do a few crazy stunts there: the Zip line, Gorge Swing and Flying Fox while suspended from a cable across the gorge. And of course yes, the Bungee jump!
1900Hrs: The After Party!
If there were any doubt to the hospitality acumen of the race organisers, the after party was just the bomb! This was an outdoor event with tables set right on the bank of River Zambezi, soft lit with paraffin lamps and then a large tent which was both the cash bar and dance floor at once. So we feasted the sumptuous fare that had been set, enjoyed the drinks and danced the night away. What better way of warming down after such an exacting run by shaking a leg, eh?
Monday, 29 June
0900Hrs: On the morning after, this happy band did not rest despite being already accomplished as far as running the marathon is concerned. Instead we set out to do some assorted activities: some did white-water rafting down the rapids, others elected to take a walk by the falls and hitch a helicopter ride over the falls in the afternoon…
1900Hrs: Braai by an open fireside! Of course, where there are a few Kenyans you can always trust them to sniff out a local nyama choma joint. Problem though is that we had to go there with our own meat and veggies then they'd do the rest. So again we got to wind down and work off some steam after yet another exciting day!
Tuesday, 30 June
1300Hrs: We started on the return leg of our journey that would see us go back the same way we came. This time though there was a very strong headwind on the route to Lilongwe that it took us nearly an hour longer than we did when going. In addition to that, due to the late take off we arrived after sunset and had to land in the dark. Interestingly, when we got to the immigration desk they had closed for the night and even switched off the lights on the airside!
Wednesday, 1 July
0930Hrs: Even such a very good thing as the adventure that we undertook must come to an end. So it was now time for the last leg that would see us briefly land in Dodoma and then back to Wilson Airport. It is really interesting that as we waited for take of on the apron at Kamuzu Airport, a KQ flight landed and there was a funny moment while we were taking off when the captain made an inflight announcement to the passengers on the control tower frequency!
And so from those of us who had the privilege of flying with Five-Charlie Charlie-Charlie-Yankee, we report our arrival back home. It is worth noting, as one of us pointed out somewhere along the way, that the four of us who were on that special flight all come from 4 different continents (Africa, America, Asia and Europe) clearly demonstrating the diversity that is also represented in the Urban Swaras club.
Kudos and many thanks indeed to Zach our able pilot who did all the hard work of flying us there and getting us back home, we really have no words to express our gratitude. All we can say for now is: "Three cheers to the captain: hip-hip, hurray! Hip-hip, hurray! Hip-hip, hurray! Bravo, roger that, over and out!" I guess it may not be much of an exaggeration to say that he midwifed the birth of a group that may some day be worthy of the name Flying Swaras!
Warm regards to all and whatever you get up to today or any other day, keep running!