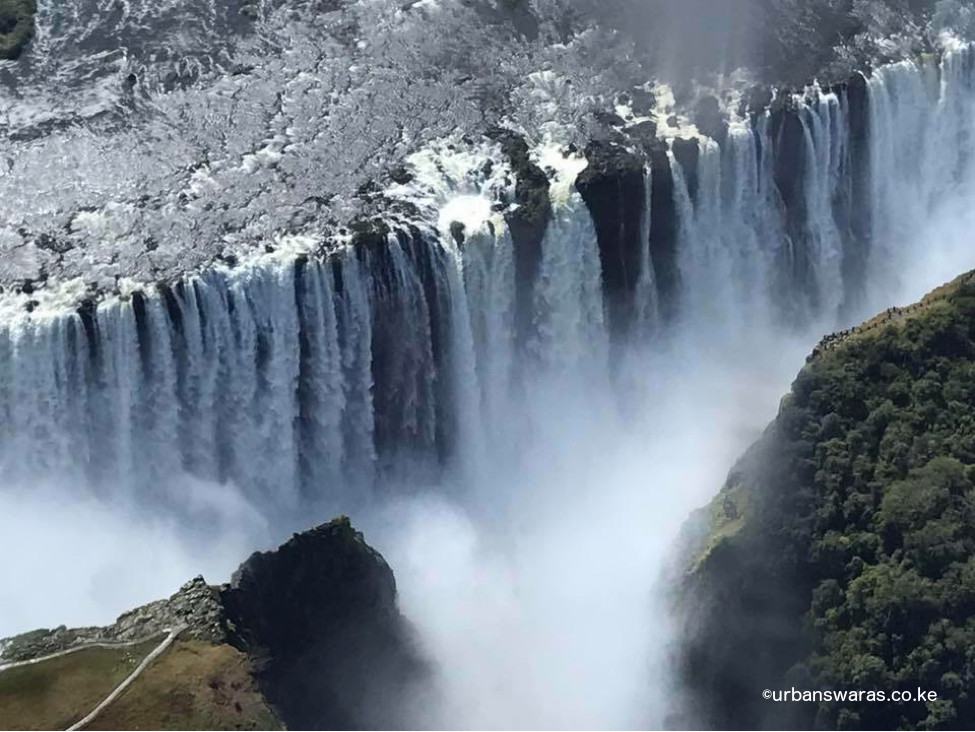 Its 4am on a random weekday, my alarm goes off and I drag myself out of bed wearily. The morning cold hits me in a rush as I push the warm blankets away. The temptations to go back are higher than getting out to fulfill my marathon training schedule. I am lucky this time, the latter overshadows the former. 30 mins later, I'm on the road to the gym with music playing in the car stereo to get me in the mood for my morning Run. The same routine is repeated every day, with speed runs and hill reps being my nightmarish days.
The journey started back in 2015, when I placed Victoria Falls Marathon in my bucket list. However I kept shoving it away. So, in late March this year when I signed up for the run, booked my flight and paid for accommodation, I was too cocky about it, notwithstanding my injuries, which had plagued me for over 12 months.
I'm not sure whether to call it luck or a miracle, but within one month of the intensive journey through regular runs, physio sessions, strength training and stretching, I was out of my injuries (note the plural in injuries). Not only did my speed improve, I signed up for the Voi Run, considered one of the toughest in the Swara Calendar. But before I took a bus to Voi, I was hiking Mount Longonot, a 13km, high altitude hill located near Naivasha town, the very same day I was travelling. I'm not sure how confident I was with myself to undertake these two adventures without a break. But there I was on my way to Voi the same day I had hiked. My 30km run in Voi the following day after few hours of sleep in the bus was not disappointing and can be summed up on the infographics below.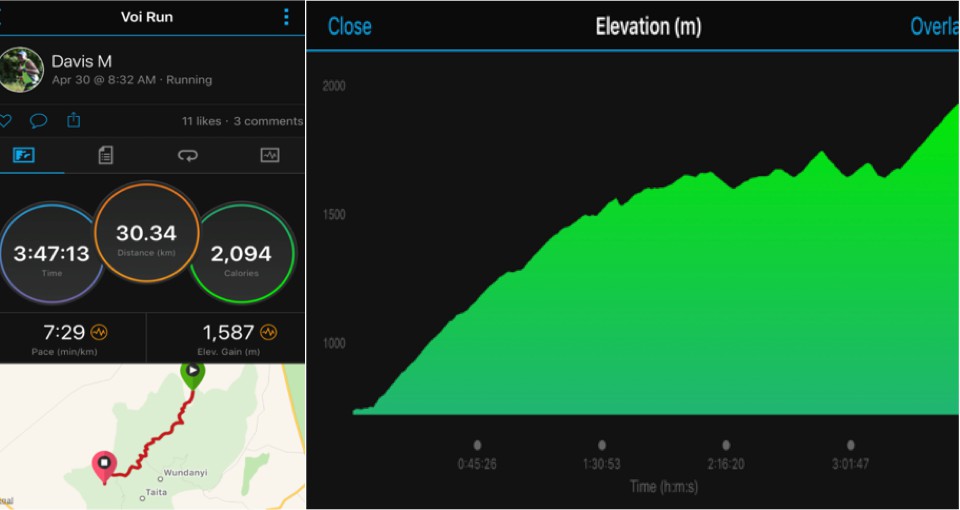 When you achieve so much in so little time, one of two things are bound to happen, it could either get better or worse. I chose to remain optimistic and the training just got tougher. With solitary early morning runs on weekdays and weekends, the D-day for my long run was here. Was I ready for the fluorspar hill? I was nervous. Someone said; if you are overconfident you are bound to fail, if you are not prepared you will fail, if you are nervous you are likely to succeed. Well, yours truly was nervous and could hardly sleep a wink before the long run day. 5am on the D-day I was up and about having breakfast. Sego Lodge was gracious enough to make me an early breakfast, this is because they are used to such requests by runners who visit the lodge. The previous day we had arranged with a rider to pick me up at 5:54am so that he could drop me at the start point by 6am. That did not happen. He was running late, this guy didn't understand my burning desire to have an early morning start. Probably that's his nature. At 6:00am as I waited at the parking lot, I heard the loud rattling of a motorbike, could this be him? The motorbike rattling grew louder as I waited. With some ironic excitement my rider was here, clad in a brown leather chaget (Kalenjin accent for Jacket). We exchanged greetings with Felix before I hopped onto the motorbike for a trip to the start point.
The Fluorspar hill is one brutal run. Some time back I shared how brutal it was when I attempted the infamous "tarmac to tarmac" (a 42km distance) back in 2015 with the Swaras. As if my 2015 experience had not prepared me well, I attempted it again in 2016 and it flogged me again. Never mind I was doing half the distance (20km) due to injuries. This time (2017) I was all alone save for my support rider. I had been beaten twice, I was not ready to allow the beast of a hill to take me down this time. I had prepared well and the first 20km was achieved without much effort as it was mostly downhill as one runs to the base of the Great Rift Valley. The next 8km was achieved without support. You see, we had agreed with the rider he would provide support every 5Kms. As I approached Km 28 Felix was nowhere in sight and every time I had the sound of a motorbike pull behind me, I would look back hoping it was him. Three Motorbikes passed and my anxiety grew with each passing bike. The riders actually thought I wanted a ride, but they were ferrying other passengers. Finally, Felix showed up as I was approaching 29Kms. He apologizes profusely and with the typical Kalenjin accent tells me he got a puncture. I'm too dehydrated to listen and I quench my body with what I could find in the bag. I inform him I may need him more as I accomplish the last 11km. At Km 35, fatigue starts to wear me down. Luckily Felix is around to hand me a banana. I am fully rejuvenated after two bites. Nyaru is the town that sits at the top of the Fluorspar hill. It's difficult to explain the excitement one has when you have only 100 meter to go; you know you are fast approaching Nyaru. With all the remaining energy (where the hell it comes from, I've never known) your sprint can be likened to that of Usain Bolt's. It's done and dusted when you step on the tarmac at Nyaru. Thanks to Felix and the awesome kids who muttered some words in Kalenjin, which I could not understand, but I interpreted as words of encouragement to a Mkimbiaji (runner).

My Morning runs continued for the next 3 weeks before a minor lower back pain manifested itself 6 days prior to my maiden Victoria Falls run. The last two Physio sessions before leaving for Victoria Falls did little to reduce the pain which was now as stubborn as a mule. I was not going to throw in the towel having secured my flight and accommodation and months of training. Come Friday, I was on the morning flight to Livingstone. On the flight, I spotted Judy Muhoro, the only other Swara, accompanied by her friends who were also going to Vic Falls for the half marathon and of course some bit of fun. My host had organized a Taxi from the airport and within 45mins after border clearance and picking my bib at Kingdom Hotel, I was relaxing at my host's residence.
Saturday Morning run on the eve of marathon day proved more of a misadventure than one of building my confidence. Things could not have been worse, I ended up doing 6km out of the intended 4km. This was as a result of an encounter with an elephant grazing less than 50m from where I was running. Who would have thought in this part of the world elephants graze close to main roads where cars are zooming at full speed. Do I turn back and go back in the direction I came from, or do I continue and look for an alternative route back to my residence? The latter was more convincing. I did not travel thousands of miles to race an elephant. So I kept going. With the small population in Vic Falls, I could not get anyone to ask for directions, I had only a vague idea of the area, and the only thing I could do was to keep going. Luckily, I met another runner coming from the opposite direction who I stopped; I know how one feels when you have built momentum in your run and you are suddenly stopped without notice. I quickly explained my predicament and he was understanding. It took him sometime to convince me to go back in the direction I had come from because it was shorter. Moreover, he was running in the same direction and was used to this kind of things. We ran together hardly talking to each other so as not to anger the elephant which was now chewing nonchalantly and without a care for two runners passing by.
Sunday Morning, 5am my alarm goes off. The first thing I checked was whether the pain had gone. No! Some painkillers would do the trick after breakfast; no, this is not doping. I was lucky to have a good host by the name of Mambo who was kind enough to prepare breakfast really early for me and other runners who were staying in the same residence. We exchanged pleasantries over breakfast before leaving for the start point, 1.5km away from Mambo's residence. Livingstone is a small town and you can virtually cover the whole town in 30 mins by walking. That's why the Marathon is a double loop with distances in and out of town passing through the game park. I arrive at the start line, having warmed up and join other runners as they stretched. I notice one runner with a Comrades road ID and I immediately strike a conversation as I am curious how he can run a full marathon just one week after running the Comrades (87km Ultra marathon). We are all different! (Eyes rolling).
At 6:45am, the gun goes off for the start of the 42Km Victoria Falls Marathon. The weather is perfect; cloudy, slightly chilly, just like my morning run weather. The only difference, I am dressed in this oversize Swara singlet. I had not realized I had lost so much weight training for this run and the singlet just hung over my body like a coat on a hanger. My focus was more on finishing the run, not how I was dressed, (as long as I was dressed) and not on improving my PB. That was far-fetched with my injury.
I'm not sure if this happens to all runners, when you start a race with a fast paced crowd, one tends to start running faster than your normal pace. It's like the crowd of runners who take off with a sprint are pulling you even when you want to run at your normal average pace. I am a slow starter, and gradually increase pace as my body warms up. The race is well organized with frequent water points. Water is served in small transparent Sachets holding approximately 100mls. So all one needed to do is rip the top part with your teeth and you feel the content gush into your mouth. It reminded me of my primary school days where we would consume what we called cools- iced flavored liquids in sachets which would pass for some sort of ice cream in various colours. I am amazed with the spectators who have turned out to cheer despite the small population of Victoria Falls town. 10kms in, my focus remains on finishing the run despite the pain radiating through the right leg from my back. To numb the pain, I would place pressure on the area of pain using the cold water sachets as ice before ripping the sachet apart and emptying the contents on my lower back. This seemed to work even though my running had changed to a hobble. At Km 20, yours truly consoles himself he is halfway there. A glance at my watch reveals impressive time at 21km. This is the time the two voices in the head start talking, "If I continue with the same pace I could make it for a PB in 3hrs 15mins". "No, it is impossible to maintain similar speeds or even run negative splits in the second half". I concur with the second voice. I'm now in the second loop; the roads are now teeming with the 21Km participants, most of them walking. They slow me down, maybe that's what my leg needed. However, further ahead, the roads are clearer and I step up my speed, more like hobble faster actually. At 35km my speed drops as I take on the last gentle hill. With only 7km to go, I was not giving up. I clear the hill and get onto the home stretch. I get to the 40km mark and couldn't help noticing I was on my way to shattering my PB, well not with a big margin. Now my push had a different focus, to improve my PB with however small a margin. I cross the finish line with two minutes to spare from my previous PB.
http://results.finishtime.co.za/MyResults.aspx?uid=35-2248-1-98164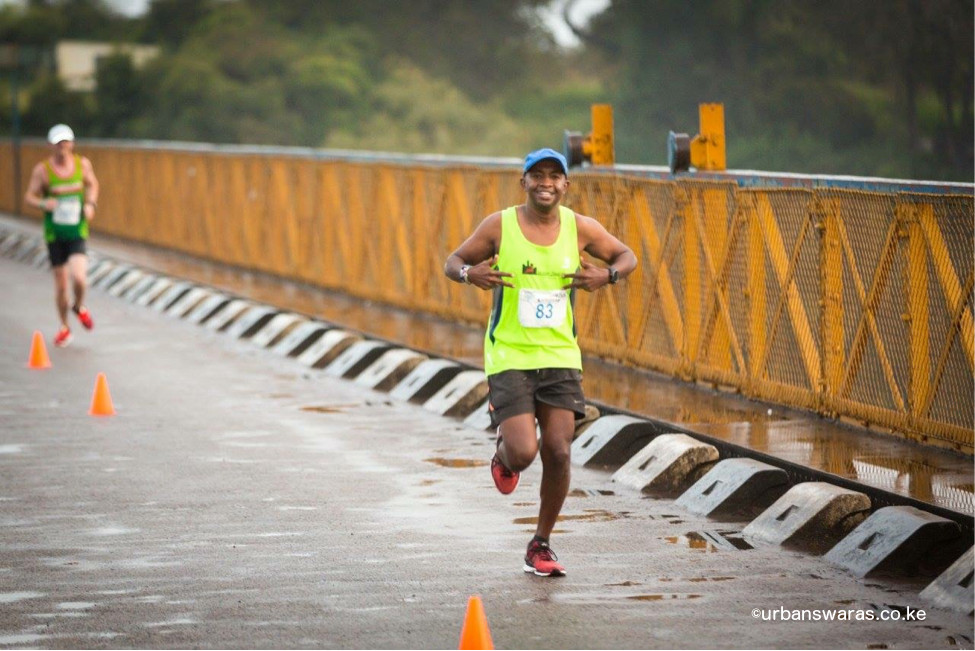 As I limped towards the baggage collection area, I catch Judy Muhoro and her friends as they hydrate and relax next to the finish point. Their tired limbs spread on the grass as evidence of completing the half marathon. By now, the heat was getting the better of all of us and it was time to leave for a swim. The rest of the afternoon is spent at the swimming pool at Kingdom Hotel before we all go different ways to dress up for the after party. The after party did not disappoint, and I did not allow my already battered leg make my moves on the dance floor disappointing.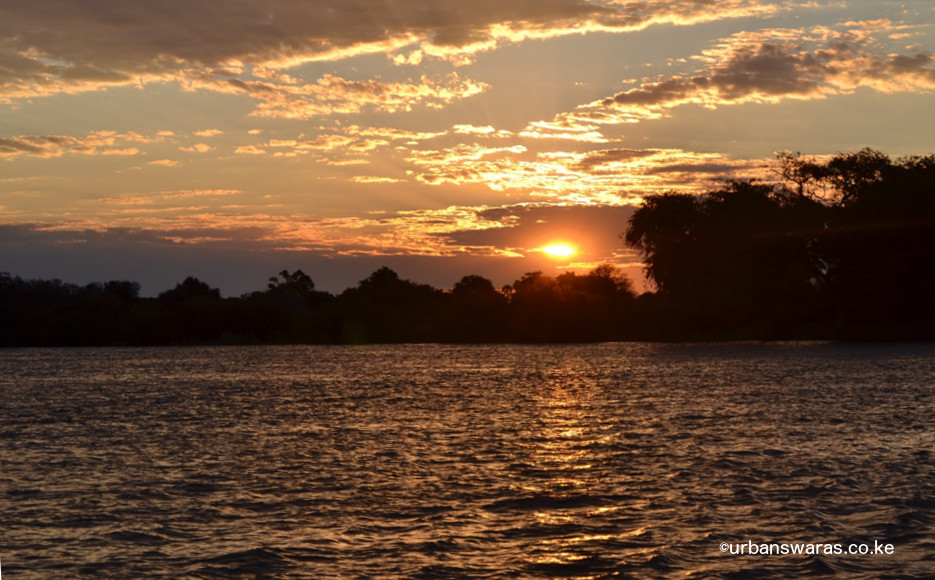 The Vic Falls experience could not have been complete with several outings such as dinner at "The Boma" where I learnt I had some hidden talent on playing the African drum. The Sunset cruise on the mighty Zambezi River made sunset look much better on this side of the world than any other. Other adventures which are a must do for adrenaline junkies like me were; the bungee jumping and water rafting. I highly recommend the place for a run and tour.