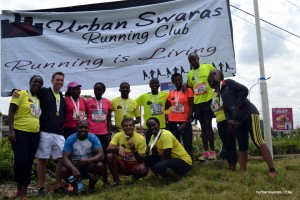 It all started when I went to Uchumi Sarit to buy Doom, "too many mosquitos just before the rains landed'. At the entrance there was a Stanchart marathon registration table. I asked for a half marathon registration details and the lady told me that they had run out of them but had forms and t-shirts for full marathon. And then she said "You sure look fit to do the full marathon. Go for it".
I paid for the full marathon, grabbed my pack and walked away… sneering on the outside but my heart was racing inside.
My longest before the marathon was 27KM (Magadi – Corner Baridi) and during this run, I stopped like 12 times and still could not finish the run due to an injury (ITB).
I had been advised to run at least 100KM per week for the 5 weeks leading to the Marathon, but I happen to have a day job. So that came down to only 30KM per week.
I had several nightmares about this run for weeks right to the night before when I kept waking up and checking the time…. waiting for

4am

so I could go have my 2 chapatis and bowl of brown rice (Best advice I was given).
Race Strategy:
My strategy was simple: hit the 19KM mart in under

1:50

min.. then complete the next 23KM in

3:30

walking on Mombasa road. During the first 21KM, have fun. Chat with guys. People watch and sip water at every water point (Unlike in Swara runs where I do 20km with only half a liter intake).

7am

and its kick off.. easy start.. Chatting guys.. keeping my pace of about 10.3 miles per hour and having a good time. Shem, Lawrence, Kenneth and Karanu were nearby and this made me feel comfortable since they are usually on site during the Swara runs.
I hit the 19Km mark in

1:49

and was totally pleased with myself. It felt as though my race objective had been accomplished. Nevertheless, I stuck to my pace and simply kept going.
My plan was to now hit the 25KM mark then walk / run the rest of the marathon…  but just before this mark, Alas!  I met the Swara support team with some fresh fruits… They really encourage me to keep going and promised to supply me more fruits when I got to the other side of Mombasa road.
Mombasa road was a lonely place to run..  but I still kept looking out for all Swaras to cheer them along – even to those who had head phones and could not hear or see me. (This made me forget what I was actually doing – running long).
25 KM mark passed, still going strong and I could hear my Nike+ app on my phone telling me that my pace was on an average of 10.4 miles per hour. 30Km mark passed… still strong.. and then I gave myself a new challenge. Complete this bloody run NON-STOP!! After all, if my legs broke, Nairobi Hospital was less than 5 min drive from the finish line!!
At 35km mark, a Swara support guy on a bike gave another Swara (in uniform) a diet coke. Somehow I found the energy to shout that I too was a Swara and could do with some energy boost. This dude quickly gave me a cold Red Bull. God bless him.
And by God's will, I crossed the finish line escorted by the ever gracious Susan Okoma at

4:29

min.

1:09

quicker than my targeted.
And I thought to myself: I did it NON-STOP… A Legend?
What Next?
I am still basking from the kick I got from Sunday's run. My undercover cocky attitude does push me to go beyond my own expectations. I climbed Mt. Kenya and completed my first full marathon 30 days apart. I want more.
Next year I plan to climb Kilimanjaro in Feb and do at least 2 International full marathons: So if you know of one where registration is not too much of a hassle, kindly let me know.