Seems like there's a lynch mob baying for the blood of the 2016 Fluorspar Swaras as a result of their post run hush-hush… slow down, here is one account…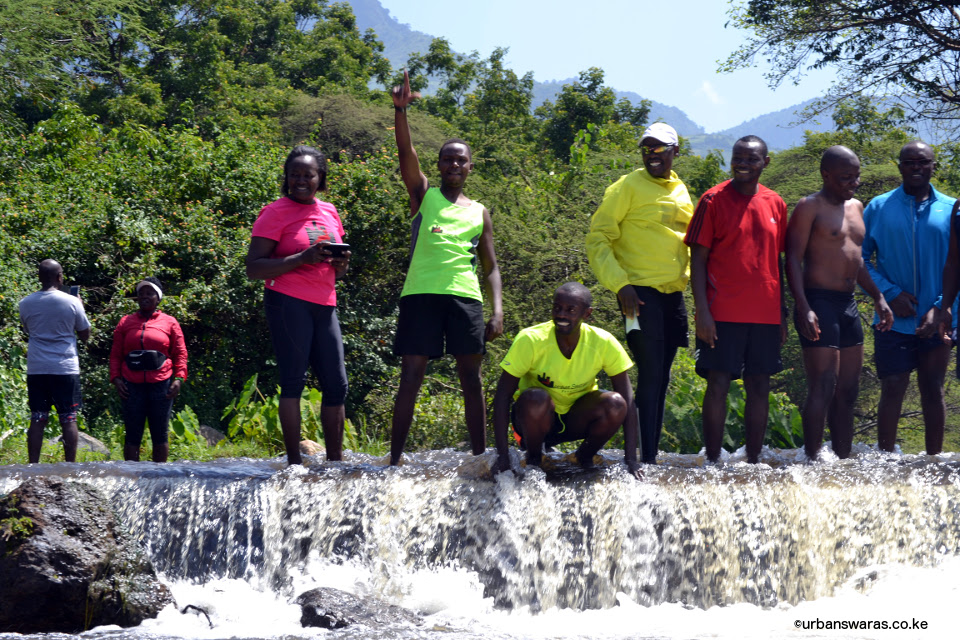 The fluorspar run is ideally a 3 day odyssey. For lack of a better explanation, look at it like a sandwich…the run practically being the stuff between your to and fro road trips.
Day 1
This will be your 319 odd kilometer drive from the capital to Sego Safari lodge. As said by many before, it is recommended that you leave Nairobi in the morning. Handy Google will say without blinking that it will take you 5 hrs 11 mins. Now, if like this Swara you are the regular guy for whom 319 km drives are generally uninterrupted sessions behind the wheel, then Google is talking to you.
But Google is clearly not a guy in a carpool outfit that includes two determined Swaras of the female species, so you need to make allowances for a few stops, sorry that's a lie – you'll make a few stops then 5 more (don't ask questions)… From impromptu purchases of valley floor honey (and volumes of groceries on the return leg), to irresistible wow stops for the countless great views. And we will not mention the OMG stops for the Swara who is crossing the equator on terra firma for the first time.
You'll also pause along the scenic hairpin bends as you climb up towards Kabarnet and lastly at Chebloch Gorge…where you'll be sure to find another Swara crew, with Timo predictably Carbo loading on a barley product.
As you leave Kabarnet, you face the intimidating view of the climb you are set to conquer the following day. It looks like a wall. One Swara conveniently draws a sore parallel between this wall and some ominous wall in a certain popular TV series; GOT (Game of Thrones) for those in the know…
The trip shames Google by taking 7 leisurely hours.
Wiser Swaras would add a bit of Lake Bogoria in their itinerary. Our heart goes out to those unfortunate Swaras who got to the lodge at close to midnight having left Nairobi late, tied down by their day engagements.
So yeah, leave early if you can.
The wall sighting makes your evening a frenetic carbo loading session that goes like this; you eat, you get full, image of the wall flashes in your mind; you go for a second helping, you eat, you get fuller, memories of last year's hardships on the wall visits you; time for a third helping….
The pre-run briefing is delivered by Wahome and James Waliaula, whose attempt at trying to hearten the 'folks' gathered is… let's put it this way… picture a sermon. The goal is to make your flock look forward to going up above; there are two angles you can go about it. Preach about the goodies up above to make the flock feel all dreamy and longing to partake of those excesses, or preach about the horrors of damnation down below to scare the, well, hell out of your flock and make them single-mindedly determined to keep out of the darn place… you get the idea…
Day 2
This is d-day, a day that will without doubt be imprinted in memory. Your only role is to step aside and hand the day over to your feet, lungs, willpower and stars (hoping you are in good terms with your stars).
Not surprisingly, a sizeable number have done this run before. For this Swara, 2015 ended in a fit of breathlessness at Kilometer 36 so there were amends to be made. This is the kind of run to do again and again and maybe only stop at umpteen.
It is reasonably agreed that Fluorspar is not the toughest run in the Swara calendar, just by closing your eyes you can visualize one or two more murderous runs in the circuit. A good number of Swaras put it at position 3 or 4 in the torture pecking order…some place it in position 1 or 2 but it would seem these have not yet been privileged guests of the other Swara 'torture chambers'… or torture trails if you may. An overwhelming consensus though is that Fluorspar is way up on the favourite list.
So the run starts at 6.30 for the tarmac to tarmac distance of 42.7 kms. Logic, common sense, the normal distribution curve or whatever you call it would dictate that the least number of Swaras would attempt the full distance, more numbers taking the 'safer' distances of 30 k and below. In defiance, 10 swaras (close to 50%) take the plunge for the 42.7km; making this the most popular distance!!
For a clearer perspective, running the shorter 23 kms would take you through all of the most scenic and rewarding parts of the run. But NO, this daft lot decides to warm up for about 20 kms before the run proper, the daftest of them even doing a further 4 kms after getting to the top of the escarpment, just for the experience of running at an altitude of 2740 m.
So as we were saying, the run starts at 6.30 am. Caution all round, before the fast ones speed ahead. The first 20 km is a breeze, you have to negotiate across a number of rivulets on the road. A clear sign that it's rainy season; these streams were conspicuously missing in the run of 2015.
You start the 'run proper' after 2 hrs, hitting the steady incline with guarded resolve, knowing only too well the soon to be encountered toll on your feet and thinness of air up top. The climb is deceptively gradual, it doesn't offer you the sudden steep climbs that would make you stop, neither does it flatten out to offer transient reliefs…
The support this time thoroughly outdid itself; there was Otora, the hired Motorbike guy, and ….wait for it… two 'cheerleaders', no less!! Thanks to Ndegwa. Talk about Otora being overshadowed in his role. It was hardly surprising that Otora and the other guy's water provisions seemed to barely get depleted; go figure… The omnipresence of the support crew also meant that this is one run where you'd get to the end fully hydrated.
The Stats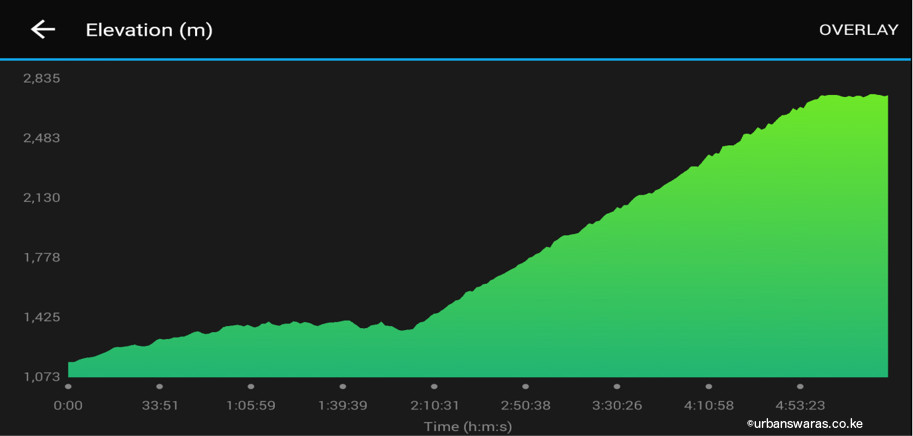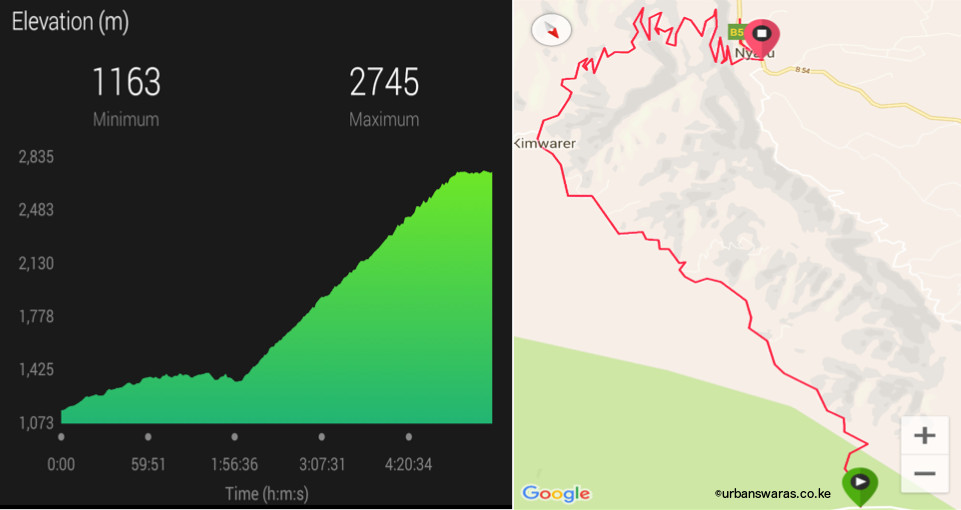 Footnote stats for the tarmac to tarmac.
Quick summary;
Minimum Elevation         : 1,163 m asl

Maximum Elevation        : 2,745 m asl

Gross elevation gain      : 1,972 m (stats for the bugger who did 46.35 kms; appx. 1,900 m for 42.7 kms)

Net altitude gain             :1,577 m     
With those 3,000 words (1 picture equals 1,000 words, no?) there is nothing further to add about the run.
So the run ended, as usual the earlier finishers madly cheering on the weather-beaten, battle-weary, bone-tired Swaras lugging their dead weight up the last few metres, the goings on a clear amusement to the local populace who are used to lithe athletic figures sprinting up the hill… our sympathies to the early finishers though, they do not get to enjoy this carnival end to their runs.
The carnival mood extends to a river down below; where everyone realizes there should have been a memo to carry additional gear for messing with the water, and onwards to the lodge where testimonies are traded over lunch and infusions of the lethal and soft kind.
The day refuses to end before a Nyama Choma fellowship is held way into the night where a section of Swaras fall into vegetative state while the rest remarkably afford to shake a leg despite their daytime tribulations.
Day 3
Swaras Left.