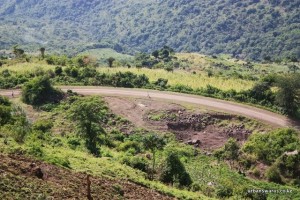 Heading to Sego Lodge down the picturesque escarpment from the Iten side, I get a premonition of what to expect, the distance from Iten town-at the top of the escarpment- coincidentally being 42 kms, same distance as the full run.
I arrive at the Lodge at half past seven to find the car park full of swara cars, testament of the Flourspar run magnetism. I check in, head for supper, land at a table with Sam and Ferrah, they soon lose me in their elite run talk. They are to take on the full 43 kms, more famously 'tarmac to tarmac'.
The Chairman gives a brief of the run, breakfast would be served at 5 am, the 43 km and 35 km suicides to leave the lodge at 6.20 am and be driven to their starting point, there seems to be a general confusion on getting Chairman's directives, a direct consequence being that the 20 km runners started at the wrong point and ended up doing 24 km.
At 5 am swaras are upbeat and maybe a tad bit apprehensive, breakfast is served. At 6.20 whistle time, we head to the car park where there seems to be a mini-epidemic of flat tires, could this a warning? I think…
The 'tarmac to tarmacs' and the 35 kms leave for their respective starting points.
7:54 am and 9 swaras start at the 43 km point to a cautious pace, except for the powerful bulky guy (I think Timothy is the name), Ferrah and Sam who forge ahead unable to keep down with our pace.
For the early kilometres the guarded pace prevails with one or two swaras engaging in small talk to kill time and get rid of excess energy. At 20kms that has involved running past the Flourspar mines, the 'Muskut' area (that name has stuck to my mind like a tick) the crowd running had kept our energies in check and so when Chairman decrees that the run had just begun, we hit the incline with determination. At this point we've run for slightly over 2 hrs.
The 'crowd' soon breaks up beginning with Davis, now I've run with Davis a few times and he clearly does not like hills, we'll be running on regular terrain comfortably and as soon as we get to a hill he gets agitated and runs ahead to get it over and done with while yours truly- I have nothing against hills- slows down or walks just to savor the view.
So Davies pulls slightly ahead, as chairman and Raoul take care of the rear.
The run seemingly holds no surprises, you know where you are headed, the top. Once the hilly bit starts, – while not steep in the Boston and Echo Lodge versions- the consistency is incredible.
You kill kilometre after kilometer and then some more, soon enough you get rewarded by the scenic view of the valley below as you make each turn on the many sharp bends. Quite heartening to see the amount of altitude displaced.
I soon get reunited with Davies and he scouts for a kiosk to buy a soda, I dissuade him with unfounded predictions that support would soon get to us, truth of the matter is that at this point all that mattered was to put as many kms as humanly possible before stopping knowing that once I stopped there would be no more running.
Luckily we catch up with two swaras and beg for a drop of water, Rose is gracious to offer us her remaining half-bottle (may you live forever!) she later confessed that she seriously questioned her decision almost immediately.
At this point I feel Davies is having mixed feelings about the hill thing; he falls behind, only to zoom past a few hundred metres later with Chairman in tow. I meet him a few hundred metres ahead, no sign of Chairman- he must have been pacesetting, I tell myself. I leave him in the company of another swara.
After 4 hrs 45 minutes of running, I am out of fuel, patiently waiting for the water and soda crew as I plod along. There are two monstrous rocky outcrops ahead I think it can no longer be too far to the end (I pride myself with having sound judgement of distance), so in a fit of genius, I engage a young boy herding cows at the roadside;
This Swara: How are you (loosely translated- the entire conversation was done in his dialect)
Boy: never been better
This swara: Tarmac is no longer far, is it?
Boy: Very far…
My body revolts, enough of this punishment, we are not running an inch further. I obey.
I am immediately overcome by a feeling of lightheadedness and my body tells me to sit down. I disobey.
So my run ends after 4hrs 45 mins and maybe 37 km. 'run', though, can be disputed, as I can bet at some points I was running slower that someone standing perfectly still.
You'd think the walking would be easier, you're wrong.
Support shows up 200 metres later as I walk, I stock three bottles of water and a 500ml fanta. No more taking chances.
I take the soda; some of it goes down the wrong way and instinctively I COUGH, wrong move mister! The resultant experience is out of this world, it feels like all the blood vessels and organs are being yanked right out through my mouth, the force of the cough almost propelling me forward to a headstand position, the resultant pains in my torso and groin excruciating… I just can't seem to nail describing the experience.
Lesson: DO NOT COUGH DURING SUCH A RUN… involuntary? Doesn't matter, JUST DONT COUGH…
Davies catches up again and we walk till Otora tells us we got only a Kilometre to go. Psyched up, we run for 20 metres, give up, and only run again once we spy the tarmac.
The welcome party is grand, swaras cheering as we make little work of the remaining centimeters.
Swaras colonize a local hotel and the tea therein is dope, samosas too are consumed at a most alarming rate… they feel so at home to the point that no one wants to fill available spaces in a car going back down.
We go back in a 14 seater matatu carrying everything from cement, petrol, milk, heck- there could have been livestock in there. The matatu thus has space only for 6 persons, 9 swaras hop in, a rare feat of space maximization.
I feel like I've said close to nothing, but this is getting too long. So we'll just stop right here….
Many thanks to the organizers of this super run!!