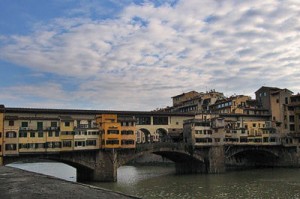 Doing the Florence Marathon is like running through the pages of a history book.
The run starts innocently enough on the river Arno. But almost immediately it heads into historic down town Florence where almost every building is at least 500 years old.
An earlier conversation with the nice landlady at the Florence View Bed and Breakfast where we put up was quite revealing.
"I love the floor tiles," I commented, admiring the pattern of the ceramic tiles covering the corridor, a unique design that I have never seen before.
"Oh, they are not very old," she quickly replied, misunderstanding my comment. "They were laid only in 1901. The mural on the ceiling, however, is a little older. It dates back to the early 18th century and the wardrobe is from the 16th century."
"Wow! What about the church?" I said pointing out at the marble covered Florence Cathedral, with its amazing bell tower built by Giotto di Bondone.
"That one is 1000 years old," she says causally. It is actually 1600 years old as I learn later.
Running past the office
The Florence Marathon wends its way past its famous Cathedral and many other monuments. The 30th kilometer is run just outside the Uffizi, one of the most famous museums in the world. You need at least a week to see all that the Uffizi has to offer. I was able to cover one floor in an afternoon and still had to rush past many exhibits.
The Uffizi ('office,' as this is what the building was originally meant for) holds a copy of one of the most famous sculptures ever carved, 'David' by Michelangelo. Another magnificent copy stands just outside, where the marathon route turns right to wind its way to the finish.
The route finally ends at the beautiful Santa Croce Basilica, built in 1294. This church holds the tombs of a veritable who-is-who of ancient Italian culture, science, religion and politics. The denizens buried here include, to name just a few; Galileo Galilei (science), Leonardo Da Vinci (science and art) Nicolo Machiavelli (politics), Dante Alighieri (literature) Gioachino Rossini (music), Michelangelo (art) among many others. The marathon package includes a free guided tour of this church on the day before the run.
If there is one marathon that should have compulsory stops, so that people can admire the beautiful views and monuments, this is it.
Not that I had any such luxury.
Half trained and half injured
I started this run with the greatest trepidation of my running life. For the first time I was forced to contemplate the possibility that I could start a marathon and not finish, an ignominious first. Let me explain.
Most committed runners, as you know, are known not just for their endurance but the creativity of their excuses when they fail to reach a certain goal. Mine was a beauty. Twelve days ago, I took a serious tumble when training in Karura forest (two tumbles actually).
As a result I injured my left limb at the knee, my third left rib (counting from the bottom) and my pride.
Come marathon morning, therefore, my pre-run preparations were rather more elaborate than usual:
– Bib pinned to running shirt, timing chip firmly in place – check
– Pain killer swallowed, four more stowed in shorts pocket – check
– Elastoplast firmly stuck to injured knee – check
– Bits of masking tape even more firmly attached to nipples – check
– Liberal dollop of Vaseline applied to, you know where, (to protect the family jewels, you know) – check
– Stern mental warning issued to injured pride to 'suck it up, we are doing this'- check
But what to do about the injured rib?
Hollywood rides to the rescue
For a minute I was at a loss. Then I remembered something I had once seen in a Hollywood kick-boxing movie.
Reaching for the masking tape, I quickly tore off strips which I taped over my chest, this way keeping the hurting parts from moving. From what I recalled of the Hollywood movie, our injured Caucasian hero, gritted teeth and broken ribs thus immobilized, went on to win the championship against his, darker skinned, foul playing, not so handsome, opponent. He won the girl too.
All I asked for was to finish the run on two feet. It worked.
A beautiful place to suffer
Thus fortified I reported to my running corral. Here I struck up a conversation with a man from England, out on his first marathon. Understandably he was quite nervous.
"Why do we do we do this to ourselves?" he asked me, at the same time with a gleam in his eye that challenged me to try and stop him.
"Because we are crazy?" I offered back. "Is this your first marathon outing?"
"Yes it is"
"Well, you chose a beautiful place for your debut. I am on my 11th"
"You are right. I thought to myself, if I must suffer it might as well be in a beautiful place like Florence."
Madmen and marathoners
Suffering. A word I was to hear mentioned by many spectators, most of them in bewilderment.
"Why are they doing this to themselves?"
For once I could actually see it from a sane spectator's perspective.
Think about this. It is the start of a marathon. The runners are bunched up, all smiles, high fives, and camaraderie. From their behavior you would be forgiven to think they are swinging the world by the tail, not about to start a 42K journey of pain.
Now first forward to the 39K mark, or somewhere near there. There are no smiles, no teams, no high fives any more. Just half dead individuals, faces streaked with dried salt, some foaming at the mouth and talking wildly to themselves. (Dear Lord, won't this thing ever end?) They look literally half mad. The image of torment on their faces is enough to convince any spectator that none of them will ever attempt such a feat again.
But we know better, don't we?
Karma has pace
My friend MC (not our MC) has a theory that all marathon runners were great sinners in a past life. So they spend this life paying for their sins by suffering through training and running long distances that other sane mortals wisely avoid.
Going by this theory, I think it is quite easy to tell what some of our Swara comrades were in their past lives. I am sure we have among us at least one Genghis Khan, a Shaka Zulu, several Hitler's, a Judas or two and an Idi Amin. I even know of a Darth Vader.
But I wonder what MK, Tata, Chairman, James and Otora were in their past lives? Our MC was St Dymphna, the patron saint of nut cases. It is the only way you can explain her great patience.
The Swaras beverage of choice
As usual, for me, the first half of the marathon was a breeze. The Italians are very practical people. For instance, they don't feed you on Lucozade, Gatorade or any of the new-fangled –ades, that claim to do everything from giving you energy to growing your hair.
The Italians give you a choice of water or tea at every drinking point.
"The Swaras would love this," I think to myself as I grab my umpteenth cup of warm tea and gulp on the fly.
Then the music was simply to die for. One elderly gentleman even stopped to do a jig at the 27K. Where he found the energy I don't know.
And so the run came to an end. Despite my earlier fears it turned out to be one of my best marathon outings ever.
3 hours 58 minutes. Not too shabby for a half trained, half injured Swara.