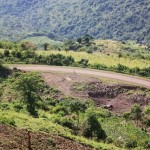 Date: Saturday August 31, 2013
After having seen the scenic photos of the Fluorspar Run, you do not have a complete re-cap story of the run. When we started the journey to Fluorspar, everyone was very excited and full of energy as it tells in the photos. I joined just for sightseeing because i was only going to run 10km only but ended up on a different mission altogether.
We stopped in Nakuru for lunch with Chairman crew team and Wahome's team. We proceeded and stopped at Mogotio to cross the Equator, which cuts the country into North and South Hemspire. We continued and stopped at Lake Bogoria, the Hot Springs to tour the lake and for Ajaa and Wahome to scout for a future Run there, only to be advised that the park has Lions and Buffaloes and therefore its unsafe to bring a Run there. The rest you can see in the photos, some of us boiling and eating eggs from the Hot Springs from the Lake. The group in the 2nd car couldn't reach the spring since the path to the springs was wet and treacherous. By that you see Wahome how he managed to reach the Hot Springs. Surinder, Katarina, Munyao and Chairman surrendered and turned back, taking photos of the Flamingoes instead.
The rest of the journey took us to Sego Safari Lodge arriving after 6.30pm where we found most of the other Swaras had arrived. It took Allan and Lillian another 3 hrs (after 9pm) before they arrived since they had gotten lost at Kabarnet. They took a wrong turn and drove on a dusty road close to 60kms. Eventually they did arrive and we had dinner. The chairman briefed the team about the route and I remember Leif, Waliaula and others asking whether the route was tougher than Magadi Run, to which the Chairman replied that its just slightly more difficult. We had to have backup vehicles for the run, so the Chairman requested Monica and I to drive and support the team, although Monica would run later and give the car to Lucy for backup.
Both Lucy and Monica were very excited to drive Ameet's car, a Hummer. I drove the Chairman's car and I want to appreciate Ameet and Ajaa for giving out their vehicles. It would have been impossible to run for more than 6 hrs without a support car. Initially we thought it was just like any other normal Saturday run where we only had Bananas and Water, but later it proved to be the most difficult run that i have ever witnessed since i started running way back in 2004.
Breakfast was served at 5.30am and we assembled for the run at 6.30am for drop points. Before dropping i saw Lucy enquiring about the route from the Hotel Manager who didn't believe what we wanted to attempt and what was awaiting us when we told him we planned to run from Tarmac to Tarmac. I picked up my first group of the tough Runners, Ajaa, Wahome, Leif, Otora, Ferrah, and Loise to the starting point, which was estimated to be about 42 kms. The run started at 7.05am. Monica took the others Like Ameet, Waliaula and Munyao who were doing 35kms. We then went back to pick up the other team members, i.e. Peter doing 30kms, Allan & Lillian 25kms, Suriender, Liz, Pauline, Nancy, Linus, and Christine who had come from the U.S. running for the 1st time doing 20kms, while the rest of the team members doing 15kms were Lucy, Monica, Pamela, Katarina, Anna, Ann and Andreas. I finished dropping at 10am, while the 1st team was at nearly 19kms mark without water. By then the sun was too hot and they were getting mad with me, wondering where i had disappeared. At this point Wahome was shouting at me that Ferrah is dying and they are not interested with the photo shoot out. They took water and bananas and a little while later Ferrah emerged, tired & emaciated, she took up water and banana and off i started chasing the other runners. Monica had already parked her car and started running. I soon caught up with Leif walking at nearly 20kms mark and wondered whether he would finish this run since the hill run was 28kms of hills. A little while later i met Lucy who decided to run downhill after covering 6kms of uphill and we went to pick up the other car, only to find Monica breathless after covering 4kms, so we asked her to get into the car. Every one by this time was running and walking alone except Ann, Anna and Andreas who kept together cos they were walking. Pamela Gordon knew the terrain since she works at the Kerio Valley. She had chosen 15kms and ran her distance very strong.  When i met Lillian, she was asking me for Coca Cola since she was completely worn out. I asked her to get into the car, but she declined; it seems nobody wanted to be seen in the car as having stopped running, so we quickly went to get them energy booster drinks like Coke and Chocolate Sweets which we got and distributed. By the time i went to check on the 42kms team, i found Leif and Loise seated on stones and having given up. They got into the car, then we went to look for Ferrah whom we found seated on the roadside and picked her up. Lucy continued driving and providing services to the other team when he found Munyao who had completed running his distance seated on the roadside having a nap. I was left behind to check on Wahome and Chairman. A few metres ahead, i found them and this time Wahome was running and power walking. He thought loudly, "sometimes you ask yourself why are you doing this to your self?" All this time i was seeing everyone to be crazy, they are just walking alone (see photos). When i caught up with Chairman, he was walking with a painful muscle full. When we asked him this is how it feels when we talk of an injury or any pain, he has never experienced it before, but that day he came face to face with what we go through when we tell him about our injuries. He could neither walk, nor get into the car. You will witness this in two of the photos. We assisted him after sometime to get into the car and that was the end of the run for him, something that does not happen with him.  As for James Waliaula and Otora, at some point nearer to end approximately 5kms to the finish, i found them walking. I salute Pauline as the most improved runner cos even though she was walking, she finished. The chairman and i got out of the car to assist Wahome with the remaining 5kms and by this time Otora came back and we pushed Wahome to the end, Tarmac to Tarmac, 42kms in a time of 6hrs 09mins.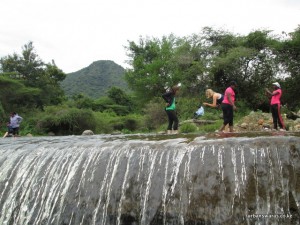 After finishing and having taken tea at the Kiosk as usual, we embarked on the journey back to the hotel while some people took a Matatu back where we stopped at the river just to dip our tired legs into the water (see photos). We rested and took showers. When dinner came, we sat around a fire place, each one with their favourite kany'uaji (drink) and started postmortem of the run, I was shocked to hear people talking about how the run was great and their experiences because i saw it all, from every one who did it and how they accomplished their distances. For those who have run the Two Oceans Ultra Marathon (56kms) in Cape Town, they will agree with me that the last 10kms looked like the Table Mountains near the finishing point at the University of Cape Town.
To sum it up, it was not a bed of roses, but it's a beautiful experience and those who have not done it, just look forward when the Chairman announces it next. You have seen the photos. Sorry it's a long write up, but i hardly write. I may have missed some important comments, but when we meet next time for a get together, we shall revisit the story with everyone there.