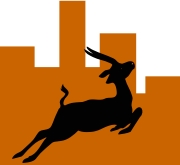 Nineteen of us, Ashok, Wahome, Faith Chepkwony, Noelle Keitany, Dr. Owuor, Okoma, Naibei, Otora, Ferrah, Waliaula, Peter (someone), Katwa, Marcel, Makhulo, Onduko, Mitch, Geraldine, Dwight and I made it to the Sego Safari Lodge in the Rift Valley for the 2014 Fluorspar run.
I decided to sight see en route to the venue. I stopped at the Kenol petrol station in Fly-Over market and enjoyed the view of lake Naivasha and Mt. Longonot while sipping good coffee and shooting pictures. In Nakuru we ate lunch and purchased products and fruits at the Nakumatt. Thereafter, we stopped somewhere up the hill near Kabarnet town and enjoyed the view of Lakes Baringo and Bogoria. Some 10km to the Lodge, we stopped at the Chebloch Gorge on river Kerio and watched youngsters dive some fifty meters into the river, at a fee from spectators.
Supper was served at 8pm after which all assembled were briefed about the run the following morning. By 9:30pm, every one, except Katwa who arrived at the Lodge at 11pm, had retired to bed in preparation for the grueling run in the morning.
After breakfast at 5am, I ferried those doing the long distances to their starting points. I dropped Waliaula, Ferrah, Marcel and Wahome at the 43km mark, shot pictures of them and whistled them off at 6:22am. Then I drove towards Iten town for 10km and dropped off Naibei and Mitch who embarked on 53km at 6:32am, with relish. After that, I drove back to the Lodge, 18km away, to flag off the rest of the runners. On the way, I took pictures of the long distance runners as they did their thing and WhatsApped the pictures to them right away even though I knew that they will only see them at night.
At exactly 7:05am, I whistled off the rest of the runners from the Lodge. Soon thereafter, Peter, a friend of Ashok arrived from Eldoret and I gave him directions, urging him to catch up with the rest.
Katwa and Dwight started their 35km at 5:30am.
Other than the fact that it was logistically difficult for me to start the 43km with the rest, I actually dreaded that distance because I failed to finish it last year, a rear occurrence for me. After fine tuning logistics with Otora and our motorbike rider for the day, I set off for the 35km, some fifteen minutes after the rest. 2.5km later, I caught up with Faith who was already run walking. Next was Dr. Owuor at 4km.
Ashok momentarily abandoned his run at about 5km and started urging on Noelle who was by then running and walking. He was oblivious of the task and pain awaiting him further on. He even peeled his energy bar and shared it with the girl who quickly chewed it. Ashok either had a lot of energy bars or was just tantalized by the lady. Why else would one boost energy 5km into a run, with 30km to go?
I maintained a slow pace of about 6:40 minutes per kilometer, being aware of the monster climb that would begin at 11km and caught up with Okoma and Makhulo at the start of the climb, told Okoma who was on her maiden run that the run had just began, wished her strength and slowly pulled away as the hill beckoned and challenged me. I later learnt that she managed 23km and Makhulo 27km.
I actually had forgotten about Peter from Eldoret until I later saw him ahead of me, in great pain. Edging past him at 8:43minutes per kilometer, I urged him to be strong as I let him know that there was just 15km of the monster hill to go. He muttered some unprintable words as he complained that he had no idea of what he had got into. When I looked down the road five minutes later, he was walking. The Fluorspar had claimed yet another runner.
The Trail Fox was always at hand, appearing whenever you needed water or sugar most, patrolling the whole route, turning back and forth at the head and tail of the now so spread out runners with the mastery and efficiency of a mountain potter. He read out to the runners in their various stages of death his menu of water, soda, bananas, water melon, potatoes, sausages, bread and samosa. Believe it or not, all that he offered was eaten.
Onduko joined Otora and did a splendid job seeing to the well being of all of us and ferrying the fallen runners to the end of the run for tea and mandazi. She ran 20km from and back to the Lodge in order to assume water girl duties. Thanks Onduko.
I was at 30km when the mighty Naibei caught up with me, eyes sunken deep into their sockets, lips dry, teeth gnarling and face ashen grey. He was at 48km, five to go. To me, he could die any minute, so I sacrified my red bull for him with a caution that he takes only half but I had to wrestle the bottle from his mouth and save a little of the drink for myself because he was downing it, bottoms up.
At 32km, I saw Dr. Owuor whom I had passed at 5km, walking ahead of me. Was I seeing a ghost?! She apparently hitched a ride from Onduko and hid inside the car as it was driven past me. "I am finnished", is all that she could say in her Ugandan accent when I urged her to run and walk.
From about half a kilometer behind, I saw Naibei completing his 53km, one of the toughest ultra distances in the world. 4hours and 35minutes later, I wobbled to the finish line, happy to have conquered 34.5km non stop. Waliaula was long done with his 43km in about 3:20, in that terrain! Hail King Waliaula.
I felt so strong that I decided to round off my distance to a more decent number. Saw I added 5.5 km and completed 40km in 5:16, slowing but never breaking stride. I am dreaming of the 53km next year.
Mitch, more keen on six hours for training for his 160km run soon than distance, arrived last but strongest.
Wahome and Ferrah aside, would anyone believe that Marcel completed 42km? Well, he did so.
In the kiosk, I drank tea and ate a bowl of beans.
Naibei was by then both triumphant and delirious. He was mute, took tea and vomited, sat, woke up, lay down, walked around and moved stool. He recovered though. Having sacrified his run, Otora decided to run back to the Lodge and did 23km in 1:18minutess.
In the evening and after supper, tales were told, drinks were downed, roast meat was eaten, fire enjoyed and music listened to. None had the energy to dance. Every runner promised to go back next year and either conquer or improve distance or time.
The scent of the Swara was an easy 10km for which nine out of nineteen turned up, including Katwa who set off for it an hour earlier than the rest.