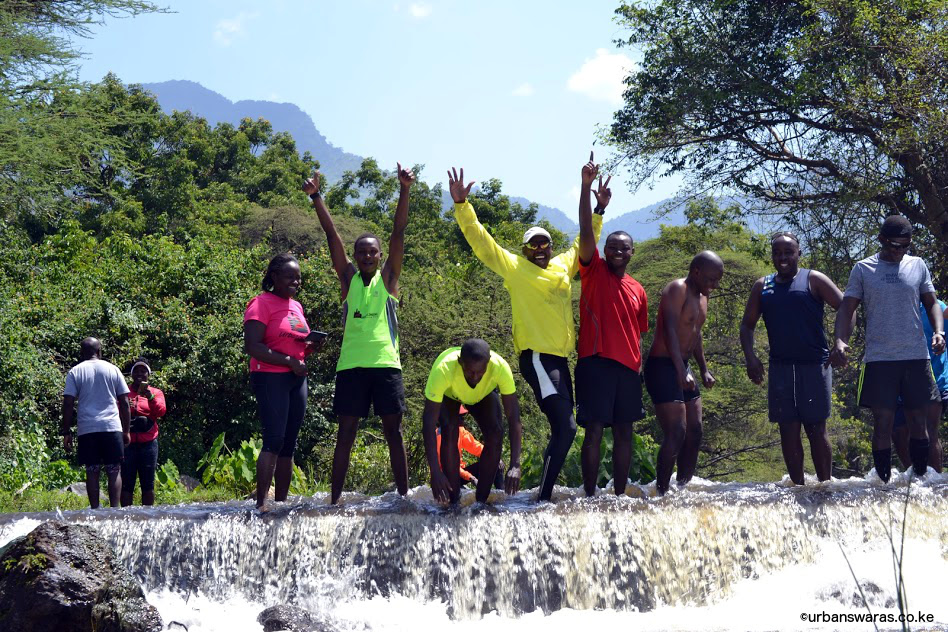 Five days later, I finally have the courage to narrate my tormented story, from the bottom of Kerio Valley, amidst the fluorspar mines. It's an annual event in Urban Swaras running calendar, billed as a relatively hard run and a must experience for every Urban Swara. We departed Nairobi and travelled to Sego Lodge on Friday, in dramatic fashion. A morning meeting in my office took longer than I'd expected, and I was the designated driver. Rather than leave before 11am, I was still shuffling papers at my desk at 2pm. Thereafter, a traveling companion wasn't at his pick up point as agreed, and despite waiting on the roadside for a further 10 minutes, I had to leave without him. He'd later hail a 'boda boda', catching up minutes later, as I was picking others at Gitaru. The Gitaru group had been waiting by the road since 11am.
We drove to Nakuru in heavy traffic, with no chance of recovering lost time, though we still managed a shopping stop. One or two items were foremost on my shopping list, and none had any relation to running. In Nakuru, there was a 'super grand mega' healing crusade by 'the mightiest' prophet, one Owuor, and traffic was heavy getting into and out of town. In spots along the highway, anxious followers waited for the prophet to pass by and bless them. I mildly remembered the caution by the good book that a society gets lost for lack of knowledge. I felt that the prophet was perhaps lifted higher than his 'Lord'.
After Nakuru, we tried to beat the approaching darkness. The mild showers around Kabarak helped none. I hit a pothole somewhere before Marigat, and was to loose that tyre. The mechanic mentioned something to do with low profile tyres. It was now dark, and I'd never driven this far out of my backyard. Descending into the valley, a sharp turn sneaked up to us, and I nearly lost control of the vehicle. This experience totally freaked me out. We took our time driving on, finally arriving at the lodge around 10pm.
The following morning saw us start at 6:30am. Breakfast was uneasy, with words like 'carbo loading' and 'hydrate' being thrown around. In the village, you don't plan to run. See, no lion warns you to eat carbohydrates three days before it breaks into your compound. A cow on estrous doesn't care if you drank beer or water the previous evening, before running off to look for outside help. On the other hand, Swaras don't care if you're a villager, before throwing technical jargon in their talk.
Whereas I'd prepared to run 25k at the most, there were not many Swara running the 'shorter' distances, and peer pressure saw me start at the 34k mark. I immediately knew it would be a long and hard day. At the starting line, my friends Jack Ndegwa and Davis Gitari encouraged me, though to be honest, if these two gentlemen run, mine is a crawl and hop affair. Knowing that I'd be running solo shortly, I set my music to Pure Trance, and shut out the world. The first 11k was a good affair. The valley is beautiful at sunrise, with protective sheer cliffs all around. At various streams crossing our paths, villagers were filling their water jerricans, probably to go and prepare breakfast. You could tell that most hadn't bathed that day, and possibly the whole week. I felt at home, and even quickened my stride. Some streams were wide enough to deny you a clear jump, and what better place to fancy running a steeplechase that the valley of 'jambions'.
I managed to stick to a group of runners who told childhood stories as they ran, laughing along heartily. I was out of breath just trying to keep up with the lot, and they were laughing! One even had the energy to run backwards, like all this was child play. Once or twice, it crossed my mind to pick up a couple of rocks and stone someone. I could blame it on an unexplained natural phenomenon, and worst case scenario, pretend I was loosing my nuts. The latter wouldn't have taken much acting. Saying a prayer, I stuck to my music, and plodded on. As the morning sun struck the westerly cliffs, we were rewarded with some of the most breathtaking views I'd ever laid my eyes on.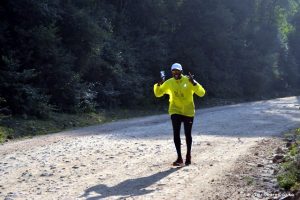 All hell broke loose at the 11.6k mark. I'd earlier realized that we were running at the floor of a pan, completely surrounded by towering cliffs. A couple of streams cut through the tops of the cliffs, in a white splash of a waterfall. Casually, I'd mentioned it to my companions, and one of them observed that at some point, we may need to climb out of the pan. This I did for the next 22 kilometres, in about 4hrs 30minutes, in what was the most torturous road run I'd ever had. Not once did the hills level out, and I immediately found myself running alone, in a 'runner's wilderness' where you're so lonely you loose all sense of position and time. I passed other 'walkers' who'd since given up running, and though there was a little comfort knowing I am headed the correct direction, the beating continued, and it came in hard.
With my pace now well below 10mins per kilometre, my walk home started after I'd run 25k. After a while, solitude, trance and hiking played well to allow me a good walk, eventually dragging myself to the finish line after five and a half hours on my feet. A motley crew of beaten but cheerful Swaras received every finisher cheerfully, one of the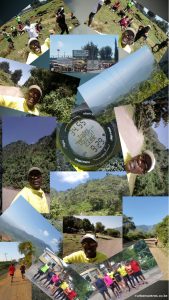 best experiences of the day. It's a while since I ate bread with juice, but on Saturday, I was certain 'maana' couldn't have tasted better.
The whole morning, a dedicated group of Swaras drove or rode up and down the valley, dishing out bread, oranges and bottles of water. After my sixth bottle, I'd lost count of how much water I'd consumed. These volunteers saved the day for many runners.
The afternoon and evening were less boisterous but cheerful, every runner to his poison, alcoholic in many cases. The battles fought that morning were told again and again, and compared with previous wars fought in other arena. While most runners had indicated that they'd never run in this valley again, a few now discussed how they'd run the following morning, to 'recover'. I've never understood how you recover from a harsh run by running some more, and these weren't the right people to seek an answer from.
I came back to my village from a beautiful run, carrying with me memories as beautiful. Given another opportunity, Fluorspar Run is worth a repeat.