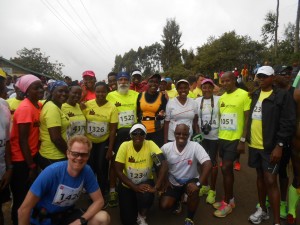 My Ndakaini moment …
Reading Ndungu's stories has led me to be a spectator of runs and enjoying the Monday stories after the hilly runs… runs I always thank God I didn't attend. I read it once, then read it again, and at times reserve the story for after lunch when I am easing away. The herbs, the number of trees and bars only make me long to hear more. So Ndungu, please know you have me as your ardent follower.
For some reason my registered distance as I trained for this race was a 'comfortable 10kms'. So receiving my t-shirt and race details, Race no 1234, registered for 21km, a week before the race, dawned on me and I now think I will forever will be indebted to God for allowing this to happen to me, when least prepared. Lesson learnt, be ready always for anything /challenge/lessons.
Captain Zack announces pick up time 5am; I had hoped he would not be too early, but shall I say he admitted later that 'I have surprised myself on time'. All the while as we drove down, no stories could take away the fear that I had heard about the hilly Ndakaini. I only got to hear when arriving in Ndakaini that it had spread to Rosemary and Marion, and now Peter and Zack were doing the hard work of convincing us it shall be well. Talk of Osmosis…
Reaching Ndakaini by about 6:15am , I was still wondering 10km or 21kms. To the one that booked, 'downgrade' and I asked 'in which Swara constitution can you do that'. Race no 1234; either lead the swaras from the end, or be the 2nd from the back, or 3 or 4 ,whichever would happen I would never ask for more; ni sawa. After all its never that serious, but dressed in Swara tee-shirt, no options for motor bike or Horse ride as a "Queen" ha ha ha; I had to finish even if it was by hoping on one leg J… or crawling.
As I walked to the start, it was a more energetic walk with short strides to save my energy and I was right on time; 5 mins to start time, clad in my sunglasses and backpack, with my refreshments and my music wired up, raring to go. The beats of "follow the leader, leader, follow the leader'. Sure enough I was following the leading Swara pack in no time as the race began. Enough pleads to MC to stay with me a bit fell on deaf ears…it was God for us all.
At 4.5 kms, the lady who reads Ndungu's write up, was about to start writing on the road… at 5.5km I meet Mercy Onyango doing her loop of 10kms… Sounded familiar but then my music is Madonna "when you call my name, it's like a little prayer', I soldier on and chuck my Fanta; can hardly drink, am choking because the air and Fanta don't mix. "Lyma", the AAR ambulance is stopping by and my AAR friend waves and ask if am well. I cough and acknowledge with all fingers up, I salute.
Going by the tea factory I have increased my pace; Fanta running…. And next the third hill, am at the energy drink, if anybody remembers speedo ball pen advert, I zoom, ok its never that serious when you find at 15km, there is no water…so no drink, no water, a guy on the roadside starts to cheer, I reward with him with my sweaty gliding sunglasses; cant handle them. I feel the knees are now hot, my back is sweaty and I can't handle the hit on the backpack, I see the next bunch of women cheering me down hill and at that I really showed off my prowess.
To the two or three I passed on the way, "strong" was my word to them. At 17.5km, I was now totally out, depleted and my soul music was the only consolation in performance over the hills. For some reason I couldn't spot even the Swara lady I suspect is Maureen who had muttered a Swara 'strong'; to make it even worse the ones I muttered 'strong' came and overtook me on the last two killer hills. I was now only hopeful for water or finish line, taking each step with lots of courage and paiiiin. And the beat went on "I have been thinking about you" London beats…I presume some Swaras were starting to worry/think about me (no names yet) may be as they had feared for me from the beginning of the race. I finished the race and immediately jogged to the tent and it was bliss; all hills forgotten.
I have learnt my big lessons; as Maureen put it, stay with Swaras; I dare Ndakaini next year. I can do all half and full  marathons through Swaras. I will stay put and await the next challenge.
My big thank you to Mr Peter Macharia, Capt Zack (Ferrari), Rosemary and Marion for the beautiful ride and the conversations that ensued, i.e. 'six thirty' (with a heavy West Virginia accent ) to the watchman and sounding 'githeri' , to the Chairman & organizers; the big cheer that awaited me at the tent breathed so much energy in me. Marion & Nancy for that help in even holding my breakfast was totally a blessing. It shall remain my Swara moment.