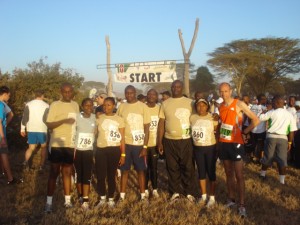 As August comes to a close I remember that September was the month when we got the name Urban Swaras. I feel like we have to have a birthday party because I do love parties. Today I will risk sounding like Babyface in the song 'simple days'. Before we became Swaras we were something else. Many may not know how we came together but it was very simple.
In those days few people ran. During a morning run you would only meet one person running. We were few recreational runners. Our coming together was a mere coincidence. Ajaa, Nduku and Ivy seem to have been running together. From the history books, I got to know that Nduku and Ajaa met Ivy in the Catherine Ndereba road race in Nyeri. Mercy, Nadine, Lucy and I were running together. We had a trainer named Zablon who almost died in Lewa, he quit. Lucy had a friend called Masese and he was running with a few other people in Ngong. One day they invited us to run in Ngong. We were late and did not find them but after 20 minutes of running up the hills, we thought this was too hard and came back to Nairobi. Lewa of 2008 was the next weekend.
Nadine and I loved running in the Arboretum and this is where we met Wanjohi who in turn introduced us to Ajaa. At least we had a CV to our names as we were introduced as the girls who are going to do the Kigali peace marathon. The invite for running in Ngong came again from Wanjohi. This time round we went and met the other group. We formed a happy running group. We were not more than 10 people. We decided to have a secretary and I took up the role. I did not like the name secretary and so I chose to be called the madam coordinator. The mailing list then had no more that 10 names. Our default running ground was Ngong. We went there every Saturday. We knew all the hills. We gave them names according to the incidences that happened. There was the 'Nadine hill' and the 'tantrum route'. We also had the hardest of the runs named 'hydrate or die'. This one would get you on all your fours at some part. After all runs we took tea in a café in Ngong town.
Our route marker was called 'Antelope'. He was fast. The distances were never really accurate. But we did not mind. We did not have gadgets that measured distance. We just ran the routes as we already knew the distances from the elites. Magadi road to Police station was 42Kms. Measuring time was enough. Antelope always told us that 'it was training and not a race'. I think he knew how harsh Ngong was. Nadine, Mutua, Ajaa and I trained for the Standchart marathon in Ngong every Saturday. We would reach a point where only the sound of our feet could be heard. Every Wednesday the twins, Mutua, Nadine and I got together to do our mid-week run of 20Kms. It was a fast run. All we did was chase the boys. For as long as we could see their back, all was well.
As a group we struggled to get a name. We were once called the pace setter. And there was a name before that which I cannot even remember. Each person within the group volunteered to bring something for after the run. The volunteers brought melon or oranges. I remember when Fiona was leaving Kenya to go back to the UK she sponsored the oranges for that run and we were delighted. We were never in a hurry. We started runs at 7.30am depending on how we felt. Sometimes it was 8am. A typical email looked like this:
Hope that you are all keeping well.
This weekend the run is at Ngong. We meet at Ngong Police station at 7.15 to begin running at 7.30am.
We shall run the Kahara route. Distances include 10, 15, 21 and 27 Kms
See you there.
Our invite to Tigoni came from Mukuria and his lawyer friend. We met this duo at the Arboretum and invited them to run with us. They came and in turn invited us to run with them. When we went to Tigoni, we behaved like guests. We agreed to run alongside our hosts but this was not to be. Soon after the run began Ajaa and Mutua took off and asked me to take care of the guests. Within 30 minutes I had also left the guests and dashed off. We enjoyed Tigoni so much it became a part of our Saturday running routes.
As the years went by we grew in number. We had a big mailing list of about 30 people and we got to have the same faces come again and again. I remember Marcel, Wahome, Loise, Shiku, Wachira, John Juu, Katwa, Lena, Kanyarati, Kibet, Fran, Molly, Loketo, Ameet as the commoners. Kibet was our 'elite'. He once got airlifted with a chopper from Lewa. It reminded us that we needed to continue training. The Cameroonians joined us. Eric Sile became a regular and invited his countrymen who have continued to run with us. The Australians and the British came and left. Now we have the Swedes and Indians too.
It was in 2010 that we got registered officially. As I left Kenya for further studies, I handed over the baton to Lucy. There was a suggestion that we need to have a name and the name search was floated to the member. Upin who has since disappeared, suggested the name Urban Swaras. He explained that we were fast and running in the city thus the name. We quickly adopted it and our webmaster Munyao designed a logo for us.
Indeed we have grown. Members have come and left. We have invited our friends to run. Some came and stayed and others rejected us. Some fell along the way and never came back. But it has mostly been exciting. We have become a diverse group. And as we get into the month of September, we will be 7 years if we count from when we started operating as a group. Officially we shall be 4 years. Let's celebrate us.