Date: Saturday August 17, 2013
As many of you know, Sean has spent the last several months training for the Leadville Trail 100, a 100 mile race in Colorado's Rocky Mountains. The race is seriously grueling — the entire thing is run on trails at altitude around 10,000 feet, and historically only 50% of runners who start each year cross the finish line before the 30 hour cut off.
Last year, Sean made it to mile 62 before missing a time cut off at the aid station. This year, he totally revamped his training plan (including adding some runs with the Swaras and a 92km run in Iten!) and diet, and he arrived in Colorado ready to complete his unfinished business.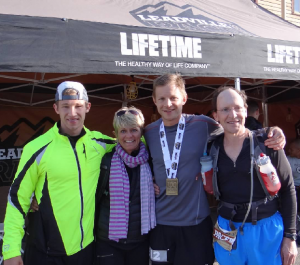 Throughout the race, Sean's crew (including me, his mom, sister, brother in law, brother, and my parents) followed him to provide gear, nutrition, and hydration at aid stations along the way. Lots of organizing goes into an ultramarathon like this! Sean was in good spirits the entire race– he was calm, deliberate, and totally focused.
Just before mile 50, runners ascend Hope Pass – basically a mountain right in the middle of the race that takes you from the lowest to highest point (9,000-12,600 ft) in just 2 miles. At the other side of Hope Pass, runners reach the mile 50 halfway mark, and are allowed to run with 1 pacer at a time for the rest of the race. Sean's first pacer, his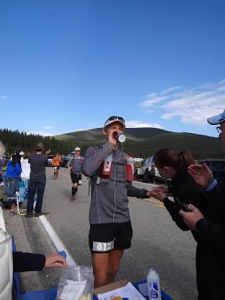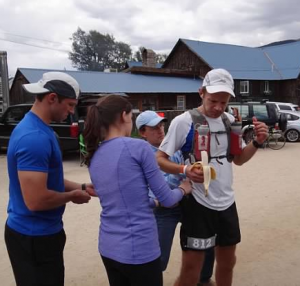 younger
 brother Andrew, ran with him back up and over Hope Pass and onto the Outward Bound aid station — a total of almost 30 miles. All while carrying a 30 pound backpack of Sean's gear/water bottles. Very impressive for someone who wasn't even acclimatized! Sean's next pacer, Theresa (a runner we met in CO) ran the next ~10 miles with him. And finally, at the last aid station, Sean met my dad, who ran with him for the last 13.5 miles.
Sean started the race at 4am on Saturday, and at 8am on Sunday—he crossed the finish line in 28 hours and 6 minutes!!
I am extraordinarily proud of Sean and proud to have been part of the experience.
Every year at the starting line, the race directors are famous for repeating, "You are better than you think you are. You can do more than you think you can" — this race exemplifies that in such an inspiring way.
Thanks to all of the Swaras for your good luck wishes and support!