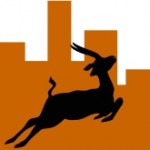 Date: July 21, 2012
Gray, gloomy, bitter cold July was here and thankfully edging to a close…..Having resolved to a monthly dose of the Swaras, it was that time again…
The whiff of a party/run and the promise of a scenic trail were enough to convince me to disown my TembeaKenya comrades on their latest Elephant Hill (Yes, there is actually a place called that in Kenya, Aberdares) expedition. Clearly, many a Swara bit the bait, as was evidenced by the sheer number of members present, all cajoled by this cocktail of run, fun and sun. Swaras truly take the work hard, play hard philosophy very seriously …
As set by precedent, I was expecting the run to be a recipe of nature, adventure and torture all present in equal measure, and this run did not disappoint.
Enter, Saturday 21 July 2012, I had convinced a recruit (my cousin) to come experience firsthand what this Swara business is about…. and was she eager!!!  Enroute to Wahome's, numerous calls to unknown persons were made informing all and sundry that Mteja hatapatikana as she was would be running with the City Gazelles…. Yes you read right… flashback to my youth days…. I would say this is a classic case of the broken telephone game that ends up corrupting the message which in this case led to the baptism of Swaras to a supposedly more hip name …City Gazelles.
We arrived unfashionably late and pretty much missed all the route instructions… but we did catch wind of the route having S, M and L markings denoting the short, medium and long routes, so S is all we had to look out for.
Please note that my cousin's participation had been negotiated on the premise of a walk run concoction of a supposedly 10 kilometer trail which at the briefing had miraculously grown miles to 13 kilometers.
The first half of the run was very enjoyable, the scenery evolving as we steered on through the Karen plains and brooks. This was only the appetizer of a delicious route that saw us proceed to the Oloolua Nature Trail for the main dish.
As we approached the Mbagathi Ridge on our way down to the Oloolua Trail we met Swaras (whom I consider elite having accumulated numerous Swara running miles) masked with face and limb expressions that either likened  that of lions satiated after the kill or  exertion and relief of Swaras having managed to escape being the days meal….
My recruit, seemed to settle with the later and suggested we take the short cut and skip the trail… now being a TembeaKenya enthusiast I would hear none of this. Having seen numerous instagrams of Oloolua and marked it in my travel bucket list, this was as good as any opportunity to tick it off my list…..
So there we went opting to walk down the steep descent to the main dish that was Oloolua… The place was truly an outward bound expedition, the chirping of the birds, the topography of the land and clean air reminiscent of the of the country side, something for all the senses … sound, sight and smell. (On a side note, did anyone see a waterfall or have the Tembeakenya pictures being photo shopped?)
Soon the ups, downs and curves of the Oloolua trail took its toll… this loop of nature was non ending and at the back of our minds the climb back up to the Mbagathi ridge kept haunting us!!
At one point, we met up with a first timer Swara whose reserve tank was quickly draining off also looking for the nearest way out… strategy came into play and we decided to ask the guards for the shortest route out of this feast. But they were clearly enjoying the sight of our struggles and adamantly insisted that we should do the entire loop and see what the place had to offer.
Grudgingly we dragged our feet through the course and eventually saw the exit. Our climb out back to the Mbagathi Ridge was a heated commission of enquiry on where on earth the supposedly short route was? As is the case of many commissions of enquiry in Kenya, no result was reached but I must ask, did any Swara see these elusive S/M/L markings? If any were spotted we do need to either consult our opticians or lodge a refund claim from our nursery school teachers as we clearly don't know how these letters are drawn/look…. Another point of order that was entrusted to the commission of enquiry is the mathematical accuracy of the Swaras route mapping equipment … We had surely covered 13 kilometers, a distance that was verified by our newly found friend's GPS tracking device. Having to explain this multiplying kilometers parable to these aspiring Swaras was a fete best left to Mr. Chairman… I pled the fifth only hinting that this parable is a result of either a mission to exceed expectations or the sadistic nature of our trail markers.
There was no convincing this batch to attempt another step, I was informed and I quote "I agreed to come do 10 kilometers which turned into 13, now you want me to do 16!! You must be joking, you go right ahead to the finish line, get the car and you will find me here….." Enough said, we patched on the nearest slab and waited for next matatu to take us to the grazing plains that was Wahome's place.
And did we wait!! Clearly the folk of Karen have no need for these mechanical creatures. Our wait in the blazing sun (yes the sun had to smile on us) was long, not even the threatening sun could force this recruits to move another step. As the minutes chimed away ideas of hitch hiking evolved, the argument being it's the better option given we were three versus the one… the 3:1 ratio and the fact that we looked like an oxymoron being fully dressed in exercise gear yet asking for reprieve in the form of a lift clearly worked against us. A tour van offered to stop but its final destination was Karen Blixen really..… Now for comic relief or is the true measure of desperation, my recruit wanted us to board a water tank whose driver seemed eager to give us a ride, talk of gymnastics how were we to fit or ride on this monstrosity????
Finally, the matatu came and soon we could see the Promised Land… ironically, we did meet other Swaras galloping in … all congratulating us on our perseverance… little did they know the tales and tolls that led us to this finale…
Unfortunately, we only got to enjoy the refuelling snacks and missed out on the real party due to impromptu family obligations, but we did get to meet some of the Swara fraternity and share in the parable of the multiplying kilometers….
Am not sure if my recruit or our newly found friend will join the Swara fraternity or the Swara's -never ever club!!! but I will definitely wake up in August to join you again as you know the saying goes…
"Every morning in Africa, a Gazelle wakes up. It knows it must run faster than the fastest lion or it will be killed. Every morning a Lion wakes up. It knows it must outrun the slowest Gazelle or it will starve to death. It doesn't matter whether you are a Lion or a Gazelle… when the sun comes up in Africa, you'd better be running!!! And I add…. RUNNING WITH THE URBAN SWARA'S.